Safety Cooper Taylor was drafted by the New York Giants in the fifth round this past April. Throughout the year, the University of Richmond product and Georgia native will provide an inside look at his journey of making it in the NFL. This week's post picks up with Cooper returning to practice after missing time with a hamstring injury.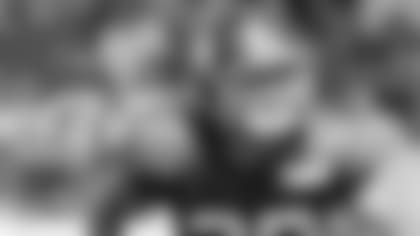 I was cleared this week to return to the field. It's a good time to get back out there and start practicing again. Being out is always tough, but getting back in there is always what it's about.
The injury happened in practice. I just pulled it, and then it was just going in and getting treatment every day. I spent a lot of time in the training room just working and getting healthy to get back out there practicing now.
My first NFL training camp ended yesterday, and now it's just about gearing up for the season. I was rooming with another rookie, Charles James, who plays cornerback. Our life at camp honestly was just studying the playbook every night. We were studying and sleeping day in and day out. That's what camp consists of for us.
Over the last few weeks, I would definitely say the attention to detail that you need to have at this level is what I took away from camp. You've got to get everything right. You've got to get your feet in the right place, your hands in the right place, your eyes in the right place, and your mind in the right place in every practice.
All the vets are great at helping you do that, especially the vet safeties -- Antrel Rolle, Stevie Brown, Ryan Mundy, Tyler Sash. All those guys have a wealth of information to get from them. All the other vets from all the other positions help, too. So it's been a good group to learn from. It's an exciting time and I'm just kind of taking it step by step.
For more posts from Cooper, stay tuned to Giants.com throughout the season, and you can also follow him on Twitter @Coop__Taylor