EAST RUTHERFORD, N.J.** – On a day when three cornerbacks missed practice, the Giants received some good news at the position when Corey Webster returned to the field. The longtime starting left corner missed the last two games with what was listed as a hip injury, but what Webster said was actually his groin.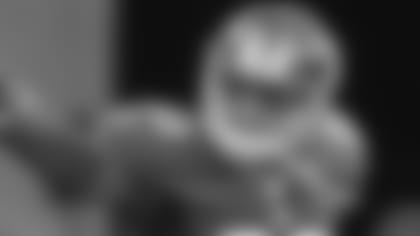 Know Your Opponent: Eagles Roster "It's always good to get back on the field, working with the troops, getting work done, and getting better," said Webster, who had started 34 consecutive regular-season games before missing the Carolina game 10 days ago.
The nine-year veteran said he doesn't have much rust to shake off.
"I just think we need to get back in the flow of things," said Webster, who was officially limited in practice. "I've been doing the individual drills and working throughout the whole process. We just keep going throughout the week until we continue to get better and have no setbacks."
Webster said he is uncertain how he suffered the injury.
"If I knew what it was, I would try to prevent it but I don't know," he said. "It just got a little sore but everything's feeling fine now. I'm moving and making all the moves in the right direction."
That should lead him to return to the field Sunday at home against the Philadelphia Eagles.
"If everything goes well throughout the week, no aetbacks or anything like that (he will play)," Webster said. "I hate being on the sideline or watching it from the T.V., so I want to be out there with my troops fighting and trying to get our first W."
One of the cornerbacks who missed practice today should also play Sunday. Terrell Thomas sat out because he will get a day off each week to reduce the stress on his knee that has been surgically repaired three times.
Less certain is the status of the other two corners to sit out, Aaron Ross (back) and Jayron Hosley (hamstring). Coughlin indicated Hosley won't play this week. "Hosley's hamstring is probably going to be an issue," Coughlin said.
Seven other Giants also missed practice today: offensive linemen Chris Snee (hip) and David Baas (neck); linebacker Mark Herzlich (toe); defensive tackles Linval Joseph (ankle/knee), Cullen Jenkins (knee/Achilles) and Shaun Rogers (back); and tight end Adrien Robinson (foot).
Offensive lineman David Diehl (thumb), defensive end Jason Pierre-Paul (knee), linebacker Jacquian Williams (knee) and safety Cooper Taylor (shoulder) all practiced fully.
While the Giants have 15 players on their injury report, the Eagles have two. Cornerback Brandon Boykin and safety Patrick Chung were both limited with shoulder injuries.
Coughlin hinted at his news conference today that rookie defensive linemen Johnathan Hankins and Damontre Moore could see larger roles beginning Sunday. Hankins, the tackle selected on the second round of the draft, was inactive for each of the first four games. Moore, a third round choice, contributed on special teams the previous three games.
"I would say I feel a little more comfortable with the scheme, the plays and just going out there and making plays," Hankins said. "I'm not worrying about messing up because this is a game and you're going to have those types of mistakes. But just having a clear mind and just going out there and having fun.
"Obviously, stopping the run is what they drafted me here for and just help out the defensive line. We've got a lot of veteran guys in there and just production. I'm just going to give as much as I can."
Moore plays on the edge and is expected to boost the pass rush.
"(I'm) just an eager puppy that's ready to go in there and go play," Moore said. "I'm going in there with open eyes and just running in there as fast and as hard as I can. Hopefully, something happens."
The Giants have four sacks in four games, a number they are eager to increase on Sunday against Michael Vick and the Eagles.
"It's very disappointing," said two-time Pro Bowl defensive end Jason Pierre-Paul, who has one of those sacks. "At the end of the day it's not… I'm lying. I would say at the end of day it's not all about sacks, but it is. As a team, we're going to get there. It takes time. We've been very frustrated that we only have four sacks as a unit. This is the New York Giants. Normally we have sacks off the roof, but right now it's not that way right now. But we've still got a long season. I hate when people say that, but we've got a long season to get it right. We've got 12 more games. That's a long time."