EAST RUTHERFORD, NJ - The Coughlin Corner, Giants.com's exclusive weekly interview with head coach Tom Coughlin: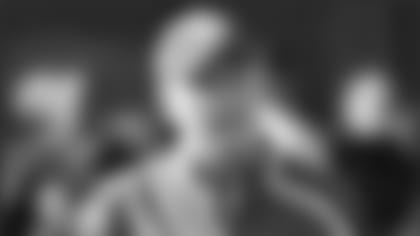 Q: You have had a lot of success bouncing back after lopsided losses (5-3 since 2005 after losing by 20 or more points). A lot of teams can get down after that kind of defeat (38-14 last week to the Colts)? What is the key to turning the negative into a positive?
Coughlin: "Your approach sometimes is totally different post-game based on the circumstances, the situation, the time of the year, that kind of thing. But you must have the resolve and the determination and the conscious effort to be sure that that one game's gone and the next one is up. It's the communication thing. I think we had seven or eight guys in on Monday and Tuesday to talk to. And just the fact that you grit your teeth. You grind your teeth. And if everyone could focus on the one thing, you'd feel a whole lot better about setting that precedent for your team, because what we're supposed to be all about is the ability to go right back to work. Each game has its own significance, and each game deserves to have everything you have in terms of your focus. And you would want every person who is on your team or touches your team to have that kind of intensity for 17 weeks. Is there a special formula? No. It's like (NBC announcer) Al Michaels. Every time I see Al Michaels, he's got something like, 'You're the best (replay) challenger in the league. Why? What do you do? ' This time (last Sunday in Indianapolis) it was, 'Bar none, you are the best time manager in football. There's nobody even close. Tell me what the formula is. Are you a mathematician?' It's part of, unfortunately in regard to the question you're asking me, experience, just like anything else."
Q: The players and even the coaches can be down after a game like that. Is part of your job in a week like this to take the emotional temperature of the team to make sure that the disappointment is not lingering?
Coughlin: "You have to do that, but you also have to - I just look for everything. And one of the things that I look for is the energy level and the ability of the people to bounce back to recognize exactly what took place and to try and make sure that it doesn't happen again. But that's what you try to work at. That's what you try to recognize. Those are the things you try to solve, but the idea that from Monday night for your team - even on a day when you land at four in the morning - for your team and for your staff and for everyone around you, you're trying to go forward. But it (the loss) is always dragging you back. The media on Wednesday, they want to talk about last week more than they want to talk about this week. That's the nature of the business, so you try to put a smile on your face and answer those questions when in reality you want nothing to do with that. You're supposed to go forward."
Q: The two things you always talk about are team and winning. The other issue you've had this week is two players (Brandon Jacobs and Antrel Rolle) speak up about individual concerns. How frustrating is that to you?
Coughlin: "It's very frustrating. But that's what I meant by reaching out, going and getting people, bringing them in and talking to them. Just trying to make them understand and let them see themselves. Let them understand: a team is a family. If you have any issue you would like to discuss with me, I'm more than willing to listen. I may not agree. I don't have to agree. You don't have to agree with me, but we can talk man-to-man. And we can have a sense that each of us has listened to the other in a respectful manner. That's all it takes. It doesn't take anything else, and what really bothers me, to be honest with you, is it's the constant message that obviously there are people that don't have that experience that have gone through this. Or they have a short memory. They can't remember the way this stuff works. We've been down this road. This is ancient history for us, and we have some people that we have to try to educate about this. Certainly, we're willing to do that."
Q: I think some people expected you to be angry at your news conference on Wednesday. But you never showed even a hint of anger. Do you personally deal with this better than you did in the past, or do you just hide it better?
Coughlin: "Well, yeah, I hide it. I'm better at trying to throw people off. Seriously, maybe that's not the way I should act, but it does take a little work. But as I said, there's some intent there and there's a little bit more patience maybe. Although on the inside, you'd never know it. I don't feel that way, but I may have to project it."
Q: With regard to Jacobs, there has been a lot of talk this week about the distribution of rushing attempts by the running backs. You have used at least two running backs every regular season since 2007. So do you see this as a different situation? Why is this situation different this year?
Coughlin: "It isn't. It's not. It's all about outside forces getting in the ear of people and making this an issue. Every guy on your team, the intent of the coaching staff is to use the player to the greatest of his ability. To take his ability, put him in that situation, and let him be a factor. Yeah, the first game was 20 (carries for Ahmad Bradshaw) and 12 (for Jacobs), You'd like it to be 20 and 20, but we haven't worked that out yet. We're not there yet. We're not doing the things the way we expect to be able to do them from a technical standpoint yet. But it doesn't mean that that's not what our intention is."
Q: Doesn't the game dictate how that works out?
Coughlin: "It certainly does."
Q: You have also been asked a lot this week about leadership. Do you think that any good team has to have a certain amount of leadership from the players?
Coughlin: "Absolutely. Coaches aren't out on the field. Coaches don't go on the field. And you're talking about what I always try to do, which is to make the players understand that they have ownership in the team. They have to show it. And collectively, collectively, you're trying to find a dominating will to win. It doesn't come by, 'Oh, here's one guy. Here's another.' No. It's a collective dominant will to win. And overcome any obstacle by what? By the very nature of what the word 'team' means. It's a sharing, but it's a strength of sharing. It's doing it for one another. It's not letting the other people down."
Q: This is the Giants' first game against Tennessee in four years. What are some of the challenges in facing a team you seldom play? Do you do a lot of your prep work in the spring?
Coughlin: "Sure. They're part of your research. You've done that research in the offseason for the teams. It's all by your schedule and it's all by the teams and the divisional, out-of-division teams that you play. So that's all been done, but it doesn't answer totally the question that you have. No, we don't play them much. Yes, they do have a personality. Yes, they are coached by the same coach (Jeff Fisher). Yes, they do have an outstanding running game. They have an outstanding quarterback (Vince Young) who is a playmaker of his own accord with his arm and his legs. That defense is physical, No. 1 in the league. And they've always had a great kicking game, and they've always been a gadget team with the fake punt being one of their primary weapons. And they play in a lot of very close football games because of the nature of the way that they play."
Q: This is your 18th regular season game against Jeff Fisher, more than any other two active coaches. Does it help you prepare when you've faced the opposing coach so often?
Coughlin: "Does it help you? It's been since 2006 since we've played. They've changed some. But I do know how the franchise thinks and operates. And as I said, we do our studying in the spring. Do I know what to expect? Yes."
Q: Keith Bulluck was asked yesterday about Vince Young and he said, "It all starts with Chris Johnson." Do you see that also in their offense?
Coughlin: "They're going to get the ball to the running back as many ways as they can. That's all fine and dandy, but the quarterback - let's face it, they have a tremendous history there of guys that can beat you at quarterback. (Steve) McNair pulled the ball down and ran, or when Young pulls it down and runs. It's frustrating. It's difficult. You've got to be conscious of containing the quarterback runner, and this team runs the option. They run all kinds of stuff from the quarterback."
Q: As you mentioned, their defense is ranked first in the NFL. They don't have a lot of marquee names, but they are playing very well. What do they do well on defense?
Coughlin: "They're aggressive. Their front four comes after you. They obviously practice and play against the run very well so they do a good job of that. They're just a good, fast, physical defensive unit and their front is a penetrating front. They attack the line of scrimmage on the snap of the ball. They don't read anything. They just fly around and they try to offset your running or passing game by penetrating."