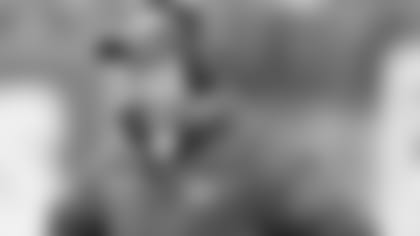 ---
The Giants are coming off a disappointing loss to Seattle, you're going to play in a tough environment in Detroit and you have numerous injured players. Are you confident this team has a lot of fight left in it and is going to give its best effort on Sunday?
"Yes, certainly I am. We're going to do everything in our power to make sure that we're in an outstanding position to try to win the game. That's all you do - you fight, you take your circumstances, you deal with it, you're honest with it, you prepare as hard as you can, you appeal to the competitive nature of the athlete and you go try as hard as you can and do your very, very best. You do all that and hopefully you have an opportunity to win a game, get the thing in the fourth quarter and win the game."
You now have 12 players on injured reserve, most of them starters. That obviously has impacted your ability to win games. Do you ever talk to the team about injuries, even if it's just to say, "We're not using injuries as an excuse?"
"Oh yes, always. That's the foundation that is laid way back. Injuries are no excuse. Everybody has injuries. You have a team that you start out with, your original 53. Then you have some people that you claim during the course of the year or bring up from the practice squad. These are guys that have been with you hopefully and can help you. You do the very best you can with what you have."
On Wednesday, 10 players were unable to practice because of injuries. Can you have a productive practice with so many players missing?
"Well, that was tough, but we have a few more that are going to be able to do some things (Thursday and Friday), so that'll help us. You have to adjust your practice. You've got to trim snaps.
"But the whole thing is, you have to make everyone realize what is at stake. We're being told by everybody that we don't have anything to play for. I'm going to tell you right now – we have everything to play for. And anybody that hasn't been around this business that thinks that we don't have everything to play for is sorely mistaken, let's just put it that way. Because what you're being evaluated on right now is the quality of the man, the character of the individual, the fight from within, the competitive nature of the player. All of those things are being reviewed and they're being reviewed under the worst of circumstances, not the best.
"So how you carry yourself, the type of individual you are, the character of the man, the quality of the competitor, all of these things are being evaluated and within a very short period of time, a two-week period, all of these things will be evaluated."
---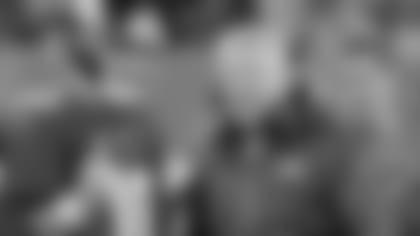 ---
If your offense is clicking and you're putting together a game plan, you can say, "Let's try this" or "Let's try that." How much harder is it to put together a plan when you're struggling as you are now? Do you say, "I don't know if we can do this or we can't do that?" Or do you try to do what you do normally?
"No, no, you have to adjust. All the time you're trying to figure out what you can do, what you can do in addition to what your study tells you is an area that you might pursue. But you have to always temper that with the idea that you must plan within what you feel like you're capable of accomplishing, even though the X's and O's might tell you otherwise and other directions."
Eli Manning always puts up a stoic front, but when he is having a tough season like this, are your conversations with him more psychological or strategic?**
"Well, they're both. My position has been to try to encourage. Certainly to evaluate, but to encourage as well."
Justin Pugh has started every game this season. Some rookies hit the so-called wall this late in their first pro season. Have you seen that at all in him?
"No, I don't see a wall, not at all. He's a focused guy."
The Lions have the reputation of being a chippy team. They commit a lot of penalties and sometimes try to goad opponents after the whistle. Do you have to warn your guys about not getting involved in extracurricular stuff or is that something you have to do on a regular basis?
"We always have to talk about that. I do it every week, but you have to do it when you have the facts in front of you, too, because it's important to understand how our league operates. The retaliator always gets caught, always. And you can't do it. You've got to have discipline, you've got to have self-control, you've got to wait until the next snap."
---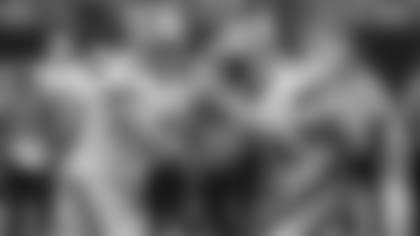 ---
Detroit has a good quarterback, running back and wide receiver  in Matthew Stafford, Reggie Bush and Calvin Johnson and two outstanding tight ends in Brandon Pettigrew and Joseph Fauria. Is this offense as versatile as any you've played this season?
"It is. They're a very talented group and their offensive line is good. They have one of the fewest sack operations in the league (16 sacks in 340 dropbacks). For throwing as many times as they throw, they've done a very good job."
Their defensive tackle tandem of Ndamukong Suh and Nick Fairley…
"They're really good and they have the numbers to prove it. They're physical, they click, they play hard. They rotate through, they have eight of them. They play them all. You see them rotate in and out, could be third down or it could be whenever."
They picked up a good return man in the middle of the season in Jeremy Ross.
"He scored two touchdowns in the snow in Philadelphia (one each on punt and kickoff returns). But they've got outstanding numbers, which are obviously buoyed by the long touchdowns, but still, they're good numbers. Two of the four (kicking units) are ranked very high (the Lions are sixth in the NFL in kickoff return average and third in punt coverage)."