EAST RUTHERFORD, NJ - The Coughlin Corner, Giants.com's exclusive weekly interview with head coach Tom Coughlin: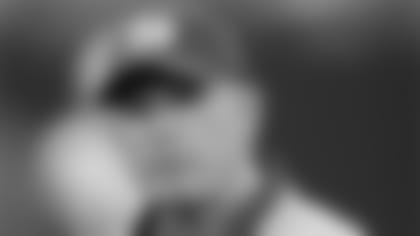 Q:  How much better is a 9-7 record than 8-8?
Coughlin: "A whole lot better. That is what I keep telling the players, that they would be amazed at how much better 9-7 is than 8-8. Understanding the fact that we are not going to get to play another game, that would be the way in which we would want to think about finishing the season."
Q: Your first year here you had a long losing streak, but finished with a victory over Dallas. Does that give you a little momentum?
Coughlin: "It does. It gives us great momentum. The way in which we played and the way in which the game was won was a very exciting game, if you remember. I think all of those things gave us – it just gives you a better outlook for the offseason."
Q:  How do you want to see the players respond this week in Minnesota?
Coughlin: "I want energy. I want enthusiasm. I want greater purpose. And I want them to fight; just fight, just battle your butt off.  Give great effort, be well-prepared, be excited about having the opportunity to play. And play it one play at a time for 60 minutes. And let's evaluate the effort."
Q:  You talked in your news conference about having to lift the players' spirits after the loss to Carolina. How do you do that?
Coughlin: "It's not easy. I wouldn't tell you that it is. Because you have everybody on the outside telling them differently. Hopefully, they are above that and they are mentally tough enough that it has no effect on them. But I continue to tell them and encourage and to ask them to look within themselves, individually, to note the areas that they must improve upon, challenge themselves to improve and be the best they can be. Start it out that way.  And then the individual pride, the unit pride, the team pride, will flow naturally. But you have to have your mind in the right place and you have to – and I talk a lot about the protocol of the week, if you will. And it is all about putting yourself in a position where your study and your practice, where you grind if you will – grind, strain so that you make sure that your week has prepared you mentally for what is going to happen on Sunday, which normally, in this league, is a very physical battle which means that you have to fight your tail off to the very end of the fourth quarter before you know whether – it is decided – whether you are going to win or lose. So my whole thing there is that regardless of the week – I don't care what week it is – I don't care what you are coming off – what you did yesterday does not necessarily mean that it is going to apply to today.  So you have to go back and go through the same process, the same way, with the same amount of pressure on yourself, the same amount of self control, the self discipline that makes you stay when others are leaving or whatever, that you study to the point where you have a good feeling and a good sense of your opponent and what you have to do in order to succeed.  We talked a lot about that."
Q:  You have mentioned the inconsistency on this team. As a coach, is one of the most maddening aspects of your job not knowing what you are going to get from week-to-week?
Coughlin: "Well, as a coach you want to be able to know what to expect, so that when you evaluate an opponent you have a pretty good idea of how you are going to attack.  You are always thinking that you are at your very best. So you are going to attack, defend, you are going to execute the kicking game according to what you feel. But you have to have the knowledge that your team is going to respond the way you expect them to respond. So it is frustrating."
Q: This will be the first time since you arrived here you are not going to have a 1,000-yard rusher.  At the same time, Eli Manning will likely pass for 4,000 yards and Steve Smith should have at least 100 catches. Have you become more of a passing team and do you still have the offensive balance you strive for?
Coughlin: "I think we do. First, we always talk about balance. That is what we want to be. Now when you play from behind you don't have much control over that. And that has happened to us on a number of occasions this year. We do have skill in that area (the passing game) and we want to take advantage of it. But we also want to pound the ball and we want to be physical. And when you go through a season like this your identity becomes a little bit - I don't know what the word is, lost, confused - because of the nature of how you have to play. We want to be able to take advantage of all of our weapons. Obviously, you throw the ball to score. You throw the ball, but you also send the proper message by pounding the ball. Your front and, therefore, your entire team respond better in terms of the physical nature of the game if you are able to do that. We haven't been able to just flat out do that."
Q:  Do you think the NFL has become more of a passing league?
Coughlin: "I think you are finding – if you just look at this year – that there are a number of outstanding quarterbacks having outstanding years. And that is how it is reflected, let's face it."
Q: One of those quarterbacks is obviously Eli.  Statistically he is having his finest season.  When you look beyond statistics at what he has done this season do you think he has made a lot of progress and has played very well this year?
Coughlin: "I know he has made a lot of progress. I know the way in which he has worked with these receivers. His completion percentage has gone up, his touchdowns. All of that is good. But quite frankly, he has turned the ball over (13 interceptions and seven lost fumbles). That is always going to be something for me, because I'm telling you right now, you are not going to beat anybody turning the ball over. You are not going to. It is statistically proven, okay. You can sit there week-after-week and say that 81% of the teams that win the turnover battle win the game. That ain't bad, 80%. I'll take 80% anytime. But that is the one thing that eats away at me. Here is the same team that just set the NFL record (with only 13 turnovers in 2008). Yet whether it has to do with the way we are playing or whatever, the ball security thing is bothersome to me."
Q:  You added Rhett Bomar to the roster from the practice squad for the last game.  Everyone is always interested in quarterbacks. What have you seen from him in practice? Has he played enough quarterback in practice to give you any hints what his potential is?
Coughlin: "Yes, but it is just the idea that he has been really good in terms of the way he has worked. He has played all kinds of positions, which they have to. And as a result of that, he deserves a chance to be on the roster. We want him next year. So it gave us that opportunity as well. What have I seen? I have seen the quick release – whoosh, the ball comes out. We look forward to working with him in the offseason."
Q: Ahmad Bradshaw has played all season with two sore ankles and an injured foot. But he has rushed for 765 yards and seven touchdowns and has missed only one game. What has he shown you this year with the way he's played through his injuries?
Coughlin: "He is a fiery competitor. He wants to play. I keep saying, I don't know if anybody even listens, but if the kid could ever practice – how do you know exactly what you would have? We have seen him do outstanding things, but this year has been very difficult for him. And you know that an individual that is going through what he is going through – as much as he has tried to stay focused, you know that there are times when he is frustrated, when he is discouraged, when he is having trouble coming in on Monday morning. He hasn't got one, he has two feet (that are injured)."
Q: The Vikings have many offensive weapons including a likely 4,000-yard passer (Brett Favre), a 1,300-yard rusher (Adrian Peterson) and a 1,200-yard receiver (Sidney Rice). Is this a very hard to team to defend?
Coughlin: "They are skilled, very skilled. This is a team that from out of nowhere has really done a nice job with their receiver corps. (Rookie Percy) Harvin has helped tremendously there. Rice is having a big year, obviously. (Visanthe) Shiancoe has a number of catches – 10 touchdowns. He has been utilized heavily in the red zone. The back – Chester Taylor – catches the ball out of the backfield. Peterson catches the ball in the backfield. Peterson, of course, if they throw a check down to him, he might go 50. So there is any number of weapons. They have mammoth tackles (Bryant McKinnie and Phil Loadholt), an all-pro left guard (Steve Hutchinson), a quarterback that has certainly proven himself and then some."
Q: The Vikings will obviously be highly motivated because they need to win to have a shot at the No. 2 seed. Is that something you have to keep warning your players about?
Coughlin: "They were told right away. They know what is at stake for them. We have been in that position before ourselves. Last year against Carolina it was for the home field advantage. We know what that is like."
Q:  You have had disappointing seasons before. Do you come in first thing Monday morning, start to sort it all out and begin looking ahead to next season?
Coughlin: "The process starts. It starts a lot faster than I would like it to start, to be honest with you. It is no fun Monday morning after the 16th game evaluating everything you do. From the time you come in that morning until you shut the lights off, that is what you do. You evaluate everything. If you are not successful, you evaluate it all. So that is just part of the process. I would much rather do that three or four weeks from now. That is the best thing I can say."
If you'd like to submit a question or comment to Michael, click here.