EAST RUTHERFORD, NJ - The Coughlin Corner, Giants.com's exclusive weekly interview with head coach Tom Coughlin: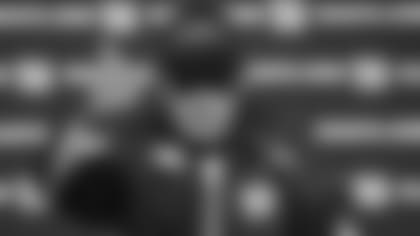 Q: In last week's victory over Carolina, the Giants forced five turnovers but you turned the ball over four times. Do you come out saying, "Well we forced the five, we should win by 13 points" Or do you look at it and say, "We coughed the ball up four times, we're fortunate that we won by 13?"
Coughlin: "Well, I spend more time really enjoying the fact that we got five turnovers. The unfortunate thing is two of the three (interceptions thrown by Eli Manning) were tipped balls that should have been caught. And the frustration that was involved in actually trying to run the clock out and fumbling, it just kind of went along with the game. It made you realize it is the first game of the year, and there are an awful lot of things going on out there that because of the nature of how you play the preseason games, players don't get involved. All of a sudden they're in the opening game and they have all these situational things happening in front of them, and the results sometimes are not very - they certainly do give you plenty to teach from."
Q: Was it typical of an opening game in that a lot of unexpected things happened and you came out of it with a lot of things you need to work on?
Coughlin: "Tremendous things, yes. Tremendous amount of things, but the nature of the way the game was played and I thought the resiliency and the way that we turned around and bailed each other out when circumstances that you don't normally see or circumstances that take place in the game put you in difficult situations. You're going to be hard-pressed to find a game in which no turnover resulted in points, particularly when there are that many."
Q: It took a while for the running game to generate some production. Do you think that had anything to do with the fact that the five starting offensive linemen never got to play together in the preseason?
Coughlin: "It had a lot to do with it. Practice time together, communication - just seeing the fastball. I mean, that was a very fast defensive front. You can look at the tape all you want, but you have to be able to work against that kind of speed. And I think eventually we pass blocked pretty well and we did do a couple things, although really there was nothing consistent or clean about the run. We had the one big play by (Brandon) Jacobs and the one big play by (Ahmad) Bradshaw, and that's where a lot of the yardage came from."
Q: Hakeem Nicks was the headliner the other day. He's usually so quiet in the locker room. What kind of young man is he?
Coughlin: "He is a real competitive guy. He does love the game. He loves to compete. I don't think he's quiet, but he's got that look in his eye. And the thing that happened there, which was good, is he didn't start the game very well and yet he came along during the game and played well. He has, in his rookie year, demonstrated the ability to catch the ball and be faster than people give him credit."
Q: It's often said players make their biggest leap between the first and second year. What do you see that he's doing better this year?
Coughlin: "Well, he's another one of those guys that missed a lot of time. Missed a lot of practice time. To me, you get yourself in great game shape and you stay sharp because you practice under all circumstances. Hakeem is one of those young guys that really needs to practice so that he and the quarterback can continue to get better together. You're talking about a second year player."
Q: Last year, the safety position was perhaps the weakest on the team. Now you have three good players back there in Kenny Phillips, Antrel Rolle and Deon Grant. How much more secure or how much better do you feel about that position now and do you feel like you've got so many more options now with those three players back there?
Coughlin: "We do have a lot of options, and we do have some flexibility back there, too, which is really good. We do have veteran leadership and experience back there in Grant; and we have the young guy in Rolle, who is very confident, covers a lot of ground, has good hands, comes down to the line of scrimmage and tackles; and Kenny Phillips, who is just working his way back into that game speed and awareness kind of thing that we saw demonstrated early last year. So it's good to have those guys back there, and again, pressure the quarterback and be in the right place at the right time and let's continue this vein of being able to turn it over."
Q: You released Bryan Kehl this week to create a roster spot for Bear Pascoe. Kehl tied for the team lead in special teams tackles last season. Was it a tough decision for you?
Coughlin: "It's always a tough position to let a player go, especially when he's an outstanding young man like Bryan is. Simple fact of the matter is that you have to make decisions in this business based on the game that's coming up. In order for us to be able to be in a position where we feel like we give ourselves the best chance, we needed to adjust our tight end spot. The linebacker position had eight players, and even though a couple of them are hurt, we felt like we didn't want to do it, but we did it. We had to. You make those calls and you move on."
Q: You often talk about stopping the run as the No. 1 priority for a defense. When you're playing a team like the Colts that passes so well and doesn't run as well, does that priority change at all?
Coughlin: "You still have to stop the run when they do decide to run, but they want to throw the football and they are very good at it. So your emphasis changes. Your emphasis is on pressure and being able to deny the quarterback something very quickly and follow that up with people who are putting him in a position where he's not able to have the time that he needs to read the field or to go through the various progressions. So it does change. It changes to a coverage, a pressure, a little bit different kind of a game. But I would be very surprised if they don't run more than they did the other day."
Q: What do you tell your players about how to react to all of Peyton Manning's pre-snap movement?
Coughlin: "You just hang in there with it. You show poise. You try to sort it out as the game goes on as to what particular emphasis is going on with regard to what he's saying and this game - are there more runs than you've seen previous? Is he snapping the ball earlier? Is he taking the clock down? All of those kinds of things. I think you tell your players that he's going to go through any number of signals and voice inflections and cadence options in order to take advantage of the defensive team. What you have to do is to kind of hang with him for a certain amount of time and then try to put yourself in the best position you can. Hopefully that is something that has lured him into thinking it's one thing, and then perhaps it isn't."
Q: Defensively, they are so quick. Are they tough to run outside on?
Coughlin: "They are. They are very fast. Their ends are very, very fast. They're built that way. They're built with speed in mind. There are some opportunities to get the ball wide, but a lot times the ball ends up - if you can get some movement out there - off tackle."
Q: Eli Manning has been in so many big games, and he's always the coolest guy in the building. Do you still need to say something to him about this being a big game and he doesn't need to compete with the other quarterback?
Coughlin: "They're all big games. Every time you line up is a big game. What I said (previously) is what I really believe. Quarterbacks are extremely competitive on any professional football team. What they spend their time doing is trying to figure out how to attack the other team's defensive team. Pay very little attention to any of this other stuff. I'm sure that there will probably be an acknowledgement maybe Friday night or Saturday between the two brothers and then postgame, but to be honest with you, that's all it will be. It's the second game of the year for both teams. Both teams are trying to go from game one to game two with improvement, obviously in different areas, but nevertheless improvement. And both quarterbacks are trying to do everything in their power to make their team as good as it can possibly be and to compete-one against the Indianapolis Colts and the other against the New York Giants. So that's exactly where it is. In both cases you have guys who are outstanding leaders who are also very much aware of their teams and the importance of special teams and field position and time of possession and how all those things match up with your objective."