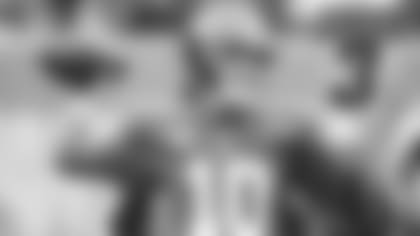 Giants writers discuss which returning Giant will benefit the most from the new schemes:
Under new head coach Pat Shurmur, the New York Giants are installing new systems on both sides of the ball, as James Bettcher takes over the defense and Mike Shula heads the offense. That leads us to our "Cover 3" question of the week: Which returning Giant will benefit the most from the new schemes?
I'm going to go with Eli Manning here, even though while I think I know what the new offense will look like, I'm not 100 percent sure. We simply haven't seen enough of it. If the offense does open up, giving Manning the chance to take more shots down the field, then I think it will help him an awful lot. Manning has always been a very good deep ball thrower, especially in the middle of the field, and he didn't have the same opportunities to take those types of shots the past few seasons as he did earlier in his career. Some of those play call decisions were impacted by personnel, too, especially on the offensive line.
Manning has also always been a strong play-action passer, something Pat Shurmur featured extensively in Minnesota. With Saquon Barkley in the fold, I would expect that to be a big part of the offense. We'll see what the offense looks like when it is completely installed, but based on what the Vikings did last season, it should play to some of Manning's strengths that have been underutilized in recent seasons. It should be pointed out, however, that it will be the talent infusion on offense that will help Manning more than anything schematically. Jimmies and Joes make all the difference, rather than the X's and O's.
I'll go with Odell Beckham Jr. as he rebounds from injury. True, a new scheme automatically improves from having Beckham as much as the other way around, but there are two tenets of the new offense that he stands to benefit from the most – balance and unpredictability. Mike Shula's role is to carry out Pat Shumur's vision of the offense, which is using multiple personnel to "make the defense defend the whole field." In other words, teams won't be able to roll their entire defense to Beckham's side – at least, that is the idea. And that is part of the reason why the offense has failed to find another gear in recent years.
Just look at what Shurmur did with Adam Thielen in Minnesota last year in one of the most balanced offenses in the NFL. The Vikings ran the ball 47.5 percent of the time, fifth-most in the league, and Thielen still finished with 1,276 yards, also fifth-most among all receivers. See how that works? Balance is key. Shurmur – and, of course, Saquon Barkley – will try to help in that regard.
Even though Landon Collins has made the Pro Bowl in each of the last two seasons in Steve Spagnuolo's defense, I still think he's the player that will benefit the most from James Bettcher's new scheme. Bettcher loves versatile players and takes full advantage of their skillset, which was well-documented in Arizona in how he converted Deone Bucannon to linebacker from safety. Bucannon had a career year in 2015, his first season at linebacker, in terms of tackles and sacks. Same can be said for safety Tyrann Mathieu, who didn't change positions, but thrived in Bettcher's system, especially in 2015 when he set career highs in tackles, interceptions and passes defended
I'm not saying Collins will change positions, but I think Bettcher will take advantage of his ability to play down in the box and help stop the run while balancing that with his usage deep in coverage. Based on what the Cardinals' defense did during Bettcher's tenure as coordinator from 2015-17, it's not a stretch to think Collins will be called upon to get after the quarterback. Arizona loved to blitz while Bettcher was running the defense, and in 2016, the Cardinals led the NFL in sacks with 48.