Double teams haven't prevented Victor Cruz from approaching a benchmark in Giants history.
---
RELATED NEWS
Latest Injury Report
View the Latest Giants injury report as the team prepares for Sunday...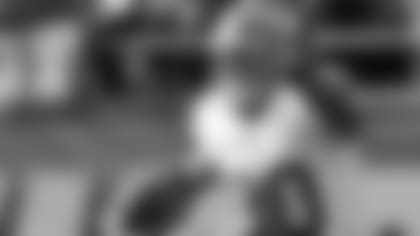 Know Your Opponent: Seahawks The 27-year-old wide receiver is 27 yards away from notching his third consecutive 1,000-yard season, which would put him in the company of Amani Toomer (1999-20003), Homer Jones (1966-1968), and Del Shofner (1961-1963) as the only Giants to ever do so.
"It's been great having a guy like Eli [Manning] on my team and on my side to be able to, from an individual standpoint, believe in what I can do and be able to trust in the fact that I'm going to be where I'm going to be on times down the field and getting me the ball and do some good things," said Cruz, who has 71 receptions for 973 yards and four touchdowns through Week 14.
"So to be able to achieve an individual goal like that between myself and Eli for these past three years has been an amazing feat, but obviously it's about this team and it's about what we do collectively."
While he's not threatening the franchise-record 1,536 yards he hauled during the 2011 Super Bowl run – Cruz is on pace for 1,198 receiving yards this season – this milestone speaks volumes for the fourth-year pro.
After learning he was more than a one-year wonder last season, defenses have keyed on him in 2013 while the Giants have struggled to move the ball consistently.
"They're certainly very cognizant of where he is at all times," offensive coordinator Kevin Gilbride said. "Sometimes we call it funnel coverage where everybody is man to man and then there is a zone player in there.  Usually that zone player is looking to see where Victor is and then we've gotten a lot more doubles."
[
LATEST GIANTS INJURY REPORT](http://www.giants.com/news-and-blogs/Watch-Videos/article-1/Latest-Giants-Injury-Report-1211/011c8fd6-6fee-428b-88fd-7558a71a174d)
In a dark season for the Giants, Cruz hitting 1,000 would be a bright spot for the franchise, which boasts 21 of the individual 1,000-yard receiving seasons in its history. Cruz's would be the 22nd.
"He's just crafty," said cornerback Terrell Thomas, who makes his living covering guys like Cruz. "He's very crafty in his route running, he's very explosive too off the break, so that's one of the main things that allows him to be so explosive with his playmaking ability because at one instance he's slowing down to shake you and then he explodes, breaking the cut and as a DB with your back turned or in press, it's hard to cover at times. Him and Eli are on the same accord as well, so when he has the option route, there's nothing you can really do in the slot at times. I think the hard work has just paid off over the last couple of years."
Manning can attest to that.
The two have benefitted from each other since Cruz came in undrafted in 2010. Since then, Cruz has amassed 239 receptions for 3,601 yards and 23 touchdowns.
"Victor's done a great job of working hard, improving his game," Manning said. "Early on he was mainly just a slot guy, but now he's outside and winning those matchups one on one on the outside and getting better at that. He's a guy who comes to work every day and in practice and in games, he has made a lot of plays for us."**[
CLICK HERE FOR KNOW YOUR OPPONENT: SEATTLE SEAHAWKS >>](http://www.giants.com/photos/photos/Know-Your-Opponent-Seattle-Seahawks/7a6d48b2-8ecd-403a-b5d2-2fdda7b88c79)**