Sunday, December 15, 2019 could have gone a lot of ways. As it turned out, fans got what they wanted. And Eli Manning got what he deserved.
When Daniel Jones - the rookie who succeeded Manning in Week 3 of the 2019 season - suffered a high ankle sprain in the December 1 home game against Green Bay, many wondered if he would be available for the game against the Miami Dolphins. That was the Giants' next guest at MetLife Stadium. In between was a road game in Philadelphia, where Manning played his first NFL game 15 years, two months, and 27 days earlier. It was clear Jones would miss at least one game, but the possibility of a second, that being Week 15, remained unclear.
Jones returned to practice the Wednesday before the Miami game in a limited capacity. On Thursday, he had the same designation. Friday, no change. Thus, it became official: Manning was the starter one more time.
For a football team to function, it needs to have tunnel vision. A writer does not.
Running parallel with the one-day-at-a-time philosophy inside the facility was the bigger picture regarding Manning, the two-time Super Bowl MVP. The Giants had already pulled off the band-aid in September, an inevitability that comes when you draft a quarterback sixth overall and the incumbent has played more games than any other person in the history of a near century-old franchise. So Sunday had potential to be a big deal. Jones was on the mend, and the season was nearly over.
With that in mind, I set out to get a closer look at the player I have covered for a decade. My usual seat in the press box didn't seem sufficient. Standing behind the bench did. So, unbeknownst to Manning, that's where I spent the entirety of the Giants' 36-20 victory over the Dolphins. I was never more than 10 feet from him on the sideline, and my eyes never left him when the offense was on the field. Before and after the game, I followed him through the tunnels of MetLife Stadium.
This was his memorable day.
PART I: PREGAME RITUAL
9:18 a.m. – Eli arrives at the stadium. He walks by a mural of four Lombardi Trophies and, from left to right, the corresponding logos of Super Bowls XXI, XXV, XLII and XLVI. After making the right turn into the locker room, he settles in and then walks through a few adjoining rooms into a spare clearance, where postgame press conferences are held. Before games, it serves as team chiropractor Dr. Robert DeStefano's office. He manipulates the 38-year-old body that has been sacked 437 times over the course of 246 NFL games, including postseason. Seven hours later, Manning will be in the same room addressing the media after possibly his last home start.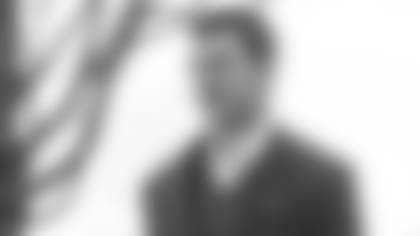 10:13 a.m. – At his locker, Eli talks with offensive coordinator Mike Shula and third-string quarterback Alex Tanney. Twenty minutes later, Eli is hunched over on his chair, fully engrossed in his notebook. Meanwhile, Jones goes through a workout on the field with assistant strength and conditioning coach Thomas Stallworth.
10:58 a.m. – Eli, dressed in Giants blue sweats with a gray hand-warmer around his waist, steps on the field for the first time. He makes his way over to Dolphins quarterback Ryan Fitzpatrick, who is about to make his fifth start against the Giants in his fifth different uniform.
11:17 a.m. – Dolphins legend and Hall of Fame quarterback Dan Marino walks over to greet Eli at the 30-yard line. At this point, Eli trails Marino by 92 completions for fifth place on the NFL's all-time list.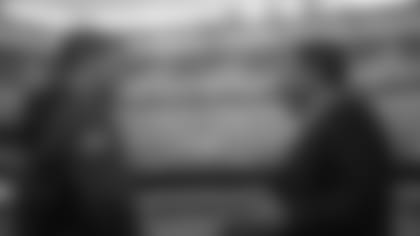 11:19 a.m. – Eli runs back to the locker room with people shouting his name. That would only increase in frequency and volume from there.
12:03 p.m. – Eli straps up the pads at his locker.
12:10 p.m. – Eli and the quarterbacks line up at the top of the carpeted walkway that slopes down to field level. Eli tells team photographer Evan Pinkus that his fly is down. He falls for it. Three weeks earlier, Pinkus had become the butt of his jokes when it was, in fact, down. Eli makes his way to the concourse and runs on the field for pregame warmups.
12:38 p.m. – The full team heads back into the locker room. Eli delivers a pregame speech to his teammates, a rare occurrence – but not completely unheard of in his tenure. One that comes to mind is him getting in front of the entire team before they left for Super Bowl XLVI. Manning, having already been through the hoopla, told everyone that once they land in Indianapolis, it is all business. He said none of the Super Bowl Week parties would compare to the one after they won the game, which they did.
This time, even though the team has been out of postseason contention for weeks, Manning still fires his teammates up. He tells them to leave it all on the field and even drops a word Olivia Manning, who is at the game, might frown upon – twice.
"It was damn good," Sterling Shepard said after the game. "It got everybody fired up and ready to go out and play. He's not one for the pregame speeches, but he gave us one today and it got everybody fired up."
"You know, I don't think a pregame speech has ever won a football game before," Manning said later. "I still don't think it has."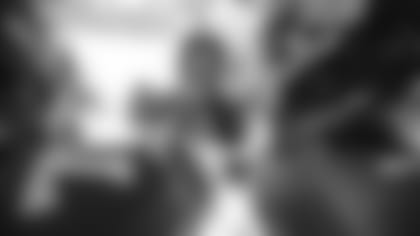 PART II: THE GAME
1:12 p.m. – After Eli accompanies his fellow captains to midfield for the coin toss, something he did not do during Jones' starts out of respect for the rookie, the Dolphins get the ball and proceed to miss a field goal on the opening drive. Eli takes the field for the first time, and public address announcer Gordon Deal introduces him to the crowd. This happens during a TV timeout, making it a special, exclusive moment between Eli and those in the stadium. "Eli Manning, Eli Manning" chants break out in a similar cadence and accent of the "Derek Jeter, Derek Jeter" that for so many years serenaded Yankee Stadium.
1:28 p.m. – My grand idea to chronicle the dramatic game comes to a crashing halt. Eli is not dramatic.
That is what makes him, well, him. He lets the football do the talking – except for the expletives before the game, of course. For the remainder of the game, good or bad, he is the exact same person on the sideline. When it's the offense's turn, he takes off the beanie, puts on the helmet, and runs on the field. When he comes off, he takes the helmet off and puts the beanie back on. Then he sits on the bench, typically with Tanney on his right, Jones on his left, and director of football administration Chris Pridy crouched in front of them with a tablet. They talk Xs and Os until it's time to take the field again. Rinse. Repeat.
1:51 p.m. – The first big moment of the game unfolds. Golden Tate makes a circus catch on Eli's pass and takes it 51 yards for a score to tie the game with 8:01 left in the second quarter. Eli makes sure he gets the ball from Tate and gives it to assistant equipment manager Tim Slaman for safekeeping.
2:11 p.m. – Eli throws his first interception. You see something that resembles anger in his face as he comes back to the bench, but it quickly dissolves into resolve. Helmet off. Beanie on. Back to the tablet with Jones, Tanney, and Pridy. Eli throws another interception in a last-ditch attempt to score at the end the first half. The Giants trail, 10-7.
PART III: IT'S HAPPENING
2:40 p.m. – The Giants get just what they needed. Eli hits rookie wide receiver Darius Slayton for a 26-yard gain on the first play of the second half. Eli then finds Cody Latimer for 21 more yards and the offense has the momentum now. After a Saquon Barkley run and an illegal use of hands penalty on Miami, Eli connects with Slayton again – this time in the end zone. 23-13, Giants. Helmet off. Beanie on. Back to the tablet with Jones, Tanney, and Pridy.
3:17 p.m. – After Shepard's catch brings the Giants to the goal line, Eli hands off to Barkley and knows right away the star running back can get the edge. Eli signals touchdown almost instantaneously. Helmet off. Beanie on. Back to the tablet with Jones, Tanney, and Pridy.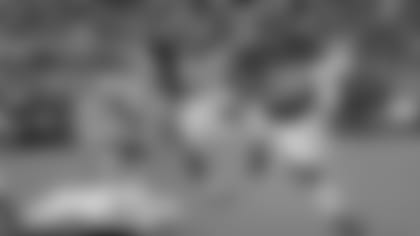 3:29 p.m. – The Giants take a 23-13 lead into the fourth quarter. During intermission before the start of the fourth, the crowd, which senses how the game is turning, starts back up with the "Eli Manning, Eli Manning" chants. There is no doubt this crowd has come to MetLife Stadium today to see Eli.
3:31 p.m. – A 10-yard touchdown run by Barkley gives the Giants a 30-13 lead just six seconds into the final quarter. At this point, it has to be dawning on Eli that the game is unfolding the way everyone in MetLife Stadium wants – and the way it should, quite frankly. But still no emotion. Helmet off. Beanie on. Back to the tablet with Jones, Tanney, and Pridy.
3:40 p.m. – A man in a blue No. 10 jersey runs on the field, but it is not Eli. The renegade fan gets near midfield where he is met by security. The crowd quickly realizes what jersey he is wearing and cheers him as he gets escorted off the field.
3:47 p.m. – Finally, the first smile from Eli appears. Not a big one, but the Giants are up by 17 points with 8:37 left in the fourth quarter. It's happening.
3:59 p.m. -- Buck Allen's one-yard touchdown run seals the deal. The celebration is on. The team makes a tunnel of high fives as Eli works his way back to the bench. Eli isn't trying to contain his joy anymore at this point.
4:06 p.m. – Tanney warms up on the bench. Something is up.
4:09 p.m. – Eli takes the field, and perhaps for the last time ever. He hands the ball off to Allen, who loses a yard. Dolphins call timeout.
4:10 p.m. – Tanney enters the game. The crowd, like it has been all day, is in tune to the gravity of the moments that are unfolding. Eli is surrounded by everyone on the bench at this point.
4:13 p.m. – Jones is next in line for a moment with Eli. After that, Eli is shown on the video boards. His face is a mixture of smiling, crying and downright awkwardness. He gives a thumbs up.
"Probably just the fans, the chants, the awkward feeling of standing there on the sideline, kind of a circle around me," Manning said in his postgame press conference about what he will remember most. "Everyone looking at me and staring at me, a camera on me and not feeling real comfortable in that circumstance. But getting taken out there in the fourth and just having all my teammates come up to me and say something, little hugs. You appreciate all of those guys and everything they've done to get this win today."
PART IV: POSTGAME
4:15 p.m. – Clock hits 0:00. There is a huge media crush on Eli. He shakes hands with Fitzpatrick before he does an interview with CBS.
4:18 p.m. – Eli completes his victorious trot back to the tunnel, fighting back tears at this point. The moment hits a fever pitch when, amid dozens of cameras, he meets with his wife Abby and their four children in the tunnel.
4:19 p.m. – Eli makes his way into the locker room. The team prays before coach Pat Shurmur delivers his postgame speech. "That was a hell of a day, right," Shurmur said. "You fought hard, we played together, we made enough plays. We got down, we got back up, and then we took control of the game and won it. And this guy has gotten many game balls, but let's give him one more. Eli Manning."
The locker room erupts. Eli takes the ball from Shurmur and the two hug. "Speeeeeeeech," his teammates plead.
"Love you guys," Manning says. "I appreciate this. This is a special win, and they're all special. All of them are tough. It doesn't matter what the feeling is, [how] the season is going, there's not a better feeling than a win in the locker room on a Sunday, boys. So I appreciate this. This one was special, and let's keep it rolling, all right. I'll see you Wednesday."
And just like that, Eli gives the team a Victory Monday.
4:45 p.m. – Eli enters the room, the same one in which he was stretched out in a few hours earlier, for his postgame presser. He recaps the day, including words he shared with team president John Mara.
"I thanked him," Manning said. "He said just thank you and congrats. Nothing too long from either of us. But I saw some of his grandkids and gave them a high-five. I shook a lot of hands and had a lot of hugs today."
Was Eli near tears on the sideline?
4:55 p.m. – With his leather bag in his right hand, Manning leaves the press conference and exits the stadium surrounded by family. Not a bad day's work.