It was a white gloves day for Joann Lamneck. Her official title is assistant director of community and alumni relations, but she is also the keeper of the four Lombardi Trophies at 1925 Giants Drive. They don't go anywhere without her or her express written consent. And you sure as heck don't touch them with bare hands, unless there is a Giants logo on your chest and confetti is coming down on you at that very moment.
She needed two of the trophies for an event Friday morning in the fieldhouse. They were already polished. She completed the 40-minute cleaning at the end of the season, knowing they might be needed in an offseason of change. The trick is not to use too much Nevr-Dull wadding polish. Just a little goes a long way. If she overdoes it, she has to go back with a Q-tip and dig out the excess guck stuck in the crevasses. The Giants are one of the rare teams to have the name of every player and coach engraved on them, so the task could take a while. She was careful this time. Eli Manning's name was as clean as a whistle – on both of them.
A little after 9 a.m., she delivered half of the Giants' crown jewels from the atrium to the fieldhouse. There, she walked into a sea of white folding chairs set up on the full-size football field. They faced a stage dressed with a framed blue No. 10 jersey on an easel to the left, a see-through podium in the middle, and a table to the right. On it there was already a game ball that listed Eli's career achievements. She flanked the painted football with the shiny, sterling silver Lombardi Trophies. The scene was set.
Elsewhere at the Quest Diagnostics Training Center…
9:36 a.m. (All Times Eastern Coughlin) – Daniel Jones pulls up to the facility with Duke head football coach David Cutcliffe and his wife Karen. Also accompanying them are Blue Devils staffers Art Chase (senior associate director of athletics) and Zach Pidgeon (assistant director of football operations). While the Manning family carries a lot of weight in football, the Cutcliffe name does the same in the Manning household.
Before taking over as head coach of the Blue Devils in 2008, Cutcliffe mentored Eli and Peyton Manning, two former SEC Players of the Year who went on to be drafted No. 1 overall. With Eli, Cutcliffe was the Ole Miss head coach. With Peyton, he was the assistant head coach and ran the offense at Tennessee. So it wasn't uncommon for Cutcliffe to pull up the brothers' tape and show it to Jones, who threw for 52 touchdowns and ran for 17 more in 36 career games at Duke.
9:37 a.m. – Ernie Accorsi arrives. The former Giants general manager will always be remembered for having the guts to bet the house on Eli. After the San Diego Chargers drafted Eli first overall in 2004, Accorsi obtained him in a trade for quarterback Philip Rivers (whom the Giants had taken with the fourth pick), the Giants' 2004 third-round pick, and 2005 first- and fifth-round selections. From that day, Eli went on to play more games than any other player in the nearly century-old franchise. He talks with Cutcliffe and heads upstairs to team president and chief executive officer John Mara's office.
9:?? a.m. – In typical Manning fashion, he sneaks into the building at some point around now. I honestly don't know when or where. There is no chauffer, no red carpet, no trumpets. He just appears, unassuming and ready for one last day at the office. He meets with his father, Archie, and Cutcliffe outside the cafeteria, located straight back from the main entrance to the facility.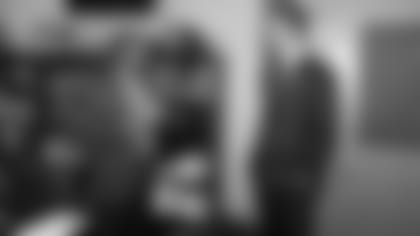 9:59 a.m. – Manning embarks on a goodbye tour of the building, starting downstairs. He meets with the medical staff, including head athletic trainer and senior vice president of medical services Ronnie Barnes. He says, "You never missed a game." Eli responds, "It was because of you." Barnes quips, "I have a box full of rings because of you."
Next is the video department. He meets with Stephen Venditti and Carmen Pizzano, and they reminisce about their "dungeon" days in the bowels of Giants Stadium. Pizzano asks Eli if he is more nervous about the speech he is about to give or the time he asked Abby's father if he could marry his daughter. Eli says, "That's the thing, it's not that long. It's only one line." He is referring to the proposal, not his retirement speech, which would be much longer.
At this time, Eli runs into director of community relations and youth football Ethan Medley, Sammy Arthur, who is special assistant to chairman and executive vice president Steve Tisch (and carrying around a box of tissues), and Cleveland Browns senior vice president of communications Peter John-Baptiste, who spent 17 years with the New York Giants until 2014. John-Baptiste tells Eli not to do what Super Bowl champion center Shaun O'Hara did at his retirement: "talk for about 45 minutes and didn't take a breath." Eli assures everyone. "I'm six minutes and out."
10:09 a.m. – Eli heads upstairs. Alongside him this whole time is senior vice president of communications Pat Hanlon, who has on the same suit jacket he wore at Eli's introductory press conference in 2004. It still fits.
10:18 a.m. – They stop in front of football operations coordinator Ed Triggs' office. Mara walks over and asks how Eli is doing. "It's getting easier," Eli says. It is already an emotional day for both of them, and the show hasn't even begun. They reconvene with Accorsi at the top of the stairs before heading down. They run into longtime punter Jeff Feagles, another Super Bowl champion teammate who actually wore No. 10 at the time Eli was drafted. They worked out a deal, and now the number will never be worn again by a Giant. Feagles tells Eli just to be himself today. Why stop now.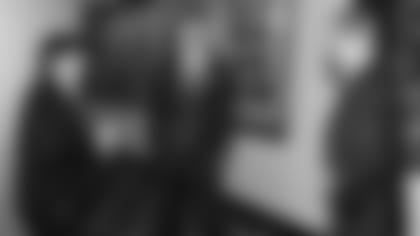 10:22 a.m. – The first Tom Coughlin sighting. The two-time Super Bowl champion head coach was already talking with longtime offensive assistant Mike Sullivan and former players David Diehl and Hakeem Nicks. Four years ago in the same building, Eli got emotional during Coughlin's press conference after he and the organization parted ways. Coughlin noticed him in that moment. "He's what you want a son to be made out of," Coughlin said at the time. "He thinks he's the reason. He's not the reason. Eli, it's not you, it's not you. It's us. We win, we lose together. When we lose, I lose. When we win, you guys win. That's the way it is. That's the game. I know what it is. I got the game. I got it."
10:26 a.m. – Eli heads into the cafeteria, which doubles as a green room for the day. It's a who's who of the 2007 and 2011 championship teams in addition to family members. Coughlin is talking with Archie. Brandon Jacobs is with Rich Seubert, who asks Eli if he wants to get into coaching high school football like he does now at Watchung Hills. Seubert says, "You could be a QB coach. No, you know what, you can coach the O-line." Eli says, "Yeah, I know some O-line schemes."
10:43 a.m. – Team security guard Mike Murphy escorts Eli's family into the cafeteria. Eli and Abby now have three daughters (Ava Frances, Lucy Thomas and Caroline Olivia) and a son (Charles Elisha). Abby puts a No. 10 pin on the kids, the same one all staff are wearing for the day.
11:00 a.m. – Eli starts his walk to the fieldhouse. Remember, this is Coughlin Time. The real time is 10:55, five minutes before the press conference is set to begin.
11:03 a.m. – New head coach Joe Judge and Michael Strahan enter the fieldhouse together. Next is Eli, holding hands with his daughters. His parents are behind them, and then Abby walks in with Charlie. Everyone takes a seat.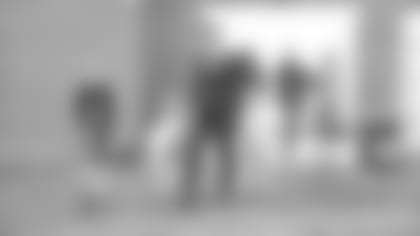 11:05 a.m. – A video tribute begins. Eli, holding Charlie on his lap, fights back tears. However, a clip of him saying "1-2-3 Dominate" in the huddle brings a quick smile of relief to his face.
11:10 a.m. – Mara talks first. "This is certainly a day of very mixed emotions for us," he says. "It's sad in one sense because we're seeing the end of an incredible playing career, and saying goodbye to someone who has been everything you could ask a player to be both on and off the field for the last 16 years. Yet, we're also very happy because we get to be here to celebrate that incredible career and we're also able to witness one of the greatest players in franchise history be able to leave the game on his own terms, having played his whole career as a Giant, something that doesn't always happen in this business and if anybody deserved that opportunity, it's Eli Manning."
Mara then shares a heartfelt story of his late father, Wellington, whose final game was Eli's first victory.
"I also remember the last game of the 2004 season, Eli's rookie year, when he took the team down the field at the end of the game in the closing seconds to beat Dallas," Mara says. "It was the last game my father ever saw, and I can remember walking to the locker room with him afterward and him saying to me, 'I think we found our guy.' And how right he was."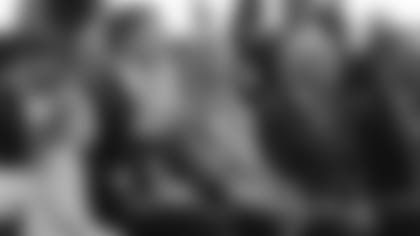 11:14 a.m. – Mara presents one final game ball, which "attempts" to list all of his accomplishments. "We would be honored to induct you into our Ring of Honor next season," he adds. "And please know this, no Giant will ever wear No. 10 again." With that, Eli takes the podium. Meanwhile, Charlie plays in front of the stage with a toy football with a Giants logo.
11:16 a.m. – Eli talks about his final game, a 36-20 victory over the Dolphins at MetLife Stadium. He was pressed back into duty in Week 15 after Jones, his successor, dealt with an ankle injury.
"This sport has very few real farewells, but as the clock ran down on our win against the Dolphins this season, I ran to my favorite place in the stadium, the tunnel," he says. "I waved to our loyal fans and then Abby, my kids, ran out to meet me. That was my farewell and a moment I'll cherish forever. There won't be any more tunnel moments for me, and I'll truly miss them."
Eli goes on to say, for now, he wants to focus on the touchdowns, the wins, the celebrations, and "sharing a cold beer in the back of a bus after a big game." That brought a laugh to the dozens of former teammates who came back for the speech.
11:18 a.m. – Eli says thank you.
"Of course, the Mara and the Tisch family. You can be confident that no one has loved and appreciated wearing the Giants uniform more than I have and that will never change.
"To Ernie Accorsi, 16 years ago, Ernie made the trade that made me a Giant for life. Thank you so much.
"To Coach Tom Coughlin, thanks for teaching me the work ethic, the discipline and the value of team-above-all-else mentality.
"To Coach Kevin Gilbride, thanks for always having my back and trusting me and supporting me through my entire career.
"And of course, to all my teammates. If I named them all, it would take forever and no one would recognize me if I did. What I will say is that the best thing about playing all these years, is the number of teammates that I can call real friends, and of all those friends, I'm lucky enough to have a few that have become as close as brothers.
"And of course, my family. I don't think I need to make public comments for my family to know how I think about them, but Abby, and to Ava and Lucy and Caroline and Charlie, you are my rock.
"And to the Giants fans, you are definitely unique, but I love you for that. I'm walking away today feeling like a New Yorker. Well, at least a Northeasterner and that says a lot about a guy from New Orleans who went to Ole Miss. Since I've only been here, I'm biased when I say that the New York Giants are the greatest organization in the NFL and how they treat players, coaches and personnel. The team's driving commitment: to win football games. It's a rarity, but here, team always comes first.
"It's been an honor to be a part of this family and I hope that I've represented the organization in the way that you wanted me to from my first day to my last. For most of my life, people have called me Easy. Believe me, this is nothing easy about today. Wellington Mara always said, 'Once a Giant, Always a Giant.' For me, it's 'Only a Giant.' Thank you so much."
PART IV: ONE LAST ROUND WITH THE MEDIA
11:26 a.m. – Eli fields questions form the media for one final time as a player. The first one: Why retire now?
"Well, I think it was important to me to go out as a Giant, and I think when you get drafted and you come to an organization, I think that's always your goal to stay with one organization your entire career," he says. "As you get towards the end of it, it doesn't always work out that way and you still have desires to play sometime, but I think it was important, the fans, the organization, this family with the Giants, has been so remarkable. I think it was the right thing to call it a career and to end it instead of trying to uproot my family and leave and try somewhere else. This was the right decision, and I know it is and I'm at peace with it. I think that's what has made this day a little bit easier."
"I don't know. I think these last few weeks as I made this decision, I really didn't think much about going forward. I think a lot of my time was spent just reflecting on these past 16 years. I talked to a lot of coaches, a lot of former teammate. We had a lot of laughs, a few cries, just about the great moments. And so I think my focus has been on that. You know, I look forward to a little downtime. I look forward to spending time with my family, coaching Ava's third great basketball team, assistant coach, and just being involved with my kids and Abby and getting to do some things that I've missed out on because of this job and occupation and dedication I gave to it. I think I'm going to take some time and just enjoy it and then figure out what my next steps are."
11:37 a.m. – Radio host Don La Greca, sitting next to Michael Kay, asks Eli about his intestinal fortitude. During 2011 training camp, Eli was asked on their show if he considers himself elite. Eli said yes and won the Super Bowl that year.
11:39 a.m. – Eli timed his retirement in between the Hall of Fame announcement of Yankees legend Derek Jeter and Super Bowl Week. A reporter asks about the fellow sports icon and what it would mean to get into the Pro Football hall of Fame someday.
"I'm just trying to figure out which one of y'all didn't vote for him (into the Hall of Fame)," Eli jokes, "I know there's only one of you, so I know you're probably in here. You know, Derek was great. He called me my rookie year when we were starting, lost a few games, and he just talked to me about that it would get easier and stay the course and be yourself and keep working, and things do improve. We've had a good relationship over the years. Seen him at several things and stayed in touch somewhat. After that, it was someone who I watched closely and how he conducted himself, how he dealt with the media, how he dealt with fans and how he worked hard and how he stayed humble in all circumstances after so many championships that he's won. He was on top of the world. You know, I took a lot of notes from how he handled New York, so he's been great role model for me all these years. Your second question, that's not a concern. My focus now is just reliving the great moments and the great memories with my teammates and my family, and let everything else work out from there."
11:41 a.m. – Just as Eli began his presser, Tom Brady tweeted a message to Eli.
A reporter makes him aware of the comment. Their history needs no repeating.
"I've been around Tom a number of times and see how competitive he is," Eli says. "We joke around it a little bit, but I think it's not real funny to him. You know, those are obviously -- when you think about the great moments in your career, those are going to be at the top of the list, when you win championships and both of them, two-minute drives to go down there and win it against an undefeated team that had not lost all year; I think those are special.I think everybody wants to make it me versus Tom Brady. It was the Giants versus Patriots. Our defenses played outstanding. Guys made plays. David Tyree, Mario Manningham, Plaxico Burress, in the corner of the end zone. Like I said, you just cherish those moments and you cherish those relationships that you have with those teammates and coaches when you win those games, and you know, those are -- that's obviously why you play for. You play for the opportunity to win a championship. You realize how hard it is and how difficult and all the breaks that have to go your way and that you got to overcome to get to those scenarios. Those are special ones that fortunately you get to kind of relive those moments through your friends."
11:43 a.m. – Eli fields his final question. He poses for a few photos with his family, and young Charlie breaks Joann's rule about not touching the Lombardi Trophy with bare hands. She lets it slide. Then, just as unassumingly as he entered, Eli leaves the fieldhouse. Not a bad 16 years worth of work.