Six months ago to the day, Clint Sintim's season abruptly ended for the second year in a row.
The linebacker, who was selected by the Giants in the second round of the 2009 NFL Draft, tore his anterior cruciate ligament during the third quarter of the final preseason game against the Patriots last September and was placed on injured reserve the following day. At the time, Sintim was less than a year removed from suffering the same injury the previous December.
Now, as he embarks on his fourth season, the University of Virginia product reflected on his second round of rehab in "Beyond The Lawn," which is a yearlong series following the lives of three professional athletes from his alma mater.
*"If you ever needed motivation for anything, winning the Super Bowl is probably the easiest way to be motivated. To be out there and watch the game from a fan's perspective with a seat is bittersweet. You want to be out there. You want to play. You want to share that moment with those guys you went through camp with. Unfortunately, it didn't come to pass this year.
**"But I was at the game. Game day I woke up excited as if I was going to play. I actually had to calm myself down because I was getting all riled up for no reason. It was exciting. We got there at like 4:30 and saw some of the guys and tried to stay out of their way. We tried to take as many photos and videos as possible just to document the event. To come away with a win is just something I'll take with me for the rest of my life."
*Sintim then concluded with getting back onto the football field.
*"The doctors and trainers are saying nothing but great things. The biggest thing is remaining positive and diligent in what you're doing. If I can continue to do that, and I think I've done a pretty good job with it, I think I'll be alright. I've just got to continue to grind and do what's expected of me and try to get healthy so we can make another run at it next year"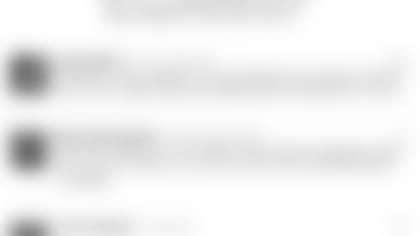 Secret of a Coach's Success? Ivy League Recruiting Battles
INDIANAPOLIS*— The Giants' organization is filled with football-savvy people, all of whom seem to agree on one thing: they knew the team's wide receivers were talented, knew they had potential and knew they could be dangerous this season, but never imagined the receivers would end up with the gaudy statistics they ultimately compiled.
Report card analysis: Coaching