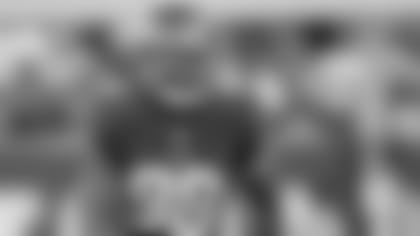 Moore blocked his second punt of the season in Sunday' win against Oakland – three counting his NFL debut in the preseason. His training camp roommate, Cooper Taylor, returned the blocked ball 21 yards for a touchdown in an up-and-down game and season for the Giants' special teams.
"When he scored the ball, it was like a one-two punch," Moore said. "It was like the old roommates again. So I think that was honestly what really made it special."
Moore first found the punter's foot in Pittsburgh in the preseason when he blocked Drew Butler on the Steelers' first drive of the preseason. He later took out Kansas City's Dustin Colquitt in Week 4, but neither led to a touchdown return.
However, with an emphasis on where and when to strike, Moore this time got his entire right forearm on the ball, which bounced perfectly toward the opposite end zone and into the hands of Taylor.
"It actually went through my mind," Moore said. "The crazy thing about it is coach has been harping – [since] the Pittsburgh game, the Chiefs game when I tipped it – he was like, 'You really could have gotten it. All you had to do is just have your hands below your eyes and run through.' Today I just got off the ball and I thought about it."
The special teams touchdown came after the Giants spotted seven points to the Raiders as Jerrel Jernigan fumbled the opening kickoff. Oakland recovered at New York's five-yard line and punched it in for a touchdown two plays later.
Prior to the game, the Giants had allowed three punt returns for touchdowns this season. The rest of the 31 teams in the NFL combined to give up five.
So Moore's block and Taylor's scoop-and-score, which tied the game at 7-7 in the first quarter, not only changed the complexion of the game, but it also put one in the plus column for the special teams.
"I was so excited and so happy and ecstatic – and pumped for Damontre," said Taylor, who was drafted last April by the Giants in the fifth round, two rounds after Moore. "Really, that's the guy that should get the credit to come through and block like that, a perfect block. It was just awesome, an awesome opportunity."
Getting down to the nuts and bolts of the play, the Giants saw the tight formation like that they expected from a week of watching film on the Raiders. When they saw that, it was just a matter of getting a good jump off the ball.
"A lot of the times with those punt blocks, you can hear it," Taylor said. "It's the first thing you do because you're getting blocked [on the line]. I definitely heard it, it was the first thing, and then I saw the ball right in front of me."