PITTSBURGH –Damontre Moore has never been afraid to saddle himself with lofty expectations.
"I like to set high goals and try to accomplish them," Moore said. "And if I do, I can say I accomplished something that was nearly impossible. If not, I'm going to be disappointed, but at the same time, if I come anywhere close to it, it's a good thing."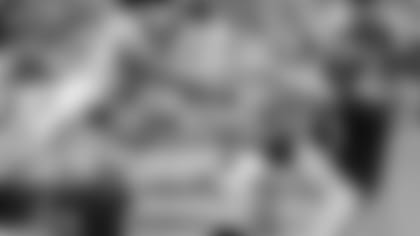 Gameday Photo Gallery](http://www.giants.com/photos/photos/Gameday-Giants-vs-Steelers-Game-Photos/5707cfd6-4833-4d46-871b-ea5eaaabcb1a) Moore, the Giants' third-round draft choice this year, has established a new personal ambition, one that will require several years to be fully realized. He is familiar with the Giants two-decade history of drafting and developing outstanding defensive ends like Michael Strahan, Osi Umenyiora and current teammates Justin Tuck, Mathias Kiwanuka and Jason Pierre-Paul. Every one of them but Kiwi has played in at least two Pro Bowls.
Moore hopes to perform well enough to join that list. A very preliminary review suggests that may not be far-fetched. Yes, it is vastly premature to make sweeping judgments after one preseason game. But Moore was one of the best players on the field in the Giants' 18-13 victory over the Pittsburgh Steelers Saturday night in Heinz Field.
The former Texas A&M star was credited with four tackles (three solo), including one for a loss and a quarterback hit, plus he blocked a punt. Moore was close to making several other plays from his right end position as he gave the Steelers' offensive line fits.
"Moore obviously was a problem for Pittsburgh from a pass rush standpoint," coach Tom Coughlin said. "He keeps coming and he likes it and he had a punt block, which was nice."
The Giants believe Moore can become the disruptive force his defensive end predecessors became. All of them were selected in the first three rounds of their respective drafts. They consistently tormented offensive linemen and terrorized quarterbacks. At this moment, those five defensive ends have recorded 323.5 sacks and counting for the Giants.
"Those guys are talented players and their names ring bells in the league, so I think anybody would like to be among those guys," Moore said. "I feel like it's a lot of pressure, because those guys are such great players. But at the same time, it gives me hope and motivation. The Giants have a tremendous history producing top pass rushers and defensive linemen. To have all those guys and to have a great group of guys that are still here like Justin Tuck, Kiwi and JPP – that's a lot of pressure, but at the same time it's a good thing, because I have a lot of older guys to look up to and learn from and get their experience and wisdom and maybe learn some techniques."
Moore arrived with an impressive skill set and collegiate accomplishments. In 38 games at Texas A&M (23 starts, including 10 at outside linebacker), Moore had 197 tackles (116 solo), 26.5 sacks, 45.0 stops for losses and eight forced fumbles.
The Giants selected him with the 81st overall pick of the draft, a decision that paid immediate dividends against the Steelers.
On the game's first series, Pittsburgh had to punt from its 17-yard line (after the initial punt was nullified by a penalty). Moore blasted up the middle through a hole in the Steelers' line and got his hands on Drew Butler's punt. Louis Murphy recovered the ball and returned it eight yards to the Pittsburgh five-yard line. Alas, the Giants had to settle for a field goal.
Moore said he had blocked field goal attempts in high school and college, but never a punt.
"I was excited," he said. "I just ran and did what coach told me to do. I got a little hitched up and I was there to make a play. It was all surprising to me."
Soon after Moore relieved Kiwanuka at right end he dropped running back Jonathan Dwyer for no gain. On the first play of the next Steelers possession, Moore and linebacker Dan Connor again stopped Dwyer before he could pick up a yard. Four plays later, Moore continued to harass Dwyer by tackling him for a one-yard loss after a reception.
After the game, Moore sounded as eager to say the right thing as he was to make a play.
"I just listened to the coaches," Moore said. "We've been practicing hard and they said just handle the scheme and do what we've told you to do and the play was there. My coaches put me in a great situation. So overall, I'm pretty pleased. But there's always room for improvement. I made a lot of mistakes out there. We'll see when we watch film how good it was or how bad it was. I'm ready to learn from my mistakes and try to get better."
If he continues to improve and plays at a high level for, oh, the next three or four years, maybe he'll deserve to be mentioned with the other Giants standouts at his position.
"Right now I'm just trying to learn and take it one day at a time," said Moore, who doesn't turn 21 for another month. "If I do that, everything will take care of itself."