Damontre Moore whetted his appetite with early success on special teams. Now the rookie defensive end is ready for the main course.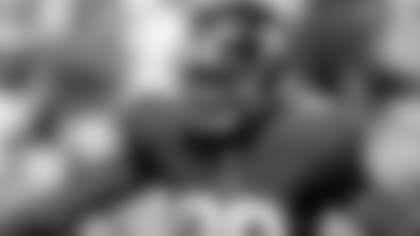 Know Your Opponent: Eagles Roster The Giants coaching staff is starting to believe so, too. And the timing couldn't be better because there are four defensive linemen on the team's injury report to begin the week, although Jason Pierre-Paul participated fully in practice today.
>> LATEST GIANTS-EAGLES INJURY REPORT

That led Tom Coughlin to say in his Wednesday press conference that the third-round draft choice will get an opportunity to contribute on defense. Moore was told the same.
"I say, 'OK,'" Moore said. "But I try not to get hung up on it because I like to try to stay hungry. It's like that old saying, 'A hungry dog hunts the best.' So I just try to stay levelheaded and not pay attention to it and keep doing what I've been doing."
After missing the season opener with a shoulder injury, Moore is tied with Zak DeOssie for second on the team with two special teams tackles. He also partially tipped a Kansas City punt last week, following up his blocked punt against the Pittsburgh Steelers in the first preseason game.
Like most players who go on to have successful careers with the Giants – including fellow defensive ends Pierre-Paul, Justin Tuck, and Mathias Kiwanuka – the path for Moore began with special teams. That's how it gets laid out by the coaches.
"The coaches have always been men of their word," Moore said. "Every time they tell me something, it's always been right. When they told me if you play your scheme and you run it as hard as you can, you're going to get a block your first week. Everything that they've said has come true. So I wouldn't start doubting them now."
Coughlin hopes the team can build on Moore's "good energy" and contribution on special teams.
Asked what is the one key ingredient that he could add to the Giants pass rush, Moore paused, and responded, "Just an eager puppy that's ready to get in there and just go play. Just tell me what to do and I'm going in there with open eyes and just running as fast as I can, as hard as I can, and hopefully something happens."