EAST RUTHERFORD, N.J. – Eighteen NFL teams have started just one quarterback this season. Only two of them have thrown just two interceptions – Tampa Bay's Tom Brady and the Giants' Daniel Jones.
Yes, Jones is mingling with some impressive company. After throwing 29 interceptions in his first 37 career starts, Jones has tossed just two picks in nine games this season, covering 237 throws. His last was on the Giants' final offensive play against Dallas on Sept. 26.
In the six games since, he has thrown 145 passes and none of them were caught by a defensive player. That is the second-longest streak of his career, surpassed only by the 177 consecutive passes he threw without an interception in the 2020 season.
Has Jones been more focused on avoiding turnovers and more careful with the ball? Has coach Brian Daboll put more emphasis on Jones reducing his interceptions?
"I think all those things, probably," Jones said. "I think trying to be smarter seeing coverage and understanding when to take shots (and) when not to. That's something that I talk with (quarterbacks coach) Shea (Tierney) a lot in our quarterbacks meetings. We talk to Kaf (offensive coordinator Mike Kafka) a lot, too. I think they've done a great job of helping me understand when those situations are, when we're going to take shots and when we're going to be more aggressive. And when we're not (going to be aggressive), we're going to take care of the ball.
"I still try to do that better every week. I think I've had some decisions that still haven't been great – haven't been the best thing to do with the ball. So, I'll look at those and I'll try to clean those up."
Jones has been widely praised for his performance this season. His completion percentage of 65.8 and passer rating of 92.7 are both career highs. In addition to cutting down his interceptions, Jones has lost just two fumbles, one of them a harmless giveaway on the final play of the first half in a victory vs. Baltimore.
A reporter today prefaced a question to Jones by saying, "A lot of people say you're playing the best football of your career." He didn't say if he is or isn't, but if so, are the reduced turnovers a big reason for that?
"I think it's part of it," said Jones, who will lead the Giants against the Detroit Lions in MetLife Stadium on Sunday. "I think just trying to make good decisions, get the ball out of my hand on time. Any time you're holding the ball, you open yourself up to fumbles, to interceptions, to bad things happening. So, I think it starts with making quick decisions."
Wide receiver Darius Slayton and Jones were both members of the team's 2019 draft class. Slayton has gained 1,801 yards and scored 11 touchdowns on passes thrown by Jones, more than any other receiver, and his 123 catches are second to Sterling Shepard's 140.
He believes Jones' impressive interception total is a group effort.
"I think that we've all grown in our time here," Slayton said. "We've all gotten better, but I think definitely this year this system along with us surrounding people have done a better job of helping him. At the end of the day, in the meetings and everything, quarterbacks always get all the blame when things go wrong. They get credit when it goes right. In both ways, there's probably sometimes when you're like, 'Well, you can't just blame them for everything.' At the end of the day, all they can do is stand back and throw it. Somebody's got to block; somebody's got to catch. All those things. So, I definitely think it's a credit to his decision making, but I think we've done a better job at helping him out and keeping him out of bad situations."
Jones has been aided by a rushing attack that features NFL leader Saquon Barkley (931 yards) and ranks third in the NFL (164.8 yards a game).
"I think it certainly helps to run the ball," Jones said. "The way we're controlling the game with our run game and how effective we've been at doing that, I think that certainly helps the pass game and helps the ball security component of that.
"Like I said, there's some decisions I'd like to have back. I think there's some I've gotten lucky on. So, look at those and you can still learn as much from that as if it was caught or if it was intercepted. That's the challenge."
*Giants coach Brian Daboll worked with his Detroit counterpart, Dan Campbell, on Tony Sparano's Miami Dolphins coaching staff. Daboll was the offensive coordinator and the exuberant Campbell the tight ends coach. Their initial meeting was memorable.
"When I was a coordinator for Tony Sparano – Tony said, 'Hey, I got this guy that I think would be good. Why don't we interview him? You take care of the interview,'" Daboll said. "So, I interviewed Dan, and it was a great interview. He's slamming chairs on the ground and hitting walls and going through all these drills. You guys know him; he's a fantastic person, great family. It was an entertaining interview. (He) knew a lot. Obviously, he was very passionate, tough as nails you could tell. He was out of breath in half that interview with the stuff he was doing. Yeah, great guy."
*Campbell, a tight end, was the Giants' third-round draft choice in 1999. He played four seasons for the team and later played for Dallas, Detroit and New Orleans.
On Sunday, he will become the fourth former Giants draft choice – and sixth former Giants player – to face them as a head coach.
Hall of Famer Tom Landry was selected in the 20th round of the 1947 draft but did not make his debut with the team until 1950. He played defensive back through the 1955 season and was a player/coach is final two years. He was the Giants' defensive coordinator from 1956-59 before becoming the head coach of the Dallas Cowboys from 1960-88.
Another defensive back, Dick Nolan, was the Giants' fourth-round draft choice in 1954 and coached against them with the San Francisco 49ers coach in 1972 and 1975 and with the New Orleans Saints in 1978-89.
Wide receiver Ray Rhodes was drafted by the Giants in the 10th round in 1974. He was the coach of the rival Philadelphia Eagles from 1995-98.
Two former Giants tight ends faced them as head coach: Joe Walton with the Jets in 1988-89 and Rich Kotite with the Eagles from 1991-94 and the Jets in 1996.
*Two members of the Giants' starting defensive front did not practice Wednesday. The reason for Dexter Lawrence's absence was listed as back/resting player. Rookie edge rusher Kayvon Thibodeaux has an illness.
Tight end Daniel Bellinger continues to sit out because of the eye injury he suffered in Jacksonville on Oct. 23.
Five players were limited: wide receivers Wan'Dale Robinson (hamstring) and Kenny Golladay (hamstring), tackle Evan Neal (knee), linebacker Jihad Ward (thumb) and safety Dane Belton (clavicle).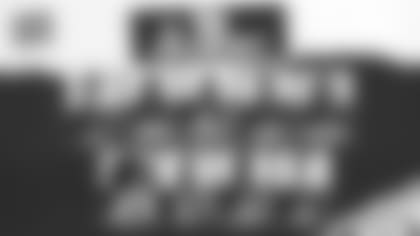 Vote Giants to 2023 Pro Bowl Games
Online voting is now open for the 2023 Pro Bowl Games. Vote for your favorite Giants players.