EAST RUTHERFORD, N.J. – Daniel Jones' sensational first week as the Giants' starting quarterback didn't end when the game did.
Jones was today named the NFC Offensive Player of the Week for his tremendous performance as a first-time starter in the Giants' scintillating 32-31 victory against the Buccaneers Sunday in Tampa.
Five days before the game, coach Pat Shurmur announced that Jones would replace Eli Manning as the team's quarterback. Jones responded by leading the Giants from an 18-point halftime deficit to their first victory of the season, just the second time in franchise history – and the first time in 70 years – they won after falling behind by so many points after two quarters. He was the first Giants rookie quarterback to win his NFL starting debut since Scott Brunner on Dec. 7, 1980.
Jones completed 23 of 36 passes for 336 yards, two touchdowns and no interceptions, and ran for a pair of seven-yard touchdowns while leading the team with 28 rushing yards on four carries.
He was the first Giants quarterback to rush for two touchdowns in a game since Jeff Hostetler on Nov. 10, 1991 and is the first with two rushing touchdowns in a season since Kerry Collins 20 years ago.
Jones was the first Giants quarterback with at least two passing and two rushing touchdowns in a game since Nov. 28, 1948, when Charlie Conerly threw scoring passes of 14 yards to Ray Poole and 23 yards to Bill Swiacki and scored on runs of one and 14 yards against the Boston Yankees.
He became just the second quarterback since the 1970 merger to throw for at least 300 yards and two touchdowns and run for two scores in his starting debut. The first was Detroit's Eric Hipple on Oct. 19, 1981. They are the only two quarterbacks since the merger with multiple touchdown passes and multiple rush touchdowns in their first start.
Jones had a team-high 28 rushing yards and was the first quarterback to lead the Giants in that category since Collins rushed for 19 yards at Tennessee on Oct. 1, 2000.
Jones is the first player to be named Player of the Week after his first career start since Week 1 of the 2015 season, when Tennessee's Marcus Mariota was cited. Mariota, another quarterback selected in the top six of the draft, also played his first game against Tampa Bay and threw for four touchdowns while completing 13 of 15 passes in the Titans' 42-14 rout of the Buccaneers.
Jones is the second Giants rookie to win the Player of the Week award in as many seasons. Running back Saquon Barkley was honored in 2018 Week 11 after scoring three touchdowns – two rushing and one receiving – and running for 142 yards against … Tampa Bay.
Manning won four Player of the Week awards, most recently in 2015 (Weeks 5 and 14). Jones' award is the 31st Offensive Player of the Week honor received by a Giants player since they were instituted in 1984.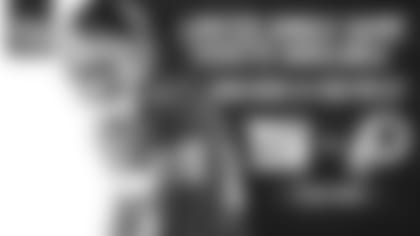 Limited tickets on sale for Giants vs. Redskins
See the Giants take on the Redskins on Sunday, Sept. 29 at 1:00 PM ET