EAST RUTHERFORD, N.J. –** The Giants today completed the reconstruction of their offensive coaching staff by hiring one coach and reassigning two others.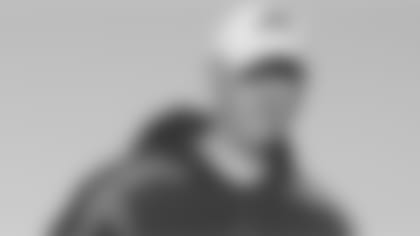 Danny Langsdorf, who recently concluded his 11th season (and second stint) at Oregon State and ninth as offensive coordinator and quarterbacks coach, will instruct Eli Manning and the Giants' quarterbacks. Langsdorf worked with new offensive coordinator Ben McAdoo on the New Orleans Saints' staff in 2004.
Sean Ryan, who was the quarterbacks coach the previous two seasons, will now coach the wide receivers, the position he held in 2010-11. Ryan is entering his eighth season on the Giants' staff.
Kevin M. Gilbride, the wide receivers coach in 2012-13, is the new tight ends coach. He has been on the staff since 2010.
Since the end of the with the 2013 season, three offensive coaches left the team: coordinator Kevin Gilbride, who retired, and tight ends coach Michael Pope and running backs coach Jerald Ingram were relieved of their duties.
Three coaches were added: McAdoo, who was the Green Bay Packers' quarterbacks coach, replaced Gilbride; Craig Johnson, who had been coaching quarterbacks for the Minnesota Vikings and is the new running backs coach; and Langsdorf.
The only offensive coaches who will return in the same position are line coach Pat Flaherty (who has mentored the offensive line since Tom Coughlin arrived in 2004); his assistant, Lunda Wells; and offensive assistant Ryan Roeder.
From 2008-11, the Giants never finished lower than eighth in the NFL's season-ending offensive rankings. In 2012, they were 14th and this season dropped to 28th. In an effort to once again build one of the league's most formidable attacks, Coughlin has put together a staff that has both holdovers and newcomers, veterans and youngsters.
"I like the makeup of our offensive staff," Coughlin said. "There are some obvious and very good offensive thoughts here. And then you bring in Ben McAdoo … I'm excited about that part of it as well. I think the combination of the fundamentals, the innovative ideas and concepts coming from the new coaches, combined with the coaches that we have here that are fundamentalists and very good coaches in their own right, I'm excited about this spring as we put together our identity as an offensive team again. First and foremost, it's going to be good for our players."
Langsdorf's primary responsibility will be to work with and improve the performance of Manning, the two-time Super Bowl MVP who led the NFL with a franchise-record 27 interceptions this season.
"For me, it's just a great opportunity to be able to work with a great quarterback," Langsdorf said. "I know he is looking for improvement off of last year. I'm looking forward to a new challenge and to live in a new part of the country. I was never in New York for any reason up until the interview (with Coughlin). I think it's kind of a neat opportunity for me and my family to experience a different part of the world and just a new challenge, so we're very excited about that. And getting back to the NFL was something that was appealing to me."
Coughlin met with Langsdorf last Thursday and Friday and was soon convinced he was the coach to help revitalize both Manning and the offense.
"When I went through the process of studying his years at Oregon State, I was very impressed with the number of quarterbacks that were highly, highly productive in the Oregon State program, including redshirt freshmen," Coughlin said. "And also in the years, with Jacquizz Rodgers, for example, they ran the ball. So he has adapted to a lot of different things. Then when I had the opportunity to interview him, I would take specific areas in which I think the college game is doing a darn good job, and his ability to relate and teach in these areas, I thought, was outstanding.
"The one thing that is very impressive is that Ben and Danny are fundamentalists, first and foremost, in how they teach. They both have extensive quarterback film and drill work which they teach off of and which relate to the fundamentals of the game – how you drop, how you set, how you save time, how you become more efficient, where's the ball, where do you carry the ball, where's your front foot. When the quarterbacks report back here, that is a very, very good way to start the progression of how the quarterback is developed fundamentally so he can contribute at the highest level in this form of offensive package. I'm very interested in that."
When Langsdorf met with Coughlin, they discussed their shared goal of helping Manning rebound from his disappointing season in which he threw just 18 touchdown passes, his lowest total in a full season.
"That was a very important part of our conversation and the interview," Langsdorf said. "He knows he's got it in him, he's played great football at times, but I think he had a little bit of an off year, a lot of turnovers. That's something that we have to correct, do a better job in taking care of the ball and he stressed that, the importance of that for our entire team. That was part of the discussion, for sure, as well as developing some young guys to back him up."
Langsdorf's offenses at Oregon State have regularly been among the most productive in the Pac 12. Nine of the top 13 single-season yardage outputs were produced under his guidance.
In 2013, Oregon State set a school record with 6,071 yards (shattering the mark set the previous season of 5,610 yards). The Beavers led the conference with 376.2 passing yards a game and were third with 467.0 total yards per game.
Although he hasn't worked in the NFL in a decade, Langsdorf is confident he will make an easy transition back to the pro game and to working with Manning.
"I think really just working, getting back to the fundamentals and teaching the details of the position and implementing a new system are all things that are going to be fun to work with Eli on," Langsdorf said. "With Ben and what he's presenting as a package for the Giants, I think all of those things together will be smooth. I think coaching is teaching, and I think if you're a good teacher, you should be able to do that and teach well and communicate well at any level."
"I think there is something to be said for taking some of the ideas that you see are most prevalent at the college level and bringing that to our game," Coughlin said. "And the combination is very interesting to me."
Langsdorf and McAdoo worked together for only one season, but have remained friends since spending 2004 together in New Orleans.
"We've kept in touch through the years," Langsdorf said. "We haven't been together for a long time. Gosh, I've been out here for nine years now at Oregon State, so we've been apart for a while. But it's always good to reconnect. Ben has had a great career and I'm excited to have a chance to work with him. He's worked with some outstanding coaches and has been able to coach some great players, which has been a good experience for him. He's excited about the challenge and what he's got in front of him.
"I'm really looking forward to working with him. He's got a lot of energy and a lot of passion and detail and I think his system is going to have quite a bit of change from back in the New Orleans days. But there are going to be some similarities with that system. I'm just really looking forward to working with him."
Langsdorf, 41, is an Oregon native. He met his wife, Michele, when they were students at Linfield College in that state. The couple has two sons, Dawsen, 3½, and Carter, 1½. Langsdorf's father, Ed, coached at Linfcield for 20 years and is now a scout for the San Diego Chargers.
"My family is going to enjoy it, we're going to have a lot of fun," Langsdorf said of his family's cross-country move. "And Michele's excited. She's from out here in Portland, but she's excited to see a new part of the country. We loved living in New Orleans, it was quite a bit different. We were in Canada for three years and New Orleans for three, so we've made a few moves and I think we're both kind of excited to live in a different place."
*Ryan joined the Giants' staff in 2007 and spent his first three seasons as the offensive quality control coach. He coached the wide receivers in 2010-11 before shifting to quarterbacks coach in 2012-13.
Kevin M. Gilbride replaced Ryan as the quality control coach in 2010. The following year he was an offensive assistant. When Ryan moved from wide receivers to quarterbacks coach two years ago, Gilbride replaced him as the coach of the wideouts. Now Gilbride is replacing the departed Pope as the tight ends coach.