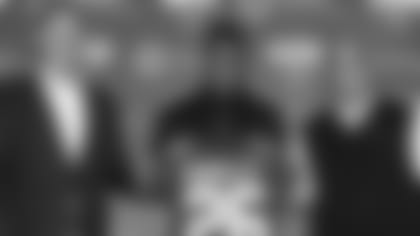 Giants general manager Dave Gettleman stuck to his approach to the NFL Draft in selecting this year's draft class:
The month before the draft, called the "draft season" by some, is known as something else to people who attempt to track what prospects will be selected by what teams, and what trades might happen. Those folks call it the "lying season." Smokescreens and misinformation are tossed out to keep the league guessing, with the hope that each team can squeeze every possible advantage available to it.
Dave Gettleman does not participate. "When I was a kid, every time I lied, I got caught. When I was seven years old, my father kicked my butt and I haven't lied since," Gettleman said at his pre-draft press conference a week before the draft. "To me, it's silly, but that's just me."
Gettleman says what he means and means what he says. Once you cut through his colorful expressions, some Yiddish and a thick Boston accent, he has fundamental football beliefs he holds dear. He has conviction on how you win football games in the NFL, and will act on it. Going back to Gettleman's introductory press conference, he was already giving some clues as to what the Giants would do in the draft.
"You got to run the ball. You got to stop the run. You got to pressure the passer," Gettleman said as he discussed his core beliefs on how to succeed at a high level in the NFL. Every single one of Gettleman's draft picks this year, with the exception of quarterback Kyle Lauletta, addressed one of those three tenets.
Second overall pick Saquon Barkley will help run the ball with the help of offensive lineman Will Hernandez, who was chosen in the second round. Third round selection Lorenzo Carter has pass rush skills. Fellow third round pick B.J. Hill and fifth-rounder RJ Mcintosh will help stop the run and get to the quarterback.
"Big men allow you to compete," Dave Gettleman said. "And that's really so true. The O-line and D-line, I believe in the hog mollies. We've had some great groups here, had some great groups everywhere I've been, and we're going to get back to that. They do allow you to compete."
Gettleman used half of the Giants' six draft choices on linemen: Guard Hernandez and defensive tackles Hill and McIntosh. If you count Carter as a pass rusher instead of a linebacker, it is four out of six. Reinforcing the trenches is something Gettleman focused on when he was the general manager in Carolina, as well, where he used seven of 14 picks from the first three rounds on offensive or defensive linemen.
Here's another quote (that he repeated twice) from Gettleman's press conference back in December before he even looked at a single draft prospect (and then repeated at his pre-draft press conference and again after the draft was completed): "I don't care what position it is. You can never have too many great players at one position."
Despite having two top defensive tackles already on the roster in Damon Harrison and Dalvin Tomlinson, the Giants added two more in the draft in Hill and Mcintosh. Quarterback Davis Webb was a mid-round pick last year and is developing behind Eli Manning, but that didn't stop the team from drafting Lauletta because he was the best player on the team's board.
"Where we had him on the board, we couldn't pass up the value," Gettleman said of Lauletta after the draft. "I had a GM send me a text – they wanted to pull the trigger in the second round, but they got into team needs or whatever."
An eerily similar refrain echoes throughout pre-draft press conferences across the league.
"We're going to pick the best player available." Everyone says it, but not everyone means it. It is no coincidence that teams often wind up drafting players at positions of need, and it is impossible that every instance can be explained by that player being the highest-rated on the board.
The Browns openly admitted they drafted Denzel Ward because they needed a cornerback. "We felt that we needed to upgrade in the secondary," Browns general manager John Dorsey said to Cleveland.com. "I think we've totally upgraded the secondary there with unrestricted free agent acquisitions and trades, and then we attacked it also in the draft." Dorsey later stated Ward and Bradley Chubb were at just about the same level on the Browns' board.
The Dallas Cowboys had needs at linebacker, left guard, wide receiver and tight end and drafted a player at each one of those positions with four of their top five picks. The chance that was a coincidence is small.
Need matters to most teams, but I'm not sure it does to Gettleman, unless all else is equal.
"You put a value on the player," Gettleman said after the draft was complete. "You can't overvalue players. I don't know if I ever told you this story, but when I pulled the franchise tag on Josh Norman down in Carolina, anybody in any English-speaking nation knew we needed corners, okay? But when we got into the draft room, I told everybody, 'We are not going to overvalue any corners and go for need.' Let me tell you something: every time you go for need, you're going to be angry with yourself. You're going to be angry because you're reaching. And if you're in the second round, you've got two guys with second round values, and you're reaching into the fourth round for need, I promise you it's going to bite you. So, you don't do it."
Looking at every one of the Giants picks, each one can easily be explained as being the best player on the board. There were other players at other positions whom many felt filled needs. The Giants optoed to select the player the organization thought was best, regardless of position. If players have identical grades, might need enter the equation? Sure, but it doesn't seem like it tips the scales more than that.
"You've got to stay with the value," Gettleman said a week before the draft. "You have to stay with your board, you have to stay with value. Guys have kind of laughed around the league when we'd be on the clock in Carolina and I'd have my pick in in 28 seconds. If you know what you want, then go do it. Don't be shy. If you get too cute, you're going to lose. You're going to come up on the wrong end and it's about value. You can never have too many players at one position."
Gettleman said he had so much conviction on Barkley he would have had the Barkley pick in as soon as the Giants went on the clock in the first round if not for the NFL asking teams to wait at least five minutes before submitting their pick.
Of course, that doesn't mean Gettleman telegraphed who he wanted to pick. There was still plenty of mystery when the Giants turned in their card last Thursday night. Gettleman shared his conviction on Barkley and his feelings on the notion you can draft a running back too high.
"I think the devaluing of the running back is really a myth," Gettleman said before the draft. "If you have a great running back, he immediately makes your quarterback better, your offensive line better and your passing game. So I don't believe in it. It's how you evaluate the players, how we value them, how we rate them and you go from there."
For emphasis, Gettleman added this after the draft when he was asked about the declining positional value of a running back: "It is a crock," he said. "At the end of the day, a great player is a great player."
Gettleman selected Christian McCaffrey eighth overall in his final year with the Panthers and Barkley second overall with the Giants.
"I'm not going to lie, he's a tremendous talent," Gettleman said a week before selecting Barkley. "He's one of those guys my mother could have scouted. She could have figured that one out."
"It's like he was touched by the hand of God, frankly," Gettleman added for emphasis.
Gettleman told everyone he loved Barkley as a prospect, and he ended up picking him. Gettleman has not been shy in articulating his philosophy and then acting on it. He's a straight shooter. Listen to what he says. He means it.
View the best photos from Saquon Barkley's Draft Night