EAST RUTHERFORD, N.J. –** If David Baas had his druthers, he'd be preparing for his 10th NFL season and fourth with the Giants.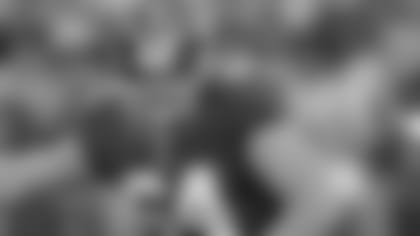 2014 Free Agency Central "I haven't lost that drive, I haven't lost that desire to play football," Baas said from his home in Florida. "But sometimes other things are more important, and we've come to that crossroads. The thing that takes precedence right now is my health."
Baas has been waived/failed physical by the Giants. In a perfect world, he will one day return to the center of the team's offensive line. But neither his neck nor his knee are healthy enough to currently make that a realistic proposition. So Baas accepted the transaction, because it enables him to address his health issues without the pressure of preparing to play football, while leaving the door open to a potential return.
"It's part of the business," he said. "It's something that you prepare for and you just kind of move on from there.
"The Giants have been absolutely fantastic. They definitely have changed mine and my family's lives forever. Once we get the health issues taken care of, we'll go from there, and maybe there's another chance (to play). Coming back to the Giants, who knows? They've just been really great and the medical staff has been excellent. I enjoyed playing for (head coach) Tom Coughlin. I wish Tom Coughlin could have been my head coach my entire career. That would have been nice. (Offensive line coach Pat) Flaherty and everybody, they've just been awesome. I can't say enough good things about the Giants organization, the owners and everybody. It's part of the game. I thank them and definitely am grateful for everything they've done."
Baas joined the Giants as a free agent on July 29, 2011, after spending his first six NFL seasons with the San Francisco 49ers. In three years with the Giants, Baas started the 30 regular-season and four postseason games in which he played, including Super Bowl XLVI. But he dealt with injuries throughout his Giants tenure.
In his first season, Baas was inactive for five games: with a burner vs. Seattle (Oct. 9), with a knee injury at New England (Nov. 6) and three games with headaches, vs. Green Bay (Dec. 4), at Dallas (Dec. 11) and vs. Washington (Dec. 18.). But he returned for the stretch run that included the Giants' four-game postseason run and their second Super Bowl victory in five seasons.
In 2012, Baas started all 16 games, the fifth time he played every game and the third time he started each one (also 2009 and 2010 with San Francisco). But after that season he underwent surgeries to repair his ankle, knee, hip, elbow and shoulder.
Last year, Baas played in a career-low three games, starting vs. Denver (Sept. 15), at Carolina (Sept. 22) and vs. Minnesota (Oct. 21). He sprained his left medial collateral ligament in a preseason game vs. Indianapolis on Aug. 18, an injury that kept him out of the regular-season opener at Dallas on Sept. 8. After returning for two games, he suffered a neck injury against the Panthers and was inactive for the next three games. Baas returned to action vs. the Vikings, but re-injured his knee on the game's first possession and left the game. He was placed on injured reserve two days later.
"It's been a tough road with injuries," Baas said. "I've been able to battle through them for most of the time."
Baas hasn't had surgery on his neck, but it remains a possibility.
"I'm actually going to get another opinion next week," he said. "I've gotten a couple different people saying that they would recommend it if I ever wanted to play again. It's definitely something I have to think through. That's what we're going to do. I don't want to make a rash decision and pay for it later, so we'll listen to the experts.
"The knee is a little bit disappointing, because it's taking a little longer to recover. It's something we'll continue to try and get healthy."
Baas will turn 33 in September. He entered the NFL as a second-round draft choice by the 49ers in 2005, from Michigan. In each of his last two seasons in San Francisco, Baas received the Bobb McKittrick Award, given annually to the 49ers offensive lineman who best represents courage, intensity and sacrifice.
It's those qualities that leave him hopeful that a return to the football field is not an impossible dream.
"I love the game of football," he said. "My heart is still into it, but sometimes you've got to put your health and your future with your family and all that stuff first. We're just gathering all the information right now and we'll see. The Giants had to do what they had to do, and now I can focus on getting my knee better and I can also really gather all my information that I need for my neck and figure out what the best decision is."
And if his career has ended after nine seasons, 122 regular-season games, four postseason games and one Super Bowl ring, Baas will walk away with his head high and without looking back.
"I got to play for two very good organizations, the 49ers and the Giants, and to get to win a Super Bowl with the Giants," Baas said. "I met a lot of great people, established a lot of great relationships. I'll forever be a Giant, and obviously when you come back and talk about the Super Bowl and all that stuff, it's like you haven't missed a beat. I'll be looking forward to those moments. We'll see what happens."