EAST RUTHERFORD, N.J. – It wasn't in a regular-season game or in front of tens of thousands of people, but David Baas reached a milestone today when he participated fully in the Giants' first training camp practice at the Quest Diagnostics Training Center.
Baas started all 16 games at center last season, then underwent what he will only acknowledge were "multiple" surgeries. He missed all the spring drills and the team's minicamp, but throughout the offseason had the goal of returning to his familiar position on the offensive line for the initial camp practice.
Today, he realized his goal.
[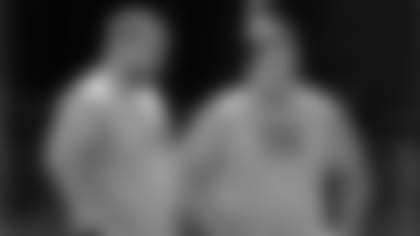 PHOTOS: TRAINING CAMP PRACTICE](http://www.giants.com/photos/photos/Practice---728/a9d9e151-8aa5-4dfb-84f1-2ca502277fd4)
"I felt like with everything I've been through, I wanted to get out there and get back working with my teammates and get some of this rust off," Baas said. "It's been a while. I think it went okay today after not taking an actual football snap since the end of the season. I can definitely get better. But it was a great feeling to kind of get a gauge of how my body feels and get to work out there."
Baas hadn't been on the field with his fellow linemen since Dec. 30, when the Giants ended their 2012 season with a 42-7 rout of the Philadelphia Eagles. So how did his body feel?
"It feels pretty good," he said. "Definitely some soreness there and a little fatigue but that's going to work its way out. I'm blessed to be back out there and to be able to participate with all of the stuff I had done."
Neither Baas nor the Giants wish to discuss his medical issues in detail. But it's no secret he endured a lot physically to play last season. He's proud of the fact that he fought through his injuries and never missed a game.
"Absolutely – it's something I do for my teammates and for my team," he said. "I think that's something that this offensive line definitely shows, and they've always shown in the past, is – you're out there fighting for your buddies and for your team. And you're going to fight through everything. That's a thing I emphasized this offseason. No matter how much I had to get fixed up, I wanted to be ready to be out there and show them that I'm going to be back and I'm going to be better than ever. We're human, so of course it's going to take a little bit. But I'm very glad to be back out there.
"Today, it felt good. The one thing that I do have on my side is the offense and everything is easy to know. When I'm out there it's basically just getting back to remind my body of all of those little facets, the hand placements, all the different things. That's something that, doesn't matter how old you are, you can improve on every single day. So that's my goal right now and, me, personally, as a professional, I don't want to let my team down so I don't want to make any mental mistakes. I've always prided myself on that so I made sure I knew my stuff. Like I said, we'll get better every day. But today was a good start."
*Chris Snee, the Giants' four-time Pro Bowl right guard, had offseason hip surgery and is not yet ready to return to the field. He is on the physically unable to perform list. Snee is hopeful it will be a short stay.
"I wouldn't think it would be too long, but I don't know," Snee said. "I feel pretty good. I'll really just take this week and just condition hard and see how it feels after that."
Snee has missed only six games in a career entering its 10th season, so he is unaccustomed to sitting out even a training camp practice.
"This is the first time in my career that I've been on this, so it's different," he said. "I'm just going to roll with it and help out in other ways, help out in the class room, talk to the young guys. I'll be on the field every day."
Snee knows the offense as well as anyone and he has enough experience that he could probably step on the field for the first time in Dallas on Sept. 8 and play well. But he doesn't want to proceed that way.
"I still need to get in the preseason games and get those reps," Snee said. "I wouldn't feel comfortable going into a regular season opener without having played some preseason games. Now, do I want to take 40 snaps a game? No. But I need to get some practice reps and some game reps. I'll get those in."
*Third-year pro James Brewer is working with the first team at right guard in Snee's absence.
*Another player on the PUP list is cornerback Terrell Thomas, who missed the last two seasons after twice undergoing surgery to repair a torn right ACL.
"He's restricted in what he can do," coach Tom Coughlin said. "We're all frustrated about it. He is himself, number one. The sooner he can get out there, the better off we'll all be. And he came in fully feeling like he could start right out in practice and just wasn't able to do that right away.  We'll be patient, but know full well that we're all excited the moment he gets a chance to come out and practice and we get a sense of where he is, how he's going to be and that type of thing."
*Linebacker Aaron Curry left practice early with what appeared to be a cramp.