EAST RUTHERFORD, N.J. –** One defensive back returned to practice today while another didn't make it onto the field, but each vowed to play Sunday when the Giants host the Denver Broncos in MetLife Stadium.
Prince Amukamara was on the field for the first time since suffering a concussion last week in Dallas. He was cleared to practice late Thursday after passing the tests required in the NFL's concussion protocol.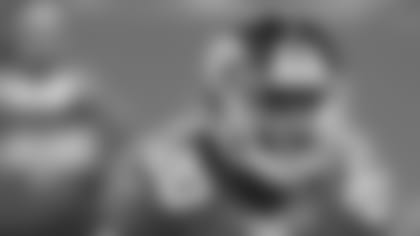 But safety Antrel Rolle missed the workout with groin soreness. "He's reassuring everyone that it's temporary," coach Tom Coughlin said.
Rolle is listed as questionable for the game, but the designation is irrelevant to him. He's not going to back away from the challenge of playing against Peyton Manning and the high-scoring Broncos offense.
"I'll be alright," Rolle said. "I'll play through Sunday. Just more precautionary reasons (for sitting out practice). It's better to be smart than anything, because Sunday is the most important day. I do whatever my coaches and trainers tell me."
Rolle said he first felt the soreness yesterday.
"I was able to continue practice," Rolle said. "It stiffened up on me a little bit once I got home, but it's not a concern at all. I'll be out there on Sunday. The injury is not really a concern."
Amukamara said he will be in top form Sunday, despite practicing just once this week.
"I've been studying like crazy," said Amukamara, who practiced fully but is also listed as questionable. "I know this is a big week and even when I was out of practice the last couple of days, just being on the sideline and catching those mental reps, those really go a long way. Doing extra film work in meetings with (secondary/cornerbacks) coach (Peter) Giunta, so just always staying engaged really, really helped me.
"I was always studying and preparing like I was going to be out there. I don't think the doubt was in my mind. It probably was in the doctor's mind but I was always prepared to play."
Defensive end Damontre Moore (shoulder) is also listed as questionable. Center David Baas (knee) and running back Da'Rel Scott (knee) are probable. Tackle David Diehl (thumb) and tight end Adrien Robinson (foot) are out.
"After today I thought I felt really well, it gave me a good indication (that he can play on Sunday)," Baas said. "Obviously, it's just a shells practice but the way it moved, the way it reacted when I did some things with power footwork versus running out on a screen, I'm feeling really good."
Denver cornerback Champ Bailey (foot) and tight end Joel Dreessen (knee) will not play Sunday.
David Wilson, Chapter 5. Coughlin was asked what he has seen this week from the running back, who, in case you haven't heard, fumbled twice last week.
"He worked," Coughlin said. "He focused on ball security the whole week, obviously. I'd say he did a reasonable job with it."
Linebacker Allen Bradford, acquired off waivers from Seattle yesterday, had never been to the metropolitan area before his flight from Seattle touched down this morning.
"It was surprising," Bradford said of becoming a Giant. "I had no idea what was going to happen. Once Seattle released me, I wasn't expecting to be picked up. I was expecting to sign back to Seattle's practice squad and once I texted my agent, he called me and gave me the news. It was good news."
Bradford was a college teammate of Terrell Thomas and Keith Rivers at USC.
"Keith went over some of the plays," Bradford said. "I just think I have to translate the terminology in my plays. I have all my plays in my backpack now, so I'm probably going to go and ask them for the playbook just to see what I can learn over the weekend and just get a head start going into next week."
Asked what he can expect out of Bradford, Coughlin said, "He just got off a plane. I'm sure in a day he can probably prepare himself to do some things, but it would have to be a limited role."
With Dan Connor being placed on injured reserve yesterday, Mark Herzlich becomes the starting middle linebacker.
"Mark still plays a lot of plays, whether he's the first one out there or comes out a little bit later like the other night," Coughlin said. "He's in all of these situations. Unfortunately with Dan, right behind him has been Mark and he's ended up taking at least half the snaps in each of these preseason and regular season games that Dan has unfortunately had to come out of the game, so he's played a lot."