Former Giant Dee Hardison passed away Saturday at age 61: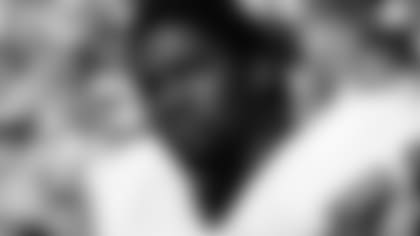 EAST RUTHERFORD, N.J. – Dee Hardison, who spent more than four of his 11 NFL seasons with the Giants, passed away Saturday in North Carolina of heart failure at the age of 61.
Hardison, a defensive end, played 49 regular-season games for the Giants from 1982-85.
"In 1983, when I arrived to play football for the New York Giants, the first person I met was Dee and his sidekick, Jerome Sally," said defensive end Leonard Marshall. "Immediately, we began to grow a bond and brotherhood.
"I became a quick study and learning more of the technical aspects of how to play the position of right defensive end by monitoring his movement on the field and his approach to playing a game. It made me work harder to become the starter in my rookie season with the Giants. Dee was a great teammate and one that I will never forget."
"Dee was a great guy," linebacker Robbie Jones said. "He was always up and always keeping teammates up. I do not have one single solitary memory of Dee that does not have his big bright smile in it."
Hardison was a two-time All-ACC lineman at the University of North Carolina. He was selected in the second round of the 1978 NFL draft by the Buffalo Bills. Hardison spent three seasons with the Bills, who converted him to an offensive lineman and then released him late in the 1981 season.
The Giants signed him, and though he didn't play in a regular-season game that year, he appeared in both of the Giants' postseason contests – as a defensive lineman.
After leaving the Giants following the 1985 season, Hardison played two years with the San Diego Chargers and one with the Kansas City Chiefs.
The following are the arrangements for Hardison's funeral:
Saturday, April 28
Northwood Temple Church
4250 Ramsey Street
Fayetteville, N.C. 28311
Viewing: 10:30 a.m.
Service: 12 noon