Three up. Three down. Eleven days to prepare for the fourth.
---
RELATED NEWS
NFC East Roundup
A look at how the division is shaping up after 6 weeks...
Locker Room Quotes
The Giants returned to practice Monday as the team gets set for Week 7...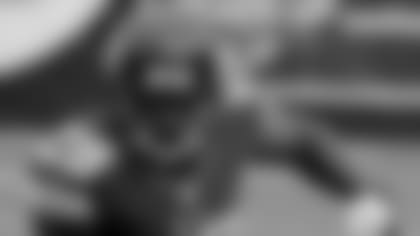 Watch Coach and Player interviews Coming off their Thursday night game against the Bears, the Giants have faced three Pro Bowl running backs – Jamaal Charles (Kansas City), LeSean McCoy (Philadelphia), and Matt Forte (Chicago) – who are currently in the top seven in rushing yards this season.
Despite the winless start, the Giants limited the three feature backs to 67 yards or fewer, including holding McCoy, the NFL's leading rusher, to 46 yards on 20 carries.
A major emphasis this offseason, the run defense has been a positive in a year of negatives. But New York will face its toughest test yet when they host Adrian Peterson and the Minnesota Vikings a week from tonight.
"His size, he's strong, fast, quick, the determination he runs with – everything," defensive tackle Cullen Jenkins said when asked what makes the reigning NFL MVP so special. "I think since he's come into the league he's had a chip on his shoulder, and being out there in Green Bay, I had a chance to play against him a lot and you really see it every year, every game, every time he's out on the field. He's determined. He's trying to be the best player on the field, period."
Jenkins, who played for the Packers from 2004-2010 and won a Super Bowl with the team, faced him twice a year beginning with Peterson's rookie campaign in 2007.
The former NFC North foe knows both sides of Peterson's "feast or famine" style.
"You can control him, you definitely can," Jenkins said. "But it's going to take all 11 players on the field. I've played against him and had some success against him before, and I've also seen times what happens if you don't. We've got to go in there, especially up front, we've got to do a good job of trying to keep him from getting back to the second level."
While it will take all 11 players, it will also require all 11 days to rest and prepare.
The Giants' have an extended layoff in between last Thursday's game and the primetime matchup as they look for their first win of the season. They came back to work Monday refreshed and ready.
"Personally, I always feel like it does [help]," Jenkins said of the time off. "You get away for a little bit, get another little break here, and it's almost like a little bye week. You're a little more anxious to get back to it."