PHILADELPHIA –** A month ago, the Giants' defense was playing like it was one of the worst units in the NFL. Now it's playing like one of the best and the Giants, seemingly without hope at 0-6, are just two games out of first place in the NFC East at their season's midpoint.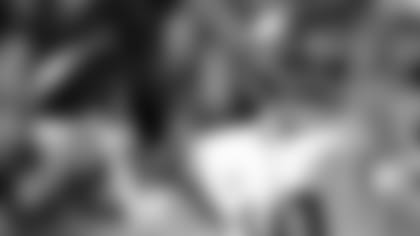 Gameday Photos from Giants-Eagles On Sunday, the defensive domination was the primary reason the Giants defeated the Philadelphia Eagles, 15-7, their first victory in 11 years without scoring a touchdown (Josh Brown accounted for all of their points with five field goals). The unit did not allow a touchdown for the second game in a row as the Eagles' 11 possessions ended with six punts, three turnovers and two failed fourth down conversion attempts.
"Our defense played superbly," coach Tom Coughlin said. "We've played great defense, we really haven't given up a score, defensively, and there is a lot to be said for the way we are playing right now on defense."
There was a lot to be said earlier in the month, but none of it was good. When the Giants allowed 24 points in the first half at Chicago on Oct. 10, they were six points away from becoming the first team in NFL history to give up at least 30 points in each of its first six games. It seemed a forgone conclusion that dubious mark would fall. But the defense limited the Bears to three points in the second half and hasn't allowed a touchdown since.
That's 10 consecutive quarters in which the Giants defense hasn't allowed a touchdown by an opposing offense. That is the team's longest such streak since a 15-quarter streak from Oct. 23-Nov. 20, 2005. The defense has not surrendered a touchdown in 158:24.
"I think we just have simplified things," said defensive end Justin Tuck. "(Defensive coordinator) Perry Fewell and his staff do a great job of putting together game plans that allow us to let the athletes be athletes. It really hasn't been anything elaborate. Guys are playing fast, guys are playing diffident and we've kind of got on a hot streak here. When you start making plays you start getting very confident in yourself and I think this is a very confident defense right now."
"They key has been our enthusiasm," said safety Antrel Rolle, who contributed a sack, an interception and five tackles Sunday. "After that 0-6 loss (in Chicago) coaches and players got together and we got on the same page. There was a lot of in-depth conversation, there was a lot of speaking as men to men, understanding the strengths and the weaknesses and just having the coaches and players being on the same page on the same time, the coaches trusting in the players and the players trusting in the coaches. And I think it has definitely shown up out there with our performance."
The progress of the defense can perhaps best be demonstrated by its performance in two games against Philadelphia played three weeks apart.
On Oct. 6, the Eagles, with Michael Vick and Nick Foles splitting quarterback duties, had season-high totals of 36 points, 28 first downs and gained 439 yards, just 11 shy of their highest output.
In the rematch on Sunday, the Eagles, with Vick and then rookie Matt Barkley calling the signals, finished with 201 yards and 15 first downs and scored only because Zak DeOssie sailed a punt snap over Steve Weatherford's head and Najee Goode recovered the ball for a touchdown. LeSean McCoy, the NFL's leading rusher, gained only 48 yards on 15 carries and didn't have a run longer than nine yards.
"We're finishing drives, not getting comfortable, not getting complacent," defensive tackle Cullen Jenkins said. "If you get put in bad situations, you still have to have that same confidence that you're going to go out and shut the other team down and still not give up anything,"
Three defenders who were non-factors in the first game – Terrell Thomas, Jon Beason and Jacquian Williams - played vital roles on Sunday.
Terrell Thomas played one defensive snap on Oct. 6 (primarily to rest his surgically-repaired knee for the game in Chicago four days later). He led the Giants with 11 tackles (10 solo) and had a sack and a forced fumble.
Linebacker Jon Beason, acquired in a trade just two days prior to the first meeting, appeared briefly on special teams. Now he's the starting middle linebacker and a defensive leader and he contributed four tackles (two solo).
"Beason, that guy has been phenomenal for this team," Rolle said. "He is something that we needed. He is a voice from the linebacker position, the middle linebacker position. We needed someone that was going to stand his ground, we needed someone who was going to get everyone lined up, make it real snappy, no BSing around, let's get it right. He's another voice that we needed on that defensive side of the ball. Just his playmaking ability, his passion for the game is tremendous, and I think he's just beginning right now. It's only the beginning. Like I said, he's been phenomenal for this defense. I'm super, super excited to have him with us on the New York Giants' roster."
Williams was credited with just one tackle, but he knocked down a pass and had a terrific fumble recovery when he leaped over Barkley to secure the ball that Thomas had knocked out of the quarterback's hands.
"Everybody was doing their job," Thomas said. "We were all seeing it the same way and we communicated. The D-line did a great job of keeping McCoy bottled up and when we needed the secondary to come up and the back seven to make plays we did that."
Because of teamwork like that, the Giants' defense is at the top of its game as the team heads into its bye.