From NFLPA Communications
The NFLPA Board of Directors today elected Eric Winston President of the NFL Players Association. He was nominated for the position yesterday.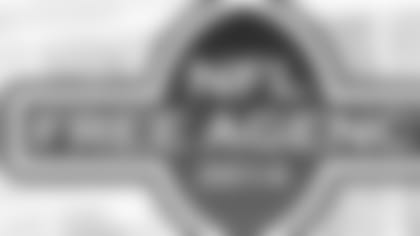 2014 Free Agency Central A third-round pick in the 2006 Draft, the University of Miami alum has started 112 consecutive games for the Texans, Chiefs and Cardinals. Winston, a free agent, has been active with the NFLPA since being elected as a Co-Alternate by the Houston Texans in 2010, including being a voice for players during the 2011 lockout and serving on the union's committees for finance and agent discipline. Winston does community work on behalf of Shriners Hospital for Children and local charities in his hometown and team cities.
Winston takes over for outgoing NFLPA President Domonique Foxworth. Foxworth was unanimously elected to the post in 2012 following four years of service on the executive committee. In 2007, he was elected by the Broncos as a Player Representative and was named the Broncos' Walter Payton Man of the Year. In 2008, he ran and was elected as the youngest Vice President of the NFLPA Executive Committee.
Additionally, Lorenzo Alexander (Arizona Cardinals), Ryan Clark (Free Agent), Zak DeOssie (New York Giants), Jay Feely (Arizona Cardinals), Mark Herzlich (New York Giants), Adam Vinatieri (Indianapolis Colts) and Scott Wells (St. Louis Rams) have been elected to the NFLPA Executive Committee by the Board of Representatives during the annual meetings in Orlando.
They join current Executive Committee members Matt Hasselbeck (Indianapolis Colts), Brian Waters (Free Agent) and Benjamin Watson (New Orleans Saints), who were re-elected by unanimous affirmation.
Lorenzo Alexander
The University of California, Berkeley graduate is an outside linebacker for the Arizona Cardinals. He has served as an NFLPA Player Representative since 2011 and made the Pro Bowl in 2012 as a special teams player. Alexander was named the Redskins' Walter Payton Man of the Year in 2011, and received the Redskins Media Good Guy Award in 2011 and 2012. His ACES Foundation provides enrichment programs for youth in Oakland, Calif. and the greater Washington, D.C. area.
Ryan Clark
After going undrafted in 2002, Clark will soon enter his 13th NFL season, the last eight of which have been played in Pittsburgh. He won a Super Bowl with the Steelers in 2008, received the Ed Block Courage Award the same year and was named a Pro Bowler in 2011. He has represented his teammates as an NFLPA Player Rep since 2009. His charity, Ryan Clark's Cure League, raises money for sickle cell disease research, clinical care and increased awareness of the disease.
Zak DeOssie
A two-time Pro Bowler and two-time Super Bowl champion, DeOssie is the long snapper and a linebacker for the New York Giants. The fourth-round 2007 Draft pick has served the locker room as an NFLPA Player Representative since 2010. The Brown University alum and his father, Steve, are the only father-son duo to win Super Bowls with the same franchise. He is an avid supporter of the Muscular Dystrophy Association, Lupus Foundation of America, and Punt, Pass and Kick Clinics with the Special Olympics of New Jersey.
Jay Feely
With 1,437 career points since entering the league in 2001, Arizona Cardinals kicker Feely is one of the NFL's top-five active scorers. The Michigan graduate was first elected by his teammates to serve as an NFLPA Player Representative in 2002 and is also on the NFLPA Lifecycle Committee. Feely started his own foundation which focuses on the protection, education, and rehabilitation of children and is also a supporter of the Ronald McDonald House and House of Refuge. The Walter Payton Man of the Year finalist also traveled regularly to Haiti to aid in recovery following the 2010 earthquake.
Mark Herzlich
The linebacker out of Boston College debuted as an undrafted player in 2011 for the New York Giants and went on to win a Super Bowl in his first pro season. Herzlich beat a rare form of bone cancer while in college and now generously gives his time to aid others battling the disease and supporting his teammates' charitable endeavors. He was a recipient of the Disney Spirit Award in 2009 for his victory over cancer, as well as the Nils V. "Swede" Nelson Award for his outstanding sportsmanship. Herzlich was recognized as a young leader by his teammates, and he attended his first NFLPA Board of Representatives meeting after his rookie season.
Adam Vinatieri
Vinatieri is the placekicker for the Indianapolis Colts and the team's elected NFLPA Player Representative. He is a four-time Super Bowl champion, a two-time Pro Bowl selection, a two-time All-Pro selection, and a member of the New England Patriots' All-1990s, All-2000s and 50th Anniversary Teams. He was also named to the NFL's 2000s All-Decade Team. He has been a speaker for The Fellowship of Christian Athletes and Athletes in Action, and his charitable endeavors include assisting the Rhode Island Commission Against Domestic Violence and the D.A.R.E. program, which helps children and teens avoid drugs, gangs and violence.
Scott Wells
Wells graduated from the University of Tennessee with degrees in history and sociology. The NFLPA Player Representative for the St. Louis Rams debuted for Green Bay in 2004. He was a Pro Bowl selection in 2011 and a Super Bowl champion during his time with the Packers. He and his wife, Julie, are actively involved with Churches of Christ. He has participated in the Salvation Army's Adopt-a-Family program, and often visited the Tennessee Children's Home during his college career.
With the 2014 election, Charlie Batch, Brian Dawkins, Domonique Foxworth, Scott Fujita, Matt Light, Brandon Moore and Jeff Saturday cycle off the NFLPA Executive Committee.
"Coming into this league as an undrafted free agent, I wanted to defend those players who couldn't defend themselves," Saturday said. "I believe in the cause of health and safety. That was really my charge the whole time I've been with the NFLPA, particularly during collective bargaining. No matter how much money you have, if you're not healthy, it doesn't matter. I know how competitive you are on the field. You're 100% in. I wanted to put standards in place that even protected us from ourselves."
"I was an undrafted free agent who had just settled in to his career when Pete Kendall, a strong union leader in our locker room, moved on to another team and left a void," said Moore. "My teammates nominated me because I was outspoken and voiced my opinion. But looking back now, I didn't know anything about what my union was doing for me, what the guys before me had fought for, I just knew that I was going to voice my team's opinions. After the union meetings, I went back to the locker room with a fire to educate them about all of the knowledge I had gained. You start to respect and understand the work involved and have the pride you should in your union."
"I don't think any player decides to get involved with the union to help him adjust to life after football, but it truly is part of that transition," said Light. "We would have rather not gone through the lockout, but we did, and every guy who was a part of that learned a lot. Any player who took the time to sit through our board meetings, look at our financials in-depth, understand the NFL Players Inc. for-profit side, study the complexities of workers' compensation – there's hundreds of others – all of those things go into you being more prepared to do things after football. I'd challenge the young guys to get involved, understand the process and educate rookies on our history."
"People were skeptical about our labor deal at first, but we are getting into that point where people are seeing the gains," Batch said. "Players are happy as contracts are going up, but there's never really labor peace. It's a 10-year deal, but you have to start preparing for that fight because it's going to get here sooner rather than later. You have to make sure that our players understand the history so that we continue to make those gains and strides. I'm excited about continuing to work for players through The Trust. It was something we fought hard for in the last CBA, and I'm glad to be part of that and see it come to life."
In addition to the seven players cycling off, Drew Brees (New Orleans Saints) will also be stepping down.
"I have served as a Player Rep and a member of the Executive Committee for a long time and will always be a strong voice and outspoken advocate for players, their families, and the Union," Brees said. "I am excited to see young leaders in this league step into this role and continue to advance the cause of our Union and the future of our league."
The 2014 NFLPA Board of Player Representatives Meeting continues through March 21.