EAST RUTHERFORD, NJ - The longest-tenured Giant plans to return for an 11th season in 2011, despite suffering a serious knee injury in the team's season-ending victory in Washington.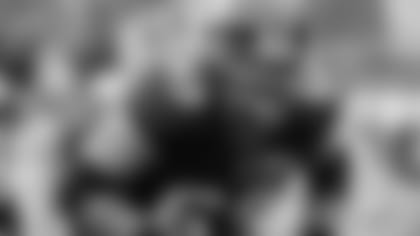 Offensive lineman Rich Seubert, of whom general manager Jerry Reese said "to me, he's the MVP of the team," dislocated his right kneecap in the first quarter and will undergo surgery tomorrow. He must endure a long rehab to return to the field, but he'll do whatever is required to join his brothers on the offensive line when training camp opens.
"I'm not going to let an injury end my career," Seubert said today. "I love playing football. This is the best I've felt in a few years. So to make it to the end and then have this happen sucks. But we've got the best trainers, we've got the best doctors, and I'm not going to say 'stop.'"
Giants team physical Dr. Russell Warren will perform the surgery at the Hospital for Special Surgery in Manhattan. Seubert has certainly been through worse. In 2003, he broke three bones in his right leg, an injury so severe he missed the entire 2004 season.
"They said I'm going to be on crutches for a couple weeks, but Dr. Warren told me this morning that it's not like what I've done before – it's not like I shattered my leg and I need seven surgeries to put it back together," Seubert said. "The kneecap slid out and gave me a little problem and they can fix it. They told me that he's 100 percent sure they'll fix it. I'm happy.
"We have some time to get this right. And Ronnie Barnes (the team's vice president of medical services) and Byron Hansen (the coordinator of rehabilitation) – they've done it before, they'll do it again."
Seubert knows the rehab will be arduous, but this injury will not keep him off the football field for almost two years, as the first one did.
"I don't think it's as hard as the last one I went through," he said. "The rest of my body feels great this year. That's the disappointing part. You play the whole year, you feel good, and then something like this. But this is football. I play in the NFL, this is a possibility every time you go out there on that field. Any profession, you have risks."
As Reese noted, Seubert was invaluable this season. The longtime left guard moved to center for six games and played extremely well when Shaun O'Hara was sidelined with a foot sprain. O'Hara returned and Seubert shifted back to guard for two games. But when O'Hara's Achilles injury flared up, forcing him out of the finale, Seubert again played center, which was where he was lined up when he got hurt.
Judging by the praise he received from his coaches, general manager and teammates, this might have been Seubert's finest season.
"I don't judge that," Seubert said. "That's for the coaches and the management upstairs. I just know I had fun like every year, but I was healthy. The body felt good."
Now, it needs to be repaired.
"We all feel bad for Rich right now," O'Hara said. "Our heart goes out to him. We'll be there every step of the way, pulling him out of the ditch. If anybody knows how to come back from something, it's Rich. I think we'll all enjoy seeing him out on the field next year."
Seubert sounds as if he might want to invest in a bed to put in the Timex Performance Center, because he's going to spend a lot of time there.
 "My wife's going to probably hate me because I won't be home a lot, and these guys in here are going to get sick of me, too," Seubert said. "The only frustration is I'm going to be stuck here all offseason. That's the only frustration. I think this is going to be my 10th offseason now, 11th offseason – however you want to look at it – and part of it stuck here. One, two, three – half of them? And the other half you're not, you get to enjoy your family. But my kids are getting older. They're in school. So we don't get away that much anymore anyways. So this is my second home, and this is where I'll be spending a lot of my time."
*Tom Coughlin was asked if he would consider any changes on his coaching staff.
"Right now, I'm not," Coughlin said. "We're just starting that part of it, but right now I have to say no."
*Would Coughlin like a contract extension?
"I haven't even thought about that," he said. "That's one of those things that I haven't thought about. You keep asking me if I'm aware of the situation that I'm in (a reference to the external speculation about his job security before John Mara told reporters yesterday that Coughlin would return). I never was aware of anything other than I'm the head coach of the New York Giants. That's all I cared about. This situation with the contract, that's the first time I've even heard anything about that and I'm sure, as everything else, it will be addressed at the proper time."
Coughlin, 64, was asked how long he would like to coach.
"Probably 70 or 72," he said. "One year at a time. I do one year at a time."
"Twenty seven," Coughlin said.
*General manager Jerry Reese said he will not sign any of the team's free agents until the owners and NFL Players Association negotiate a new collective bargaining agreement.
"It's a hurry up and wait deal," Reese said. "We've got to see where we are and we're not really sure what we're dealing with right now.
"We're hopeful that things are going to be resolved and we have contingency plans if there is a strike or a lockout, we'll be ready either way. I talked to all of the potential UFAs this morning and everybody has got a good attitude about it and we'll see after we know what the new agreement is and we'll move forward and who to sign and who not to sign. Obviously there will be changes, like every year, so we'll move forward and see what happens."
*One of those free agents is defensive end Mathias Kiwanuka, who played just three games before he was diagnosed with a neck injury that forced him to go on injured reserve.
"Kiwi as well," Reese said. "Kiwi has a significant neck issue and right now he's just trying to see if he can resolve it with rest and hopefully that'll be the case and we'll see more of what kind of contract we can offer him. Do we offer him a one year deal so that he can re-establish his value or do we go in a different direction? We'll see."
*Reese was asked about Chad Jones, the third-round draft choice who missed the entire season after suffering serious injuries in an auto accident a month before training camp. Jones is a safety from LSU.
"Well, Chad is improving," Reese said. "I still think he has a long way to go. We get videotape of his rehab sessions and I'm not a doctor, but it looks like he has a long way to go still."
*Hakeem Nicks, who missed the Redskins game with a broken toe, said he would have played had the Giants made the playoffs. But Nicks and his teammates are on the outside looking in.
"It's a little bit of a bitter taste," Nicks said. "We definitely wanted to be in the playoffs, and my season didn't end up how I wanted to be personally. But just look at the positives and move forward."
Despite missing three games, Nicks led the Giants with 79 receptions for 1,052 yards and 11 touchdowns.
"Offensively, coach pointed out the number of big plays we had this season in the pass game as well as the running game," Nicks said. "We finished up, we got 10 wins. We didn't get where we wanted to go, but like I said, you just got to hope for the best."
*Domenik Hixon, who spent the season on injured reserve after tearing an ACL in a June minicamp, was here for the exit interviews. An outstanding returner, Hixon was missed throughout the season. In 2009, he averaged 15.1 yards per punt return and 22.6 yards on kickoff returns. This season, the Giants averaged 6.1 yards a punt return and 19.0 yards on kickoff returns to finish 31st in the NFL in both categories.
Can Hixon be the same player he was before the knee injury?
"To be honest with you, I think I'm going to be better," Hixon said. "The reason I say that – all the studying I did this year. I had a lot of time to myself, watching games and just taking notes about different things. And kind of on the outside looking in, you got a different perspective."
Hixon said watching football instead of playing it was very difficult.
"Very, very, especially guys going down and I just wanted to be out there to help out the team," said Hixon, who spent the season rehabbing near his home in Columbus, Ohio. "We feel like family, so if you see your family out there struggling with different things and just knowing that you could help but you can't be out there – it's tough."
*Today is Eli Manning's 30th birthday.
*The Giants signed six members of their practice squad to reserve/future contracts: offensive lineman Jim Cordle, wide receiver Sam Giguere, defensive lineman Dwayne Hendricks, linebacker Kenny Ingram, running back Charles Scott and defensive back Woodny Turenne.