EAST RUTHERFORD, NJ - Corey Webster made the signature play of the Giants' early training camp practice today at the University at Albany. In a seven-on-seven passing drill, Webster reached up to make a sensational one-handed interception of an Eli Manning pass.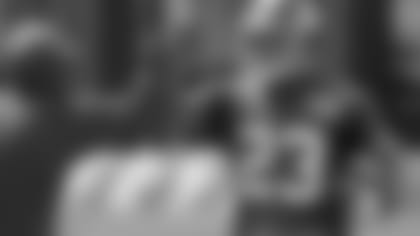 For Tom Coughlin, the play was a good news/bad news proposition. He never wants his quarterback to get picked off. But truth be told, Coughlin was pleased to see Webster secure the ball. Coughlin and new defensive coordinator Perry Fewell have emphasized taking the ball away from the offense since the first spring practice and have ratcheted up the intensity in training camp.
Coughlin spoke to the team about turnovers in his post-practice address.
"We talked a lot about turnovers," Coughlin said. "We talked about how the defense can inspire the offense and help the offense while the defense makes a priority to force the offense to get the ball high and tight."
Coughlin has always been a stickler for turnovers. In 14 years as an NFL head coach, his teams have a plus-43 turnover differential. But he is only plus-nine in six seasons with the Giants. In 2008, the Giants and Miami Dolphins established a record with only 13 turnovers in a 16-game season. The Giants benefitted from a plus-nine differential.
But 2009 was a turnover disaster for the Giants. They gave away the ball 31 times, while coming up with only 24 takeaways. Their minus-seven differential left them tied for 11th in the NFC and 24th in the NFL. Coughlin and Fewell have challenged the defensive players to increase the takeaways. And the players have dived headfirst into the program.
"Man, I think it's major," said Webster, who had an interception in the season opener last year and none in the last 12 games he played. "Our goal is always to get three or more turnovers a game. Coach is always preaching that. So we've got to live up to that. I think that getting the ball back in our offense's hands, or even scoring on defense, is always a plus for our team as a whole as well as the defense. By us raising our standards up and emphasizing it during these two-a-day practices and going out there and trying to create them, I think that will do a big job of carrying over throughout the season."
"Turnovers are a big part of our game," linebacker Michael Boley said. "Any good defense, they do well with turnovers. If we can come out and produce a lot of turnovers for our offense, and our offense does a good job of putting the ball in the end zone when they get a short field. So if we can help them out, I think that's going to help the team out a lot."
In 2009 the defense forced opposing offenses to give up the ball too infrequently. The Giants did not intercept a pass in eight of 16 games – half the schedule. In addition, they did not recover a fumble in eight games, including each of the last four.
"We didn't create as much as we had in previous years," defensive end Justin Tuck said. "I think a lot of that had to do with the way we were playing. We got behind early in games, and we had to play catch-up, so we couldn't dial up a lot of blitzes and things like that. If you look at it, I think the first five games, we were okay with turnovers (indeed, the Giants' differential was plus-six when their record was 5-0). We still weren't dominating in that area, but we were okay. After that, we didn't play ball-hawking defense like we had.
"We have to get back to that like Tom said. We're making an emphasis on it, and it's something that during the Super Bowl year we did a good job of, in the right situations making key plays to get turnovers. Obviously, that puts our offense in a better situation to score. That gets them the ball more often. That keeps us off the field. It keeps us fresh. So it has a lot of benefits to it."
One of them is that turnovers energize and excite the entire team. The same kind of celebratory atmosphere envelops the bench area after a turnover as it does following a touchdown.
"Oh man, it's crazy," Boley said. "You know, you get guys, defensive guys who don't normally get the ball in their hand, so it's like a madhouse over there. Guys are excited. They're screaming and yelling. So it's fun."
"It's huge," Tuck said. "It's something you can thrive on. Our motto is, 'You get one, get two. If you get two, get three.' So it's something we can build on. It's something we can look back at and realize that, maybe a certain player is having a bad game and we caused him to fumble once. We're in his head now. Let's try to get him and get another one. And that's something that guys feed off of. Plus, it's a competition. If I get a sack and cause a fumble on a quarterback, you know Osi (Umenyiora) and Kiwi (Mathias Kiwanuka) and all the other guys want to do the same thing, because I'm going to have bragging rights for the rest of the game, for the rest of the week. So it helps everybody else's attitude about it, and it just brings an awareness that it's something that we can do, and it's something that's going to really help this football team."
This offseason, the Giants added defensive players with a proven ability to take the ball away from opposing offenses. Safety Antrel Rolle has 12 interceptions – 10 in the last three seasons, including four last year (one vs. the Giants). His compatriot in the back of the defense, Deon Grant, has 26 career picks, plus five fumble recoveries. Linebacker Keith Bulluck, signed last week, has 19 interceptions, 14 forced fumbles and 10 fumble recoveries.
But the most significant addition is probably the fiery Fewell, who was the defensive coordinator of the Buffalo Bills the previous four seasons (he was also the team's interim head coach for the final seven games in 2009). Last year, the Bills tied for fifth in the NFL with 33 takeaways. Their 28 interceptions were exceeded only by Green Bay's 30. Buffalo's turnover differential improved from minus-eight in 2008 to plus-three in 2009.
"If you look at what he did last year at Buffalo, that was a ball-hawking defense," Tuck said. "They had a really good year as far as causing turnovers, and that's something he's brought from there to here - or is trying to bring that here. So we do a lot of turnover drills in practice. The emphasis is on it. And we're very aware of that."
Every defensive player is trying to create havoc on the practice field. Against the run, the linemen and linebackers are constantly trying to strip the ball from the offensive player possessing it.
"When a guy has him kind of wrapped up, you always try to go in with a strip or try to put your helmet on the football," Tuck said. "That's something we're taught every day. And if you're coming off the quarterback's blind side, you always want to try to get a part of his hand or the ball or something like that, because he really doesn't see you. Osi is very, very good at that. I've seen him do that many a times. I think those are the two ways that a defensive lineman can really create a lot of turnovers. And sometimes we drop into coverage, and a lot of times we can catch the offense off-guard. They don't account for us, and so we can steal some that way, too. We've just got to be prepared when those opportunities come to make the play. A lot of times last year we had interceptions dropped. We had balls on the ground that we didn't recover. So it's all about just continuing to make it an effort, and then when you get in a game, it's just kind of like second nature."
Webster helped set the tone today with his terrific play in the morning passing drill.
"I try to be close in coverage down the field and the opportunity came where we can make a play on the ball, and that's just what I did," he said. "I was able to bring it in with one hand and create a turnover."
The Giants hope it becomes a habit.
"If the ball is in the air, we have to take the approach that it's our ball," Boley said. "Or you see running backs or receivers catch the ball, running backs run the ball out of the backfield, just trying to strip the ball from them. If we do it now, then it will carry over to the game."
*Center Shaun O'Hara did not practice today after his ankle swelled up.
"It was kind of a surprise to me," O'Hara said of the injury. "I felt good running yesterday, and the next thing you know there was some fluid and some swelling. We are taking it easy right now and trying to get some of it out. We want to make sure that we are being smart about it, and we'll take it from there."
Adam Koets replaced him as the center on the first line. But during one series, Rich Seubert moved to center, David Diehl took over at guard and William Beatty played left tackle.
Umenyiora, Kevin Boss, Hakeem Nicks and Bulluck are limited to one practice on the days the Giants take the field twice. Jonathan Goff was the first-team linebacker, while Bear Pascoe took over at tight end for Boss.
*Pascoe made a terrific leaping catch of a Rhett Bomar pass…A wide-open Steve Smith dropped a perfect Eli Manning strike on the right side…Aaron Ross and Sinorice Moss handled most of the punt returns…Rookie free agent Duke Calhoun made a nice catch in traffic.
*Fewell continues to display a high-energy personality. Before the start of several periods, he thrust himself in the defensive huddle and said, "Let's set the tempo." Well, that's the sanitized version of what he said. Seldom does a play end without Fewell loudly making a point.
*Umenyiora played right end with the first team defense in the afternoon. Mathias Kiwanuka, who played on the right side in the morning, subbed for Tuck on the left side…Bulluck took some reps at middle linebacker with the second team defense in the afternoon…Fewell seems to leave the starters in for more reps than his predecessors did…Nicks made a nice catch on a comebacker from Manning…Mario Manningham made a good grab in traffic.
*Tickets are available for the first Giants Kickoff Luncheon to be held in the New Meadowlands Stadium. The charitable event will be held on Wednesday, September 1, 2010 from noon to 2 p.m. in the Gridiron Club, located between the Pepsi and Verizon gates at the New Meadowlands Stadium.
In addition to introducing the 2010 Giants, the team will honor Amani Toomer with the Giants Alumni Man of the Year Award.
Hackensack University Medical Center and the Giants have begun a partnership that gives fans a unique opportunity to support one of the nation's healthcare leaders while showing support for New York's favorite team. All proceeds from the luncheon and raffle will be donated to a very special program: the Touchdown Fund: Score for Kids, Cardiac and Cancer launched earlier this year by the Medical Center and the Giants and focusing on three core areas of healthcare.
Giants fans can join Head Coach Tom Coughlin and the entire team and the raffle will include a grand prize trip to Super Bowl XLV in Dallas (including round trip airfare and hotel accommodations for four nights).
For more information, call 201-996-3722.
*USA Football (the sport's national governing body on the youth and amateur levels), the Giants and Jets have recently awarded football equipment grants to youth and high school football programs throughout the New York area based on merit and need.
USA Football partners with the Giants, Jets and all NFL clubs to award equipment grants to youth and high school football programs across the United States. The program has awarded more than $3 million in football equipment through the NFL Youth Football Fund since 2006.
Each selected youth league receives a $1,000 package that offers a variety of football equipment and uniform options to choose from. High schools receive similar packages valued at $1,500. All equipment grants are fulfilled by Riddell, the official helmet and protective equipment partner of USA Football.
"In this time of economic hardship, it would be helpful to the Hoboken PAL in reaching other areas of resource opportunities. During these tough economic times we cannot afford to neglect our youth and must continue to provide programs," said Leo Pelligrini of Hoboken PAL Football. "Football is extremely important because most of the children participating come from an impoverished neighborhood. Most of the participants cannot afford to pay registration fees and other expenses associated with this program."
USA Football is the official youth football development partner of the Giants, the Jets, the NFL, each of its other 30 teams and the NFL Players Association. The NFL Youth Football Fund, a joint partnership between the NFL and the NFL Players Association, provides for approximately 800 football programs to earn an equipment grant from USA Football and NFL teams this season.
*Today's attendance was 1,835, bringing the camp total to 3,585. ](http://www.nyg2010.com/)**
If you'd like to submit a question or comment to Michael, click here.