EAST RUTHERFORD, NJ - Matt Dodge entered the Giants' game last Sunday against Chicago thinking anything that could go wrong in his young career as the team's punter had already occurred. Then he dropped back to punt for the first time against the Bears – and dropped the ball.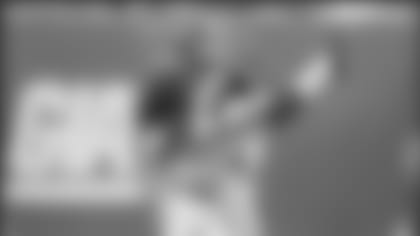 "I can't even believe I did that, you know what I mean?" Dodge said this week. "It's like one of those like, 'Gosh, this, too?'"
But instead of being disastrous, the miscue could prove to be a favorable turning point. Rather than panic, Dodge regained control of the ball, moved to his right and got off a 42-yard punt that the Bears were unable to return (though the delay resulted in a five-yard penalty because the Giants ran down the field before the kick). And as he left the field shaking his head, Dodge was greeted by several teammates, including Osi Umenyiora and Terrell Thomas, who patted him on the shoulder pads and offered words of encouragement.
"It was awesome," Dodge said of the support. "It was great to see that they're still behind you because a guy like that - a superstar - could easily just turn his back on you and say, 'This guy is horrible. What is he doing?' So for them to go out of their way when I didn't really set them up with the best field position and say, 'Man, we believe in you. You can do it. Let's go. Keep your head up,' that meant the world, for sure."
"I loved it," kicker Lawrence Tynes said. "This locker room is filled with guys like that, and that's the team atmosphere that Coach (Tom) Coughlin builds. That's our team, and that's who we are. We support our players, good or bad, and that's good to see. The thing is he turned a bad play into a good play. He might have been focusing more on the drop, but at the end of the day it was a 42-yard punt down the field. And no harm, no foul. That support is good to see. It's a great feeling coming off the sideline when you know, 'Alright, these guys all got my back.' So it makes you feel good about what you're doing."
Dodge punted seven times in the game for a gross average of 42.0 yards and net average of 35.4 (his season averages are 43.5 and 34.1). But those numbers don't capture the inconsistency that has marked his early-season performance. Dodge boomed punts of 56 and 57 yards. He did a good job of keeping the ball away from Devin Hester, Chicago's dangerous return man, by kicking the ball out of bounds from Giants territory. But those punts traveled just 33 and 35 yards. Another kick from the Bears' 34-yard line sailed into the end zone for a net gain of just 14 yards.
Despite the uneven outing, Dodge and those who work with him insist he is improving. He'll have another opportunity to prove that on Sunday, when the Giants face the Houston Texans in Reliant Stadium.
"He's progressed," special teams coordinator Tom Quinn said. "Every day, he's working. He gets frustrated at times because he wants it to happen right now, and it's a hard process for him to go through. He's battling through it. (His problems) are more physical, but it's mentally being tough enough to go out there and do it. He can do it in practice, but not do it in the games. He's built upon that and he can do it in the individual drills, just with the snapper, gotten better with the team in practice, and in the pre-practice and before the game. Now, he has to put it all together. It's a process that way, too."
"Matt is blessed with a very, very, very strong leg," kicker Lawrence Tynes said. "And some of the punts he hits in practice can wow you, and he's hit some in games. It's just transferring over that practice to the game, which is hard to do for a young guy. You have to really train yourself mentally to have a routine and be prepared to go out and produce under pressure. I think he can be a very good punter in this league. He really just has to dial in the mental part of the game, and that's 90 percent of what we do. We all have the physical ability, but they weed the guys out who aren't mentally tough enough."
Dodge, who was an outstanding collegiate punter at East Carolina, was the Giants' seventh-round draft choice this year, a selection made soon after Jeff Feagles informed the team he would be retiring after seven seasons with the club. Since his first minicamp, through training camp and into preseason and regular season games, Dodge has displayed the strong leg that Tynes spoke about. But he has also been maddeningly inconsistent. Coughlin has been extremely patient with Dodge, because he sees the youngster's potential and understands that the highs and lows are standard for a young punter.
Dodge was asked if his confidence has taken a hit.
"It has at times, because when you struggle, it's tough to stay confident," he said. "I always try to stay positive - positive self-talk is what I call it. When you're not doing it and the fans are definitely letting you hear it that you're not doing it very well, it can wear on you, for sure."
Dodge heard the boos in the season opener against Carolina, when his fourth quarter punt was blocked out of the end zone for a safety. He never punted in the next home game, against Tennessee, but his free kick following another safety was returned 22 yards to set up a Titans touchdown. Last week, the ball slipped out of his hands as he went to punt.
Now, however, the fan noise doesn't affect him as much because Tynes let him in on a little secret that he uses.
"Lawrence put me onto wearing ear plugs," Dodge said. "I like it. It kind of brings you into a focus. Pretty much the only person you hear talking is yourself."
"He's from a small town in North Carolina," Tynes said. "He doesn't really grasp the magnitude, I think, of this city. They dissect everything you do on the field. So he's kind of naive, which is kind of a good thing right now. But he definitely has handled it very well."
Dodge joined the Giants knowing he would be carefully scrutinized. Feagles played 22 years in the NFL and was the most prolific punter in league history. With the Giants, he had pinpoint accuracy on directional kicks and was a team captain.
Feagles worked with Dodge in the spring and in training camp, but has since stepped back.
"Jeff decided that he needed to step away because it was too hard on Jeff, emotionally," Quinn said. "I think it was a lot harder than he ever anticipated it, just being able to walk away from the game. He was so committed to it for so long that he's just being a dad, and a great dad at that. I think when you do something that long, it's hard to walk away."
Quinn and assistant special teams coach Thomas McGaughey are helping Dodge tweak his approach in a quest to be more consistent.
"He's always been a two-step (punter), but we're trying to shorten that first step," Quinn said. "When he gets long, he has a tendency to cross over and get his leg swing out of whack. He's got to be able to control the ball like he should be able to."
"I've always had above average leg strength without the superb technique," Dodge said. "So sometimes I would try to over-stride. I could kick it far, but it wasn't like technically sound. I used to get in trouble doing that, but it's for the better. It's what I've been trying to do forever."
Despite that, Dodge believes the key to his success is in his head, not in his leg.
"I know for me, the biggest difference between me in my good games and my not-so-good games is my mindset - like being positive, confident," Dodge said. "I think confidence for me comes from actually doing it. I can tell myself all pregame, 'You're about to have a great game. Here we go, Matt.' That has to manifest itself on the field.
"I wouldn't do all this unless I felt like I could be good at it. If this was golf, I physically don't feel like I could be good at golf. But here, I've done it. I feel like I have the ability. It's just all about gaining that confidence, gaining that comfort level. I know I watched Lawrence and them, they're so comfortable. They've been here. They've done it. They've faced everything whereas I haven't necessarily hit a bad punt in front of a New York crowd before and never knew how they were going to react. So, yeah, it's just really getting comfortable, and once that happens just letting your God-given talent take over. I'm very secure in my potential."
Now he has to turn it into production.
*Five Giants players have been declared out of the game vs. Houston: center Shaun O'Hara (ankle/Achilles), defensive end Mathias Kiwanuka (neck), fullback Madison Hedgecock (hamstring), linebacker Keith Bulluck (toe) and tackle Will Beatty (foot).
O'Hara will miss his third consecutive game and Bulluck and Kiwanuka their second in a row. Hedgecock will not be in uniform for the first time in his six-year career. Beatty hasn't played since undergoing surgery following the season opener.
Three players are questionable: running back Ahmad Bradshaw (ankle), cornerback Terrell Thomas (hamstring) and safety Kenny Phillips (knee). Bradshaw and Thomas were limited in practice today, while Phillips did not practice.
Coughlin said Phillips injured his medial collateral ligament in the Chicago game.
"It's not a surgical issue at all," Coughlin said. "He's had difficulty coming back from it, so we'll see. We've still got two days, but he did not practice."
Phillips said his knee feels "great," and is not concerned that he is listed as questionable.
"I think we're being conservative right now," Phillips said. "I hope to play, looking forward to playing. I've been watching film and doing everything to prepare to play, so I'm looking forward to it."
If Phillips can't play, Brian Jackson, who made his NFL debut on special teams last week, could see some action at safety.
"He did some nice things out here," Coughlin said of Jackson. "When we first decided to bring him up we thought he was a guy who could play either corner or safety. Coaches wanted to see him at corner first, so we did that first, and this week we needed him at safety and he seemed to do well there."
Bradshaw didn't seem too concerned about his latest ankle injury.
"It's something that happens," he said. "It takes a couple days for it to heal. I've had ankle sprains before, and to me during the game it gets numb for a couple minutes. I'm back out there, and during the week, it's a little sore so I'm just being cautious."
Tight end Bear Pascoe will assume Hedgecock's duties at fullback.
Defensive end Osi Umenyiora (knee) and center Adam Koets (knee) are listed as probable.
*For Houston, linebacker Kevin Bentley (knee) has been ruled out. wide receiver Jacoby Jones (calf) has not practiced this week and is doubtful. Wide receiver Andre Johnson (ankle), running back and former Giant Derrick Ward (ribs) and defensive end Mario Williams (groin) are listed as questionable. Johnson missed last week's game against Oakland and practiced yesterday and today on a limited basis. Williams, one of the NFL's premier pass rushers, was added to the Houston report yesterday and was limited in practice on Thursday and today.
*The game-time temperature Sunday in Houston is forecast to be 87 degrees, so the roof at Reliant Stadium is expected to be closed. The Giants have lost their last three indoor games – two in Minnesota and one in New Orleans – and are 24-15 in regular season games in domes.