The annoying and lonely rehab phase is over.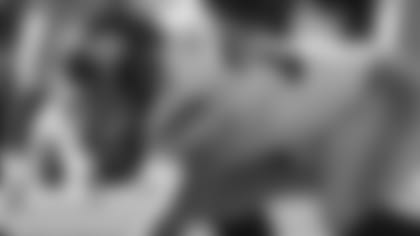 The defensive tackle, who was drafted by the Giants in 2012, began the season on the physically unable to perform list, which required him to sit out until this week. A three-week period now begins for the team to decide whether to activate, waive, or keep Kuhn on injured reserve.
During that span, Kuhn is only focused on what he can control as the numbers game will play itself out.
"It's good because we have an unbelievable group of defensive tackles," he said after Thursday's practice. "Honestly, I'd rather plus myself in than scratch somebody else out because we have a lot of great guys and a lot of guys are playing hard."
The interior of the defensive line includes four players with a combined 37 years of NFL experience, in addition to rookie Johnathan Hankins, whom the Giants drafted in the second round this past April.
Kuhn said he doesn't have a sense of what the season has in store for him, but it's his goal to return to the field this year.
"Honestly, no sense," Kuhn continued. "We don't talk about it. I don't care. I do what I can do, and then what happens, happens. That's always my approach because if you think about 'if this happens' – no, because it's all hypothetical. I can't get all the scenarios in my head. I just do what I can control, and that's fine."
And what he could control were the countless hours of rehab.
"I barely was gone [from the team facility]," said Kuhn, who played in 10 games and made one start as a rookie before the injury. "I was here every day, day in and day out, to try to get better. I watched a lot of film and also in here in the morning – I just did the same preparation when I was not playing like I would play. I look at the offensive line from every team and see if I can pick up on cues, and just the way they play as if I would be playing and just having that mindset of being in the season and game-mode."
Somewhere in that progression Kuhn was able to stop thinking about the injury and start moving forward.
But nothing can simulate live football action like actually getting out on the field, which Kuhn was able to do on Thursday.
"You can't," Kuhn said of preparing for live hitting. "You can't. You go out there, you do everything you can and then, like today was my first day back, and everything feels fine. I can tell today that all the hard work in the offseason rehabbing paid off because I don't think about it. And it feels good."
Teammate and fellow N.C. State product Andre Brown also went through the above experiences today.
The running back returned to practice as well, but must remain on the injured reserve/designated for return list until Nov. 10 vs. Oakland.
"We were together at N.C. State and now were hurt together," Kuhn said. "And now both have worked hard to get back and help this team out."