EAST RUTHERFORD, N.J. –** Mike Patterson played 56 regular-season and two postseason games in Lincoln Financial Field, but on Sunday for the first time he will have to find his way to the visitor's locker room.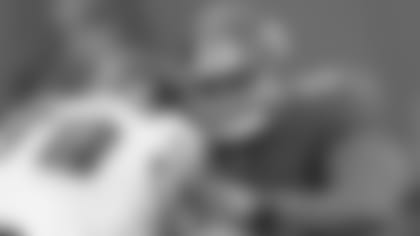 It's certainly not as spacious as the Eagles locker room he occupied for eight seasons as a standout defensive tackle. Patterson insists he'll feel no strong feelings when he returns there for the first time wearing the uniform of his new team, the Giants.
"It's not going to be emotional," Patterson said this week. "I learned real quickly that this is more of a business. I think I'm going to be more excited than anything. I still know people out there around the area. It's just going to be an exciting game. I'm looking forward to it, I've been practicing against those guys for so long, so I'm waiting to bust some moves out. We'll see what happens.
"I think it probably would have been different if Andy (Reid, the Eagles' former coach) was there still. I feel like it's a whole new team. The only thing that's the same are the players that I played with there."
Patterson was Philadelphia's first round draft choice in 2005. He played in 122 regular-season and postseason games for the Eagles, starting 106 of them. Patterson was credited with 551 tackles and 16.5 sacks and played on four playoff teams. But he and fellow defensive lineman Cullen Jenkins were released by the Eagles on Feb. 25. Jenkins signed with the Giants on March 11 and Patterson, now a reserve tackle, followed three weeks later.
Patterson has stayed in touch with several of his former teammates, including Fletcher Cox, Brandon Graham, Trent Cole, Todd Herremans and Cedric Thornton.
"Every now and then we send each other text messages, teasing each other and stuff like that," Patterson said.
The Giants and Eagles met three weeks ago in MetLife Stadium, so Patterson has already cleared the hurdle of facing his friends for the first time. He said no unusual trash-talking took place on the field that afternoon.
"There was some verbal give and take and stuff, but it wasn't anything for a soundbyte," Patterson said. "They knew who I was. (Running back LeSean) McCoy would say, "Hey, why didn't you let me run through that gap?' Things like that. It's going to be a good competition.
"But, you know, it's football. You have to get after it no matter what the situation is. Last time, they were out there telling me to take it easy because I was going so hard. It's a game of football, you always want to go out and play your hardest, regardless of the situation."
Running back Brandon Jacobs (hamstring), defensive tackle Shaun Rogers (knee) and cornerback Jayron Hosley (hamstring) were listed as doubtful for the game in Philadelphia. Jacobs and Rogers did not practice and Hosley was limited.
With David Wilson still sidelined with a neck injury and Andre Brown ineligible to return until the Giants' next game (in two weeks), Peyton Hillis and rookie Michael Cox will once again be the running backs, as they were last Monday night.
"The two guys that carried the load a week ago will have to do it to a certain extent," coach Tom Coughlin said. "(John) Conner does know what to do in those situations if it ever came to that, and Bear (Pascoe) can play fullback, as you know, so we have a little bit of leeway there."
Hillis joined the team five days before leading the team with 18 carries vs. Minnesota and still has soreness from that game.
"I expect that it is going to be here for a couple more weeks," Hillis said, "but I have to work through it and try to produce."
No one was more surprised than Hillis that he could go from unemployed to starting running back in less than a week.
"It was shocking and surreal at the same time, because a week ago I wasn't doing anything and then I was on Monday Night Football carrying the ball," he said. "I'm very thankful and I'm very blessed to be put in this situation and to have the coaches rely on me."
Cox had his first 11 career carries against the Vikings, but they totaled only 23 yards.
"Just being out there more and getting a better feel for everything, I feel better, especially after getting my first real game at running back out there," Cox said. "I definitely feel my confidence rising a little bit, having more experience and knowing what it's like already."
Cornerback Corey Webster (groin) and tight end Adrien Robinson (foot) were limited in practice and listed as questionable. Linebacker Spencer Paysinger (ankle), cornerback Terrell Thomas (knee) and safety Cooper Taylor (shoulder) are all probable.
Eagles quarterback Michael Vick practiced fully and is listed as probable. He missed the last two games with a hamstring injury suffered vs. the Giants. Nick Foles, who started in Vick's absence, is out with a concussion. Vick's backup on Sunday will be rookie Matt Barkley, who threw three interceptions in his NFL debut last week.
Defensive end Cedric Thornton (knee) and safety Patrick Chung (shoulder) are questionable.
This will be the Giants' final game before their bye. Their record in games prior to a regular-season bye is one of the NFL's best:
Team
Record prior to bye week
New York Giants
18-6 (.750)
Seattle Seahawks
18-6 (.750)
Dallas Cowboys
18-6 (.750)
Minnesota Vikings
17-8 (.680)
San Francisco 49ers
16-8 (.667)
New Orleans Saints
16-9 (.640)
The Giants are 27-29 in games following a Monday night game, including 9-8 since 2000.
This is the first time since 2000 the Giants and Eagles will conclude their season series before Nov. 1.
When the Giants visit the Eagles on Sunday, it will, according to the Elias Sports Bureau, be the first time in NFL history a team with a road losing streak of at least eight games plays on the road against a team with a home losing streak of at least eight games (the Eagles have lost nine in a row in Lincoln Financial Field).
Michael Vick vs. the Giants:
G
GS
W - L
Att
Com
Yds
TD
Int
Rate
10
8
3-5
224
132
1520
7
4
82.4