EAST RUTHERFORD, N.J. – **The Giants' run defense was one of the team's strengths during September and October. Whether it performs as well in the second half of the season could depend largely on how two untested youngsters play in place of an injured veteran.
The Coughlin Corner
The Coughlin Corner, Giants.com's exclusive weekly interview with head coach Tom Coughlin...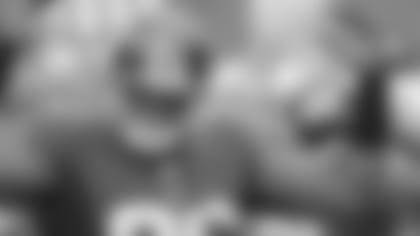 Infographic: Giants vs. Raiders Defensive tackle Shaun Rogers was placed on injured reserve yesterday with a knee injury suffered against Minnesota on Oct. 21. The 13-year veteran was a valuable reserve in the middle of the defensive line and his absence leaves a void in the tackle rotation that includes starters Linval Joseph and Cullen Jenkins and reserve Mike Patterson.
On Sunday, the Giants will begin the second half of their season when they host the Oakland Raiders, who are fourth in the NFL with 147.8 rushing yards a game. The top candidates to step in for Rogers are Johnathan Hankins, the rookie who has played in three games, and Markus Kuhn, the second-year pro who was activated off PUP this week and hasn't played a game in a year.
"I wouldn't say I'm really excited," Hankins said today, "because a guy went down and he was hurt. But the opportunity is there and it's there for me to take, so I'm going to take full advantage of it."
It's likely one of the two young tackles will be inactive, as Hankins has been five times this season.
"If I would be active, I'm ready to play," said Kuhn, who tore his ACL at Cincinnati on Nov. 11, 2012. "I'm completely healthy, I feel great. I definitely could contribute, of course."
Hankins is similarly confident. Asked what he can bring to the defense, the second round draft choice from Ohio State said, "Of course, stopping the run. That's what they brought me here for. Doing that and getting a push up the middle, and hopefully I'll get a sack on Terrelle (Pryor) if I can catch him.
"I've been practicing my butt off every single week as if I'm going to go out there and play. So this week, if my name is called, which I think it may be, I'm just going to go out there and give it my all."
Hankins has been frustrated because he was healthy but wasn't getting to suit up on game days. Kuhn had similar feelings but for different reasons. He's practiced for three weeks, but wasn't eligible to play until this week. Now each hopes for a chance to make a big play against the Raiders.
"You practice every day and that's what you show on film, what you show on the practice field," Kuhn said. "That's when the coaches see if they can trust you to do it on the field, too, so yeah, just keep working hard and keep doing my thing and hopefully I'll get to play soon."
At 2-6, the Giants know they can't absorb many – or any – more losses if they are to make an unlikely climb into playoff contention.
"We can't afford another loss going forward at all," defensive end Mathias Kiwanuka said. "We have to prepare for every game as though it's our Super Bowl, because that's the position we've put ourselves in. We always said that we still have an opportunity to win a championship but we have to take care of business. Taking care of business means winning every single game on our schedule."
"Every game is a must-win game for us, so that's going to be our mentality – win at all costs," safety Antrel Rolle said. "Not every win is going to be the way you expected it to be, not every battle is going to be the way you expected it to be, but you just have to go out there and win at any costs."
Tom Coughlin said he liked what he saw from his players in practice coming off the bye.
"They had good energy," Coughlin said. "We're excited about going forward. We're looking forward to the rest of the season. They practiced well."
Cornerback Corey Webster has been declared out of the game vs. Oakland because of groin and ankle injuries. It will be the fifth game the nine-year veteran will miss this season. Trumaine McBride, who was limited in practice after missing the workout yesterday with a groin injury, is listed as questionable, but said he will start.
"I feel good right now." McBride said. "I went out there today and I felt good running. I felt good turning. I felt good playing, so I'm ready to go for Sunday."
Running back Brandon Jacobs is doubtful with hamstring and knee injuries. Jacobs hasn't played since rushing for 106 yards at Chicago on Oct. 10.
Cornerback Jayron Hosley (hamstring) is questionable. Wide receiver Victor Cruz (neck), cornerback Terrell Thomas (knee) and tight end Adrien Robinson (foot) are probable.
Cruz wore his regular white No. 80 jersey in practice today instead of the red (no-contact) jersey he wore yesterday.
Six Raiders are listed as out for Sunday's game: safety Tyvon Branch (ankle), wide receiver Juron Criner (shoulder), cornerback DJ Hayden (groin), tackle Matt McCants (toe), running back Darren McFadden (hamstring) and tackle Tony Pashos (hip).
The Giants will host their 17th annual food drive at MetLife Stadium when they host the Raiders on Sunday. Fans are encouraged to bring canned or non-perishable foods and deposit them at any of the Shop & Shop trucks parked at each stadium entrance.
All food collected during the drive will be donated to the Community FoodBank of New Jersey – a member of Feeding America– for distribution to local partner agencies in the area.
Since 1997, the Giants have hosted an annual food drive and helped feed thousands of their neighbors during the holiday season. Thanks to the generosity of our fans, nearly 5,000 pounds of canned or non-perishable foods is collected each year. Once again, we ask our friends and fans to Join the Team and assist our neighbors in need.