EAST RUTHERFORD, NJ - Like much of the country's football public, Coach Tom Coughlin sat down Monday night to watch the Philadelphia Eagles-Washington Redskins game on television. Of course, Coughlin had a different agenda than most, considering he's the head coach of the Giants team that will play the Eagles Sunday night in Philadelphia.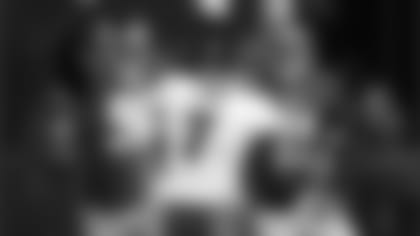 So what were his thoughts as the Eagles started steamrolling toward their 59-28 victory?
"Let's see, 35-0 (Eagles lead), 12 plays for Washington," Coughlin said. "Just what everybody else was (thinking) – put the pencil down and become a fan."
"No. I had indigestion, stomach ache," Coughlin said.
Well, not really, but if he did, it would certainly be understandable. The Giants and Eagles are both 6-3 and will meet with first place in the NFC East at stake. And all the Giants have to do is stop an offense – and a player in Michael Vick – that was extraordinary on national television Monday night.
Philadelphia led 28-0 at the end of one quarter and 45-14 at halftime on its way to piling up a franchise-record 592 total yards. Vick became the first player in NFL history to record 300 passing yards (333), 50 rushing yards (80), four passing touchdowns and two rushing touchdowns in the same game. He completed 20 of 28 passes (71.4 percent) and posted a career-best 150.7 passer rating. Vick accounted for 413 total yards and six touchdowns. He became the first player in NFL history with three passing touchdowns and two rushing touchdowns in the first half.
Vick, who was the NFC Offensive Player of the Month for September, was named the conference's Offensive Player of the Week for the second week in a row.
"That's something I expect coming from Michael Vick and the Eagles team as a unit," safety Antrel Rolle said. "I think they're pretty good offensively, defensively and special teams, which is something that I can expect coming from their unit.
"With him it doesn't matter what you do. He can run up through the pocket, he can run outside the pocket. He can beat you with his arm as well as his legs. So no matter what the plan is with a team of this caliber, they have extreme playmakers on each side of the ball and you just have to play your game."
"Once he gets going, it's a sight to behold," defensive tackle Barry Cofield said. "But with good coverage, he'll pat the ball from time to time and we have to be aggressive and disciplined at the same time. It's a tall task, but it's what you've got to do to beat this team." 
Although he missed three games with a rib injury, Vick is having one of the finest seasons among NFL quarterbacks. In six games, he has thrown for 11 touchdowns, run for four more, committed zero turnovers and produced nearly 300 total yards per game.
He's the Eagles' second-leading rusher with 341 yards. His passer rating of 115.1 is the league's best by more than 10 points. Vick has thrown no interceptions, nor has he lost a fumble. That's not to say he hasn't come close to a pick.
"There have been a lot of times when the ball has been in people's hands," Coughlin said. "They haven't caught the ball."
Linebacker Michael Boley was Vick's teammate in Atlanta in 2005 and 2006, before Vick missed two seasons while serving a prison term for running a dogfighting ring. Boley said the player is the same, but much else has changed.
"Different scheme, different coach," Boley said. "I think all it takes is for the right player to get in the right scheme, the right situation, and make him blossom. For him to show everybody what his full potential was, I think he showed that the other night."
As complimentary as the Giants were toward Vick today, they repeated two points which have been obscured in the Vick-mania: He is not a one-man band and he is not invincible.
Vick is joined in the backfield by LeSean McCoy, who has team-high totals of 615 rushing yards and 46 receptions, and James Harrison, who was acquired in a trade last month with Cleveland. His receivers include speedsters DeSean Jackson and Jeremy Maclin, bruising possession wideout Jason Avant and reliable tight end Brent Celek.
"Maclin made an outstanding play the other night," Coughlin said. "We know the tight end has been worked in the middle of the field and on the sail routes and all of those things – he's a big factor. Avant, you don't ever want to not pay attention to him because he's an outstanding blocker, he's hurt us in the green zone before, he's hurt some people catching the ball in the middle of the field and running out of there. Certainly McCoy has done an outstanding job – he's their leading receiver, they screen a lot to him. There are a lot of people involved in this offense, not just one guy."
"When you study them, you're studying Vick also - but you're studying Philly, what Philly has been doing over the past, what, 11 years," safety Deon Grant said. "I mean they have to do the same thing. They are fast, quick, doing the same thing. They went to, what, the NFC Championship game about three times (actually, four) and then went to the Super Bowl one of the times. So when you study them, you have to study Philly and what their offense has been doing for the past 10 years."
Grant is properly respectful of Vick, but not intimidated by what he can do with his arm and his feet. When he was with Carolina, Grant was in the same division as Vick's Falcons teams for four years.
"We beat him when I was there," Grant said. "We did a few things to keep him kind of rattled and that was when I was in the same division with him. Now he just has more experience, and he has more weapons. He has great weapons with the receivers. He always had a good running back, he has a new weapon with the tight end, but he just has more fast weapons now and a coach that's really running that whole show when it comes to calling the plays on offense." 
Vick has been sacked 15 times, so he's not torching the opposition on every snap.
"He's not the biggest guy," Cofield said. "It's just you've got to be able to hit him. You've got to catch him. You've got to catch him standing still, and that's when you get a good hit on him because he's very hard to contain. He's very hard to catch up with once he gets going. So hopefully we can feed off the coverage, and they can give us that extra second that we have to get there and hit him."
Everybody starts even when the ball is kicked off Sunday night.
"You have to play your game, and their record shows, they are 6-3, which means they can be beat and vice versa," Rolle said. "We've just got to go in and play our game."
"You can't help but be taken aback by what they were doing Monday night," Cofield said. "You have to go in here to be able to study the tape in-depth. When the Redskins made mistakes, that's what they capitalized on. So I wouldn't consider them unstoppable. They played at a high level, and we've got to play at a high level to compete."   
*The Giants' offensive line was down another man today when Shawn Andrews – the left tackle the previous two games – was unable to practice because of a sore back. He joins fellow linemen Shaun O'Hara (foot) and David Diehl (hamstring/hip) on the sidelines.
Coughlin said this morning he had "no news that I'm looking for" regarding O'Hara and Diehl.
Also missing practice were wide receiver Steve Smith (pectoral), fullback Madison Hedgecock (hamstring) and defensive end Osi Umenyiora (knee), who took his customary Wednesday off.
Cornerback Corey Webster (toe) was limited. Linebacker Gerris Wilkinson (hand) and return specialist Darius Reynaud (hamstring) worked fully.
*Smith spoke publicly for the first time since suffering a partial tear of his pectoral muscle in practice last Thursday. He did not play in the loss to Dallas and he told reporters today he expects to return in early December. The Giants host Washington on Dec. 5.
Smith said he was, "making a catch in an awkward position" when he fell to the ground. "I just fell on it, like a normal fall," Smith said. But it had an abnormal result. The good news is he will not need surgery and is already rehabbing.
*Wide receiver Derek Hagan, who was re-signed yesterday when Ramses Barden was placed on injured reserve, stepped back onto the practice field as if he'd never been away.
"Everything is still the same," Hagan said. "I know the playbook, know everything I pretty much need to know and nothing's changed. Everything is fresh in my mind, and I'm looking forward to Sunday.
"I have to be ready to do it all whether it's third receiver or special teams. I know I can run all day, and they definitely know I can run all day and catch the ball and that's what I'm here for. Obviously they need receivers that can step right in and that know the offense, and they know I know the offense and can get the job done."
Hagan was in Long Beach, California on Sunday, putting his parents on a cruise ship, when they caught a glimpse of Barden suffering a fractured ankle and ligament damage in the Giants' loss to Dallas. "My father said, 'The Giants are going to call you tomorrow,'" Hagan said.
"When they gave me the call I was just excited," Hagan said. "I've been wanting to play football all season long. I haven't been working hard since March, being out here with the guys and catching passes from Eli (Manning) all summer long for no reason. And I guess all the hard work pays off. Obviously I had a two-month layoff, but I'm back and excited and ready to go."
*The Giants lead the regular season series that began in 1933, 79-69-2, and are tied in the postseason series, 2-2. Last year, the Eagles swept the season series for the first time since 2004, winning 40-17 on Nov. 1 in Philadelphia and 45-38 on Dec. 13 in Giants Stadium. The first of those games broke the Giants' four-game regular season winning streak in Lincoln Financial Field. Either the Giants or the Eagles have swept the season series in 21 of the last 25 years. The Giants won both games in 1985, 86, 87, 93, 94, 97-2000, 2005 and 2007 (11 sweeps). Philadelphia swept the series in 1988, 89, 91, 92, 95, 96, 2001, 2003, 2004 and 2009 (10 sweeps). The teams split their season series in 1990, 2002, 2006 and 2008. The Giants are 4-3 in the regular season and 0-1 in postseason play in Lincoln Financial Field.