EAST RUTHERFORD - ." Every few days, Giants.com's exclusive Writer/Editor Michael Eisen will pick some of the best questions and comments we receive via email* and answer them right here! If you'd like to submit a question or comment to Michael, click here.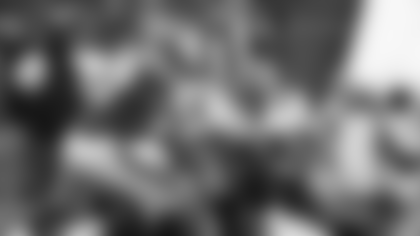 Chase Blackburn who has been a key reserve and special teams ace will have an opportunity to compete for the starting middle linebacker position in 2010.


I will miss AP very much and appreciate everything that he brought to the organization. I do believe that he was the intellectual leader and spiritual heart and soul of the defense. That will be a gaping hole that needs to be filled; even if the successor is physically more able, I don't believe he will be anywhere near the leader that AP is/was.
If there's any way possible, I would love it if AP would come back and be a part of the team in some capacity. Possibly a coaching position?
Giant's brass praised Pierce to the heavens, yet let him go. Why? On a defense that was so horrible last year, AP was the kind of player the G men need to return to their past prominence. Was the injury so severe that he couldn't recapture his former skills? He was a strong leader who'll be missed. Who's going to take his place? Paul
Who is going to replace Pierce? He is only thirty one. Bad move.
Dear Vince, Paul, John and everyone else who wrote to The Mailbag about Antonio Pierce:
Judging by the volume and content of the emails we received, few transactions in memory have elicited as much emotion as the Giants' recent decision to release Antonio Pierce. When A.P. was at his best he was a terrific player and an outstanding leader. I frankly don't know all the reasons behind his release and the Giants wouldn't permit me to share them if I did. But Jerry Reese and Tom Coughlin would never make a move like this without much study and careful consideration. Pierce was a high-profile player, but the G.M. and coach clearly believe the Giants need to improve at middle linebacker, a vital position in any 4-3 defense. And then there are the questions about Pierce's health. He missed the final seven games of the 2009 season with a bulging disk in his neck. He did not have surgery and while Pierce said his neck has improved, it is uncertain if he would pass the team's physical. Given all that, the Giants strongly believed it was best to cut the cord. Regarding his replacement, the Giants will look at players currently on the roster, free agents, the draft and perhaps the possibility of a trade.
If Chase Blackburn is our starting MLB and we never made any free agency moves to make our team better then me and my cousin will be up in Albany for camp protesting with signs.
What do you have against Chase? It's too early to say who will be starting middle linebacker. But remember that Jonathan Goff was the first-team middle linebacker for the final five games of the 2009 season.
Hi Michael!! I am very worried about Giants' situation. Where is the team from SBXLII??!! Where is that unforceable defense and destructive offense?! Something needs to change and change very fast. What do you think, what Giants should do to get to next playoffs? And what do you think about Mike Sullivan as QBs coach?
First of all, the Super Bowl XLII team is not returning. The 2010 team will be three seasons removed from the championship season. Given the annual personnel turnover in the NFL, perhaps only one-third of the players on the opening day roster will be holdovers from 2007. But that doesn't preclude the new Giants from achieving greatness. The team still has many good players and a terrific coaching staff. Tom Coughlin said it the day after the season ended – the Giants lost their identity and need to get it back. That means they have to do a much better job running the football and stopping the run. If Brandon Jacobs and the defensive linemen who were injured stay healthy, I believe that's a good launching point toward that goal. Regarding Mike Sullivan, all I can tell you is that Eli Manning is very excited about him becoming the quarterbacks coach. And that's what's most important.