Do you think the Giants are going to regret not improving the defensive line once the season starts? The secondary looks great but, if there's no pass rush, coverage will eventually break down.**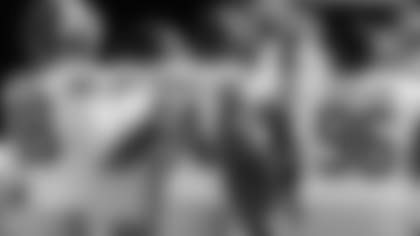 Read More from Eisen's Mailbag I'm guessing we're going to be blitzing more to make up for this. JPP has injury issues and Kiwi & D Moore haven't produced as well as most fans had hoped. What do you think, assuming the Giants don't draft an immediate starter - do we blitz or stick with the four-man rush?
-Keith
Dear Keith:
You seem to be operating under the premise the Giants can no longer acquire defensive linemen.
There is no regret now, four months before training camp opens. It's not even April. The Giants can sign additional defensive linemen. They can also draft them. It's a very fluid situation. And in the unlikely event the defensive linemen currently on the roster comprise the group that goes to camp, keep in mind what the Super Bowl-winning Seahawks did last season. They had a very strong secondary. Because the coverage in the back of the defense was so good, the rush up front was stronger than anticipated. You might be used to seeing a defense that is stronger front to back. But you can succeed if you reverse the formula.
I seem to recall Eli converting about 8 mil of his salary to a signing bonus to clear cap space a few years ago. Any chance of Rolle changing about $4 million - $5 million to a bonus to clear cap space?
-William
Dear William:
I never talk to players about their contracts and I dislike discussing contracts in this forum. If the Giants need to clear space under the cap, contract restructuring is one option they can use. I really have no idea which individual players they would approach.
Who is the one player that the Giants have on their roster that you think will have a breakout year in 2014?
-Mike
Dear Mike:
Jerrel Jernigan
**