Do you think holding the draft later this year helps a team like the Giants that is trying to address so many holes after a disappointing season. From a fan's perspective, it is not that popular to hold the draft so late.** -Mike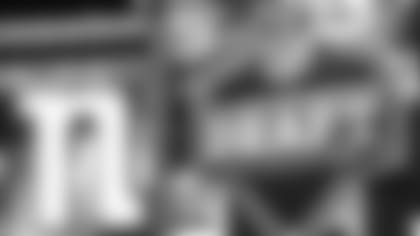 < Read More from Eisen's Mailbag Dear Mike:
Moving the draft back three weeks will have little to no effect on the Giants' preparation to address needs on their team. They were always ready to go in April and they'll be prepared to select the best players on the board in May. The Giants have stuck to their time-honored routine; for example, the meetings that produce the team's final evaluation and grades on players began 11 days before the draft, as it has in recent years.
What's your top-needed position in the draft?
-Kevin
Dear Kevin:
I'm not certain that I have just one, and I don't say that because I think the Giants are desperate for help in so many spots. The quality and depth can be improved at several positions. I'll return to a core belief, and that is you can't win in the NFL without an outstanding offensive line. Collecting some more linemen wouldn't be a bad idea. Neither would be acquiring some more weapons to work with Eli Manning – wideouts, tight ends, running backs.
The word on Damontre Moore last season was that he needed to put on muscle. Did he do that in the offseason?
-Edward
Dear Edward:
I haven't measured Moore's biceps, so I can't vouch for his muscular improvement. But Moore has been working out at the Quest Diagnostics Training Center for most of the offseason. I would imagine that he has added strength that will be very beneficial to him once the Giants return to the field.