Michael: Adewale Ojomo had another good showing on Saturday. Does he play special teams and do you think he has a chance to beat out Adrian Tracy to make the final roster?  - Nigel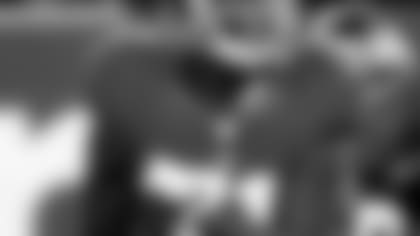 Read more from Eisen's Mailbag](http://www.giants.com/news-and-blogs/eisens-mailbag.html) Dear Nigel:
Ojomo is not a core special teams player, so he won't make the roster that way. He certainly has a chance to jump ahead of Tracy, but frankly, it could be difficult for both of them. If Justin Tuck, Jason Pierre-Paul, Mathias Kiwanuka and Damontre Moore area healthy, opportunities will be curtailed for the other defensive ends. Tracy or Ojomo could make it as the fifth end, but it appears playing time with be scarce.
Michael: How will their performance in Pittsburgh affect Ojomo and Sash's standings on the depth chart and how often is it updated? Also where was Kiwi (Mathias Kiwanuka)? I didn't see him in the stats at all. Was he not playing or just not effective? I thought he'd be a major factor out there. - Brad
Dear Brad:
First, Kiwanuka. It's unwise to put too much stock in preseason stats, particularly a starting defensive lineman. Kiwi played about 15 snaps, if that. I don't know for certain, but the Steelers might not have run one plays in his direction or vicinity. I'm confident Kiwanuka will make a significant contribution when the games count. Theoretically, the depth chart is updated weekly. I don't know if it changed based on anything that happened in Pittsburgh. Ojomo still has several defensive ends ahead of him. And Sash certainly didn't supplant Antrel Rolle as a starter. He might have solidified himself as the fourth safety, after Rolle, Stevie Brown and Ryan Mundy.
Michael: I saw Ryan Nassib in toward end of game. He was not working with or against first tier players. What is expected of him in this setting? - Paul
Dear Paul:
It is difficult to evaluate Nassib's performance, because he didn't get much help from a supporting cast that won't be here next month. But it's unlikely he will get to play with the starters. Perhaps the best he can hope for is to get in a game with the second team. If that happens, he will be expected to perform at a high level, as everyone else is.