If you had to guess, which positions do you think that Jerry Reese will try to address in free agency and which will be better served by the draft? Question 2: What are the chances the Giants re-sign Jon Beason? He was a Giant upgrade at MLB from what has been trotted out there the last few years and would be sorely missed if he signs somewhere else.** -Mike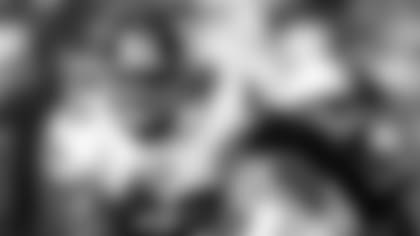 Read More from Eisen's Mailbag Dear Mike:
Jerry Reese is not going to divide positions in two columns, putting those he can improve via free agency on one side and those he can get help for in the draft on the other side. Every position of need will be addressed through all possible means. For example, it would not surprise me at all if the Giants sign a free agent offensive lineman or two and select another one at the top of the draft.
Regarding Jon Beason…he is not different than any other free agent. If there is mutual interest between the team and the player and they can come to an agreement on a contract, then he will be re-signed. But the Giants will not overpay for him or anyone else, particularly since they have so many needs to fill.
From the north (Montreal, Canada)!!! Now that the G-Men have a new offensive coordinator, do you think that he will realize that Eli is great in the hurry up offence and run the offence in this style?
-Charles
Dear Charles:
Kevin Gilbride knew as well as anyone how productive Manning has been in a hurry-up offense, but he wasn't going to run it fulltime. I doubt Ben McAdoo will either, because that's not how Tom Coughlin wants to attack teams. I think the hurry-up will be saved for a change of pace or when it's most needed, like at the end of games.
Can you PLEASE answer this question for me, why are both the Giants & Jets called New York when in fact MetLife Stadium is in New Jersey? Was a deal made with the teams if they came here instead of building one in New York? Love both teams and hope you can help. Much thanks in advance.
-Joanne
Dear Joanne:
I can't speak for the other franchise, but the fact that we're the New York Giants has nothing to do with the location of MetLife Stadium, just as it had nothing to do with Giants Stadium. The franchise has been the New York Giants since it was founded in 1925. When Wellington Mara agreed to move the Giants to the Jersey Meadowlands in the early 1970s, he did so only after receiving a guarantee that he would not have to change the team's name. We've always been the New York Giants and always will be.