Today's edition of The Mailbag on Giants.com.
Shouldn't the Giants use the hurry up offense more? It appears Eli is so much more efficient in the two-minute offense than the regular offense.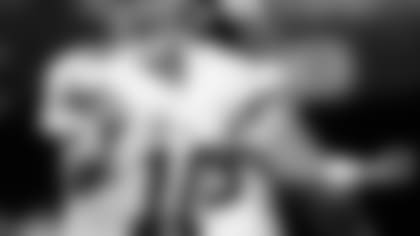 PHOTOS OF ELI MANNING'S CAREER](http://www.giants.com/media-vault/photo-gallery/Giant-Decade-Look-back-at-Elis-Career/e10393dc-834f-4312-9ada-25f7fe4fc0c6) Offensive coordinator Kevin Gilbride is asked this question several times during the season. Yes, Manning plays well in those late-game situations. But you can't assume the offense and he would be as effective if it was used for large portions of a game. The defense would have an opportunity to adjust. And it's just not what the Giants do. They are a balanced offensive team that likes to keep possession both running and passing the ball. The offense scored more than 400 points last year. 6,000 Playing hurry-up for four quarters is just not their game.
I have been a Giants fan since Charlie Conerly. My question is how come we don't use a two tight end set hardly at all?
Dear Charlie:
There are a few elements to this question. For example, if last year Martellus Bennett was on the line and Bear Pascoe lined up at fullback, you had two tight ends in the game. But I doubt that's the two-tight end alignment you're looking for. The Giants do use an extra tight end – often an offensive lineman – as an additional blocker in short-yardage and goal line situations. But the real reason they do it so infrequently is the talent they have at other positions. To put another tight end on the field, the Giants would have to remove someone else. Would you prefer to have Pascoe running routes or Hakeem Nicks? Or Victor Cruz? I think we know the answer to that. So I think the Giants will continue to use two tight ends together sporadically, at best.
Do you believe the Giants will pick-up another running back as an insurance policy for Wilson and Brown?
Dear Mike:
I could provide a better answer to that question if I knew how Da'Rel Scott, Ryan Torain and Michael Cox perform in training camp and the preseason games. If one of them distinguishes himself, the Giants probably don't need to shop for a third back. But should no one step forward, the Giants will likely be in the market for a back.