Why is Shaun Rogers not playing left defensive tackle? I always thought you wanted your bigger body on the strong side? - Joseph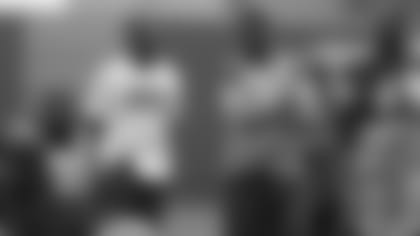 READ MORE FROM EISEN'S MAILBAG Dear Joseph:
Size is only part of the equation, and not the most important consideration. Production and consistency come first. he previous four years Chris Canty was our largest defensive tackle and he played on the right side. Linval Joseph is a fixture on the left side. He plays well and he's comfortable there, so that is where he should stay. Cullen Jenkins is the current starter at right defensive tackle. Rogers can back up either side, but has played primarily on the right side – in part because Jenkins has also played end. Rogers will be able to contribution the left side when Linval Joseph needs a breather.
I saw Brandon Jacobs visited practice. Why not bring him back at a one-year deal considering he sat most of the year last year in San Francisco and is healthy? He knows the offense and in pass blocking and short-yardage could help us and is a proven winner. Is it possible? - Stephen
Dear Stephen:
It doesn't appear to be at this time. The Giants want to work with the backs they have, particularly David Wilson, Andre Brown and Michael Cox. Jacobs' visit was strictly social. Who knows what kind of shape he's in or how much desire he has to play? I suppose anything is possible, but Jacobs will likely remain a former Giant.