Do you think Eric Herman can make the team this year? I think he can be something great in the future.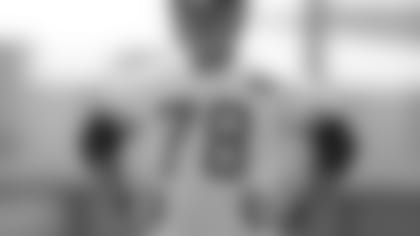 READ MORE FROM EISEN'S MAILBAG](http://www.giants.com/news-and-blogs/eisens-mailbag.html) Dear Bernard:
It's great you're excited about one of our draft choices, but I would hesitate to predict greatness for a seventh-round draft choice who has yet to play in his first preseason game. Herman is an intriguing prospect, but it's difficult to predict if he will make the roster until he plays in some games. He faces a lot of competition to secure a job as a backup lineman; on the current depth chart, he's listed as the fourth-team right guard. My guess is Herman will be on the practice squad this year.
I have some questions about the depth chart. Why is Matt Broha ahead of Adewale Ojomo? Are Terrell Thomas and Markus Kuhn at the back of the because of injuries? Is Will Hill at the back of the safeties because of the suspensions? And finally, how much do you expect the chart to change and where?
Dear Brad:
Coaches make decisions based on what they observe on the field and on tape. Broha is ahead of Ojomo because, in the coaches' opinion, he deserves to be there. Broha must have played more impressively in the spring and early in camp. Yes, Thomas and Kuhn are among the final players at their positions because they are on the PUP list and their return date is uncertain. Hill has moved down on the depth chart because of his NFL suspension, which will force him to miss the first four games. I don't know if I "expect" any changes, though obviously some are possible. The identity of the three starting linebackers could change. Barring an injury, I think the rest of the starters will stay in place.
Justin Tuck has been getting unfairly criticized by the media. The DE problem last year was caused by the tackles. Chris Canty, Linval Joseph and Rocky Bernard didn't play well and the run defense showed. Can we expect better play from the DTs this year?
Sear Danny:
The Giants certainly made an effort in the offseason to ensure that happens. Canty was released and Bernard was not re-signed. Joseph played well and is secure at one tackle spot. The Giants added veterans Cullen Jenkins (currently the other starter) and Mike Patterson, brought back Shaun Rogers (who missed all of last season because of a blood clot in his leg) and drafted Johnathan Hankins. They hope Marvin Austin improves and are waiting for Markus Kuhn (knee surgery) to return to the field. So yes, I believe the new group defensive tackles will play better in 2013 than the old group did in 2012.