Why let Da'Rel Scott go? Brandon Jacobs was never the answer and still is not. And, why so many injuries, when we knew there were so many older players?**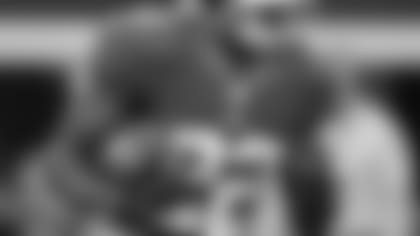 Read more from Eisen's Mailbag](http://www.giants.com/news-and-blogs/eisens-mailbag.html) Dear Gloria:
First, you will be happy to know that Da'Rel Scott was re-signed today and will play Thursday night in Chicago. Jacobs is the answer if you're asking the correct question: who can the Giants use in short-yardage and goal line situations? He was signed to fill those roles. No one anticipated David Wilson's injury. When it occurred, Jacobs became the primary back. Not sure which injuries to older players you're referring to. Chris Snee? I don't think he injured his hip because he's old. David Wilson is 22. Is his neck injury age-related?
What does the Giants defense have to do to stop the Vikings Run game featuring Adrian Peterson this coming Monday?
Dear Gianni:
Not to deflect the question, but can we get through the Chicago game first? After that, the Giants will have 11 days to prepare for Peterson and the Vikings. Off the top of my head, surrounding him with numerous defenders would help.
I've watched all the Giants games and I have noticed that Will Beatty is struggling on the offensive line and that rookie Justin Pugh has outplayed him. Is Beatty playing out of position? And do you think the Giants should start Brandon Mosley instead of James Brewer?
Dear Anthony:
No, Beatty is not out of position. His skill set is best-suited for left tackle. Like everyone else on the team, he just has to play better. Not sure when you wrote this, but David Diehl started last week for Brewer and will continue to do so for the foreseeable future.