What's with Adrien Robinson? He seems to be the invisible man.** -John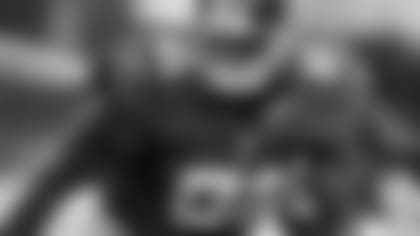 Read More from Eisen's Mailbag Dear John:
Adrien Robinson has certainly been under the radar since joining the Giants two years ago. He was set back as a rookie because his academic calendar at the University of Cincinnati prevented him from participating in many of the spring drills. When training camp opened, he was behind, never really caught up and suited up for only two games. In 2013, he hurt his foot in the spring and re-injured it in the preseason. He suited up for the first time at Detroit on Dec. 22 and promptly sprained his knee on the opening kickoff. Robinson still has promise, but he has to stay healthy and prove he can be a productive NFL player.
Many teams use a two tight end set. Why not use two fullbacks? I'd hate to see either Hynoski or Conner get released.
-Walter
Dear Walter:
When teams line up with two tight ends, it is often to employ them as blockers to help open holes for a running back. If Hynoski and Conner were ever used together, who, exactly, would carry the ball? Neither is ever going to scare an opposing defense with a ball in his hands. Their job is primarily to make it easier for players like Eli Manning, David Wilson and Victor Cruz to do their jobs. Hynoski and Conner are excellent blockers, but playing two fullbacks together would likely hurt the offense more than help it.
Many interceptions are the result of receivers not making the catch they should have made. These errors are charged against the quarterback, even though he put the ball where the receiver should have caught it. Why don't we make a new category for stats purposes for receiver-caused interceptions, based on review after the game by NFL officials, and not charge these to the quarterback?
-Bernie
Dear Bernie:
First, it's too subjective. No official can accurately determine in every instance when a receiver should have caught a ball or if an interception is a receiver's responsibility. And if you do that, why shouldn't the reverse be applied…if a quarterback makes a poor pass, but the wideout makes a great catch for a touchdown, do you remove the score from the quarterback's stats? I think not. The quarterback throws the ball, so interceptions and touchdowns are his responsibility.