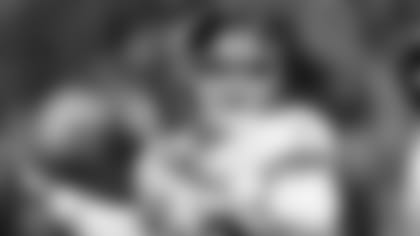 Peyton Manning missed the 2011 season while undergoing four neck surgeries, an absence that ended his wildly successful 14-year run with the Indianapolis Colts. He joined the Denver Broncos in 2012 and is arguably again the NFL's best player, a quarterback setting records like those listed above.
Eli Manning doesn't have to rehabilitate an injury or recuperate from surgery. His 151 consecutive starts is the NFL's longest active streak, now that Washington linebacker London Fletcher took his 215 straight starts into retirement. But Manning still has a comeback to make. The 2013 season was arguably the poorest of his 10-year career and certainly the worst since he struggled as a rookie in 2004. The Giants went down with him, finishing 7-9, their first losing record since that '04 season.
Now Manning, who turns 33 on Friday, will work to raise both his level of play and the team in 2014. And he can look to his brother for inspiration.
"You can get better and I think that's with Peyton and having the best year of his career at 37," Manning said. "And so I know I can get better. I can make improvements. I can play at a high level and definitely improve my game these next years and get back to making the playoffs and winning championships."
Manning led the Giants to a pair of those, most recently in 2011. But the Giants have missed the playoffs two years in a row and their just-concluded season was particularly disappointing.
The Giants entered the season with high hopes, but Manning threw 15 interceptions during the Giants' 0-6 start and a league-high and franchise-record 27 overall. He threw at least one pick in all but three games and the Giants finished with a league-high 44 turnovers.
"I need to play better and I didn't play…in certain games I didn't play as good as I needed to, to win the game," Manning said. "Some games were just tough and we got outplayed on some games, but I can definitely improve and I need to and I will.
"Sometimes it's just tough circumstances. You're down in games or you're getting pressured trying to make some plays. Different things come up and, obviously, I've got to do a better job of making better decisions on certain things and some, just making better throws, and there's a combination. Again, I'll look at it hard in the offseason and see if I can find a common reason for them."
Giants ownership and management, as well as head coach Tom Coughlin, didn't make excuses for Manning, but they believe he will return to the form that made him one on the NFL's best quarterbacks.
"Well listen, he did not have a good year," said John Mara, the Giants' president and chief executive officer. "He'd be the first one to tell you that, but he had a lot of company. He had a lot of company there, and I think with Eli, sometimes he tries to do too much. He competes so hard out there and he has so much confidence in his ability to get the ball into certain areas that, unfortunately, he makes mistakes sometimes, but I still have every confidence in him. He's still the face of the franchise and we need to help him. We need to give him some better tools and do a better job around him next year."
"He'll respond," Coughlin said, "and hopefully we'll do a better job on the other end, as well, by protecting him."
Manning's very first pass of the season was picked off by Dallas defensive end Demarcus Ware, the first of a three-interception night. It was the first of five games in which Manning threw three interceptions, including a career-high five vs. Seattle on Dec. 15. His last pass of the year was also intercepted, by Washington's Josh Wilson, one play after suffering a high ankle sprain that forced him to sit out the second half.
"It seems like he wasn't in rhythm from the opening game," general manager Jerry Reese said. "There were times where he flashed some of the things that make him a two-time Super Bowl MVP. For whatever reason, you can point to personnel, you can point to coaching, you can point to his execution in itself, you'd probably be right about all of it. It's a culmination of things. Eli knows that. He knows we have to fix these things in the offseason and we expect to do that."
Reese was asked if he is confident Manning will "return to form."
"Well, I hope so," Reese said. "There have been some really good quarterbacks who have had some rough seasons, had a high interception total, and came back to be really good players. Actually I think his brother has had even more than (27) in a season before, I think Peyton had 28 one season (he did, as a rookie in 1998).
"We have a lot of confidence in Eli, but he has to play better. We expect him to play better, he expects himself to play better. One of the things that attracted us, we've said this many times, one of the things that attracted us to him when he came out of Ole Miss was that he made everybody around him better, and obviously, there has to be some better personnel around him. But some of the things that happened, he's got to own it, as well."
Manning didn't have his strongest supporting cast. The Giants lost offensive linemen Chris Snee, David Baas and Jim Cordle to season-ending injuries and started seven different combinations up front, a big reason Manning absorbed a career-high 39 sacks. And only three teams finished with a lower rushing yardage average than the Giants' 83.3 per game. The Giants started six different running backs.
But Manning neither makes excuses nor points fingers. He won't blame his shortcomings on the team's offensive philosophy or play-calling, or his teammates on the field.
"I think it's just we didn't execute very well," Manning said. "Early in the season I thought we really did some good things offensively. We were moving the ball. Obviously, we had some turnovers and different things that hurt us. But we had some good games, and eventually we kind of got some injuries and dealt with that, and offensively we just didn't execute as well as we needed to. There were definitely opportunities and we had a chance just to get guys open and have big plays and we just didn't execute as well as we needed to."
Manning threw 18 touchdown passes this season, his lowest total since he tossed six as a rookie, when he started only the final seven games. The 2013 season was the first since then in which he had fewer touchdown passes than interceptions. So what will it take to get him back to being the quarterback that won two Super Bowls and was elected to three Pro Bowls?
"It's just hard work," Manning said. "Just get back this offseason, look hard at this year's film and get with the coaches and figure out how we need to improve our offense. * *How do we give myself and our offense a better chance to have success and see where I need to make improvements in my game, whether it's decision-making or throws or certain throws. Just get back where I'm playing at a high level."
That's the Giants' first on-field goal for 2014.