EAST RUTHERFORD, N.J. – Eli Manning said today his body felt fine after absorbing persistent punishment yesterday in the Giants' 38-0 loss to the Carolina Panthers.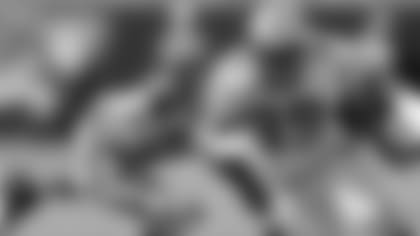 Manning was sacked seven times and hit, by Tom Coughlin's estimation, "15 times."
"I feel good physically," Manning said. "I was able to do everything today. That's not the problem. I'll be fine."
Manning said he has lost no confidence in the offensive line, despite being sacked 11 times during the Giants' 0-3 start.
"Sometimes you play games and you get beat and it's unfortunate," Manning said. "The first two games I thought our offensive line played very, very well and we were able to sit back there and go through progressions and go through reads and make throws. This past game they got after us a good bit and made it tough for the offense to execute. That was unfortunate, but I think our offensive line has good players. We've got guys who do take pride in what they're doing and want to play well and are going to step up and play well. We had a bad game and they'll get better."
Will they improve with the same players? Coughlin wouldn't commit to that. Asked if he is considering changes on the line, Coughlin said, "We'll see. Your team is your team. If there is something that we think can do, can help, then I would consider it."
Two of the starting linemen had what Coughlin called "issues" that were being examined today: right guard Chris Snee's hip and center David Baas' neck. Asked if those issues would affect their availability for the Giants' next game, Sunday in Kansas City, Coughlin said, "I don't know. I hope not, but we'll see. There are things that have to be looked at."
Manning said the loss to the Panthers was not the result of a lack of pride or passion.
"I think we just got beat," he said. "When you lose, 38-0, anything you say about us is probably deserved to be said. It's something we're not happy about as players. You're embarrassed about it. We've got to fix it. The only way to change that or get people saying something different is to go out this next week and play better than we did last week."
Coughlin was asked if he's concerned that perhaps the team lacks the talent to turn around its season.
"We're going to certainly find out," Coughlin said. "We're certainly hoping to be able to find out, to go to whatever extreme we have to try to uncover people and help us win."
Are the coaches putting the players in the right positions to win the games?
"I think we are," Coughlin said. "I think we're putting them in the right positions right now to be able to perform and win. It hasn't happened yet, but we're going to continue to try to put them in the right positions."
"I think we're good," Manning said. "I think the guys know the only way to make a difference and the only way for us to start winning games is for ourselves to go out there and stick together and be smart in what we say, how we handle everything and how we prepare and practice this week and how to play. We've got to come together and the only way we're going to win is if we come together as a team and play well as a team."