Eli Manning spent most of his illustrious career in the same scheme under the same head coach, a privilege his successor, Daniel Jones, did not have at the start of his tenure as quarterback of the New York Giants.
But after changing staffs in between Jones' rookie and sophomore campaigns – and doing so in an unprecedented season with all the limitations stemming from the pandemic – the team hopes to be back on firmer ground heading into the second year of the Joe Judge era with Jason Garrett running the offense. Manning knows the value of returning to familiar settings, something that should benefit Jones as he enters his third season.
"I think so," Manning told NFL Network from the site of the Louisiana-based Manning Passing Academy, which celebrated its 25th anniversary. "I think also just the fact that from your first year to second year, [he] had a new offensive coordinator, a new coach, and everything going in. Now, at least going from [year] two to three, he has the same offense and the ability to grow within the offense. It's not just the quarterback getting comfortable; it's the offensive line, the receivers, everybody getting on that same page. I'm excited for him, I'm excited for the team, and I look forward to good things."
Manning's 16th and final season coincided with Jones' first after he was selected sixth overall in the 2019 NFL Draft. Since then, the retired Manning went from teammate to fan and now back to co-worker in an off-the-field capacity. Last month, the team announced Manning rejoined the organization to help with initiatives stretching across business development, marketing, and community and corporate relations. Manning will also collaborate with the Giants on original content development and fan engagement activities, including a new lifestyle series premiering this fall.
"I am excited to be back just to see the players and be around them," Manning said. "I still communicate with Daniel Jones and Saquon [Barkley] and Sterling Shepard and the guys that were there. I'm excited to go to a Giants football game as a fan. I've never done that before. I've never gone as a fan. I've never been inside the stadium and watched the game. I've never watched a game with my kids before besides on TV. So, I'm excited to take my kids to the stadium, root on the Giants, root for a big win, and enjoy that with the fans."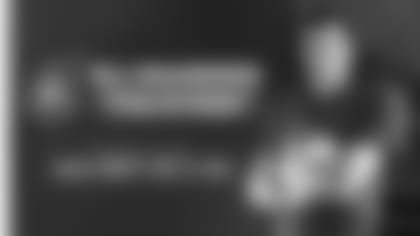 Limited Tickets Available for Eli Manning Ceremony
Limited tickets are available for Eli Manning's jersey retirement and Ring of Honor induction game
In the meantime, Manning will celebrate his older brother's induction into the Pro Football Hall of Fame. Peyton Manning will be enshrined alongside guard Alan Faneca, coach Tom Flores, wide receiver Calvin Johnson, safety John Lynch, contributor Bill Nunn, wide receiver Drew Pearson, and cornerback/safety Charles Woodson on Aug. 8 in Canton, Ohio.
Although Peyton Manning's list of accomplishments is as long as it gets, Eli Manning said the thing that stands out most about his sibling's career has nothing to do with throwing the football – it's the relationships he built.
"If you look at the list of guys who are coming to celebrate the Hall of Fame with him – the quarterbacks that were there in Indianapolis and Denver with him, the offensive linemen, the guys that have so much respect for him and want to celebrate that with him – I think he did everything the right way," Eli Manning said. "And the preparation and the hard work, being a great teammate, the coaches and the respect they have for him that are going to come celebrate there with him, I just couldn't be prouder of him. It was an honor for me to watch from afar some just how he conducted himself and how hard he worked and how important football was to him. I might be a little biased, but I don't think there's another person more deserving to be in the Hall of Fame than he is."
Peyton would surely say the same about Eli.