EAST RUTHERFORD, NJ - Amid much excitement and fanfare, the Giants played their first regular season game in New Meadowlands Stadium on Sept. 12. Just four minutes into the game, on the third offensive play in their new home, the Giants gave away the ball when Eli Manning's pass to Hakeem Nicks was intercepted by Charles Godfrey.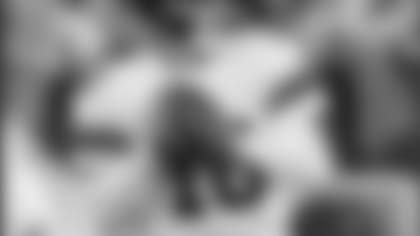 The Giants committed four turnovers in that game, three on Manning interceptions (all of which were tipped by his intended receiver) and an Ahmad Bradshaw fumble. They also won the game, 31-18.
The game proved to be a harbinger for their entire season. The Giants won a lot of games, going 10-6 to place second in the NFC East. But they were also careless with the ball, finishing with a league-high 42 turnovers, the most by an NFL team since 2006 (when Cleveland had 42 and Oakland 46).
Had they not given away the ball so often, the Giants would probably be preparing for a playoff game today instead of abruptly going home after a 10-win season.
"If you take away 10 of the turnovers right there, there's probably two games there," general manager Jerry Reese said.
"Obviously, we have to do a better job protecting the ball," Manning said. "I don't know if that was always the reason that we lost all our games. Some turnovers came at the end of games when you're trying to get back into it. I think obviously, yeah too many turnovers, that's definitely an area that we have to correct. There are other things that we have to correct that sometimes lead to turnovers, and that's something we'll look at in the offseason, why some of the turnovers and why, on my part, interceptions were occurring."
The Giants' 25 interceptions were second to Minnesota's 26 and their 17 lost fumbles were second to Buffalo's 18. Because they led the NFL in takeaways with 39, the Giants' turnover differential was a not-so-bad minus-three. The Giants played only one game all season without committing a turnover, their victory over Jacksonville on Nov. 28 (their only turnover against Detroit was when Matt Dodge dropped the ball as he went to punt).
"We all need to do a better job to get that (turnover) number down," Coach Tom Coughlin said. "That number has cost us football games. I've said it all year long and that's the reality of it. You just look at our takeaways, you look and say, 'My God, in other years with the job that we've done in terms of taking care of the ball, the difference might have been plus-15, plus-18."
Coughlin always emphasizes the importance of taking care of the ball. In his eight years in Jacksonville, the Jaguars had a combined turnover differential of plus-34. In his seven seasons with the Giants, it is plus-six. So Coughlin was asked at his wrap-up news conference yesterday if the plethora of turnovers was the most frustrating part of the season for him.
"Well, it's definitely a big part of the frustration," Coughlin said. "The other part of that that leads you to think further is that you're not really complimenting your offense, defense, and special teams by turning the ball over. You're not playing with the kind of control that is necessary and I think that is the direction that I'm going is that when you're really in control of the game – in the Washington games this year, we were plus-eight – plus-five the first time, plus-three (Sunday) night and there isn't any question how that contributed to the wins. … There isn't any question that you have to work in concert with each other and you have to be able to control the game at this level. There's going to be an occasion when turnovers take place, whether it be a big time hit or just an outstanding athlete timing up the interception, it's going to happen. It doesn't have to happen at the numbers that it did though."
Manning had a hand in 30 of the turnovers. His 25 interceptions led the NFL and tied a franchise record. Manning also lost five fumbles, second on the team to Bradshaw's six.
"I put a lot on my shoulders and I have to get better," Manning said. "I'm not a 25-interception quarterback. I think obviously that's got to be fixed. We have to fix that. That's on me, the receivers, and everybody doing that, but most of it's on me. … A lot of my interceptions came on third down. On first and second down with our play action stuff, we were really good hitting big plays, not turning the ball over, and being successful. On third down, we weren't as sharp. It's something I have to look at and get with the coaches and see how we're going to get better converting and also not turning the ball over."
Despite the interceptions, Manning played impressively throughout the season. He threw a career-high 31 touchdown passes, the third-highest total in Giants history, and he became the first quarterback in franchise history with two 4,000-yard seasons. Manning started every game to stretch his streak of consecutive starts to 103 and he led the Giants to 10 victories, though the team did not make the playoffs because of tiebreakers.
And Manning posted those numbers although 2010 Pro Bowl receiver Steve Smith missed seven games, Hakeem Nicks missed three (though the Giants were 3-0 in games they both missed) and Domenik Hixon missed the entire season. Also, the Giants' traditional offensive line was intact for only six games (though Manning was sacked only 16 times all season).
Reese acknowledged all that, but said it is incumbent on Manning to reduce his number of turnovers.
"This is a business about making decisions and making adjustments and he has to make the adjustments and we expect him to do that," Reese said. "Stat-wise most people would be pretty happy with 31 touchdowns and 4,000 yards, but you judge quarterbacks on wins and losses and we only got 10 wins and that didn't qualify us for the tournament, so that wasn't good enough."
Coughlin has solved a player's personal turnover issues in the past. Most notably during his Giants tenure was Tiki Barber's fumbling. Barber lost six fumbles in both 2002 and 2003, the two seasons before Coughlin's arrival. In the three years he played for Coughlin, 2004-06, he lost a total of four fumbles.
Can they make the same kind of improvement with Manning's interceptions?
"I think we can," Coughlin said. "I thought that Eli (Sunday in Washington) was so aware of the consequences of turning the ball over that he was acutely alert to the fact that he wasn't going to let that happen. Now, we did get one off of a tipped ball, which was unfortunately a recurring issue, but I thought he did an outstanding job mentally trying to make sure that there were no mistakes made with the ball. … I think we can do something with design, we can do something with individuals, there may be certain things that have to be accomplished by just knowing who is doing what and where and when, so I think that we can."
Manning knows he must cut down on the interceptions and will study what happened before training camp. But it won't be the sole focus of his work in the offseason.
"I can't dwell just on that, you have to look at some positives," Manning said. "I also threw for 31 touchdowns and threw for over 4,000 yards and those are some good things. Those are some positives to build off, and so we had a lot of big plays in the pass game. We were explosive and led the league in touchdowns over 20 yards. Those things are good things to do. As a receiving corps, hopefully we can get things going. We have some guys injured right now, get them back and get back to working out and having a great offseason. Get back, fix some things, get better, and see where we can improve. How do we improve?"
That's the key question as the Giants begin their long offseason.