EAST RUTHERFORD, N.J. –** Eli Manning is a model of calm when he plays football, but watching his older brother Peyton play in Super Bowl XLVIII will make him a little less tranquil.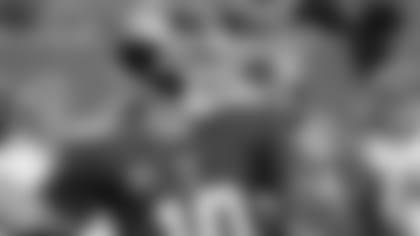 "I'm rooting for him," Manning said on a conference call today. "It's not like watching any other football game. If I'm watching two other teams, I'm kind of casually watching and don't really care who wins or loses. Here, it's a little bit more nerve-wracking. I don't get nervous playing football games, I get nervous watching my brother play."
Peyton Manning's Denver Broncos will face the Seattle Seahawks in the Super Bowl on Feb. 2 in MetLife Stadium, the home of Eli and the Giants. Two years ago, Eli Manning won his second Super Bowl in Lucas Oil Stadium, which was Peyton's Place when he played for the Indianapolis Colts.
"It is pretty unique that each of us, that I got one in Indianapolis and he's trying to get one playing in a Super Bowl in New York," Manning said. "I guess it's pretty ironic."
Just as Peyton helped him two years ago, Eli is doing all he can to aid his brother in the days leading up to the game.
"Obviously, I know what it's like with the Super Bowl and a lot of people are trying to figure out if they're coming to the game, so I'm trying to take some of that stress off of him and help manage some of those things," Eli said. "That way, he can focus on work and getting the game plan. I've kind of been in touch with him about that, but that's basically the only contact we've had this week."
One of the brothers' concerns is the same as that of thousands of other people – securing Super Bowl tickets.
"I tried to help him out and kind of get answers on how many tickets I can get from some of my teammates and players and people," Manning said, "and try to get that done as early as possible so once they start preparation this week, you kind of want everything solved before you get to the city where you're playing the Super Bowl. I think that's kind of the biggest help that I can be to him at this point. Obviously, I know a lot of his friends or family and kind of the mutual friends and family to try to get them settled so they're not dealing with him and he doesn't have any worries off of that. So I just try and take that stress off and kind of get ready so he can just focus on his preparation and getting ready to play Seattle."
According to Eli, Peyton should be pleased with his efforts.
"It's going well," Eli said. "He's going to ask a number for me to try to get and I hit that number, so unless he's got a few more surprises for me, I'm in good shape right now. I've accomplished everything he's asked of me, so I'm sure there'll be probably a few more things later in the week. But I've tried to help him out with just the logistics around New York and just try to help him out any way I can."
Eli can also provide information on both the Broncos' opponent and the game's venue. The Giants faced the Seahawks on Dec. 15. And Manning has started more games in MetLife Stadium than any other quarterback (33, including one in the postseason).
"I'll obviously give any information that I have to him (about the Seahawks), in our preparation, our game plan, just kind of different things I saw watching film and different tips," Manning said. "I will try to give him everything that I can give him to make his preparation better, any tips or things that I saw. If he has any questions, I'd be happy to answer them and help out in any way."
Eli will also share his knowledge of MetLife Stadium and its sometimes tricky breezes, though he declined to reveal specifics. After all, he doesn't want to help the Seahawks in any way.
"I might have a few things for him, but I don't want to reveal that because I don't want to give that to (Seattle quarterback) Russell Wilson," Manning said. "Any tips wind-wise, I will tell him in private.
"(MetLife) probably is a little bit more neutral (than Giants Stadium was). The old stadium definitely did have a specific end zone and corner you really did not want to throw into if it was going to be a windy night. I know it's going to be cold. I obviously don't know what the wind conditions are right now, but if it is one of those windy days, there are a few little things that you can give, but it's definitely not as bad as the old stadium."
Manning said neither team should gain much of an advantage if the weather is inclement during the game.
"I don't think this hurts or helps either team," he said. "Peyton has been in Denver this year and played outside in a lot of cold games. I think obviously if it were to snow or be very windy, it coulit be a disadvantage to the Broncos, just because how much they like to throw the ball, compared to Seattle and their running game. For the most part, it's really going to be the best team that is going to win, whoever plays the best football that day. It's going to come down to that and execution. The weather isn't going to decide the game."
One of the popular storylines leading up to the game is that Peyton Manning needs to win his second Super Bowl to solidify his legacy as one of the NFL's all-time greatest quarterbacks. Considering Manning owns numerous records and was a winner in Super Bowl XLI when he was with the Colts, Eli has no trouble disputing that notion.
"I think Peyton's already created his own legacy," Eli said. "He's played at a very high level for a long period of time and he's overcome injuries and obviously set numerous records and been on a lot of playoff teams; (he's) playing in his third Super Bowl.
"I don't think that's something that he's worried about. There will always be arguments about who is the greatest. I think if you're in that argument, if you're one of the names thrown around in there, I think you've already created a pretty good legacy. I don't think he's worried about that. He's a competitor and he wants to win championships, because that's what your job is as a football player, to win games. I think that's all he's thinking about."
No matter what happens on Super Sunday, it's going to be a big day for the Manning family, including parents Archie and Olivia and older brother Cooper.
"Obviously, we'll be rooting hard and I'm excited for him, watching these last two playoff games and playing well and hopefully he can continue to do that," Eli said. "You know what it means to win championships and how hard he's worked. I'm obviously very proud of him and I'm hoping he can go out there and play well and the whole team, the Broncos, can play well and get a win."