EAST RUTHERFORD, N.J. –** He has two Super Bowl rings and will soon own every significant passing record in Giants history, but Eli Manning is far from satisfied.
"I look forward to getting better," Manning said today in his first training camp meeting with the media. "I'm coming in here energized with something to prove to myself and to my teammates, that we have got to get back to playing better football. I have to play at a higher level and we've got to get back to being precise and everything being done the right way to ensure that we're winning these games that we should be winning.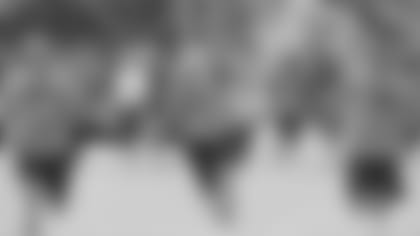 PHOTOS: GIANTS CONDITIONING TEST](http://www.giants.com/photos/photos/Giants-Conditioning-Test/51a8e876-34e4-448b-8862-499124a6cc47) "Each year you're hungry for it (a Super Bowl victory) and I'm hungry for my third, and as a team, I'm hungry for each player. Either guys are trying to get their second and some guys are trying to get their first, and I think you want everybody to have that experience to know that you are the best team in the NFL that year and that's just an accomplishment. That feeling is contagious and it is something that you desire each year and so we're working hard and trying to do everything during the offseason and during this training camp and during the season to ensure we get another chance for that taste."
The Giants today opened camp with meetings and a conditioning test at the Quest Diagnostics Training Center. They will practice for the first time tomorrow.
This season, Manning and the Giants have a little added incentive. Super Bowl XLVIII will be played on their home field in MetLife Stadium on Feb. 2. At least one player dismissed the motivational aspect of that. "We have 19 other games to worry about before that game approaches," safety Antrel Rolle said. But Rolle admitted, "Just like any other team, we're just very determined to be there. Just the fact that it's going to be here at our stadium is just the cherry on top."
The players will practice every day with the Super Bowl venue squarely in their sights. For the Giants to get to their second Super Bowl in three seasons – and third in the Tom Coughlin era – they must play much better than they did in the second half of the 2012 season. Lopsided December losses at Atlanta and Baltimore crippled their playoff chances last season. Coughlin is not avoiding that subject as the new season begins.
"Last year's experience at the end of the year was not a very pretty one," Coughlin said. "Our 16th game (a 42-7 rout of Philadelphia) went well, but we played against two very outstanding teams, one of which (the Ravens) won the world championship. But we didn't play as well as we're capable of playing. So I think that's on everybody's mind. We're better than that."
"I think the end of last year was tough," Manning said. "We had, obviously, some games where we played very poorly and lost. We still had a couple of games that we played close that we could have beat some teams and it would have been the difference of making the playoffs and not making it. We've just got to ensure that we get out to a fast start like we've been able to do these past years, but we've got to finish strong and we've got to find ways to win those games in November and December because that's usually what's going to make the difference… kind of where you know where you stand in that playoff race. You have to win those key games to ensure that you're making it into the playoffs."
This is the 10th season of the Coughlin-Manning partnership, one that has produced 83 victories in the regular season, eight in the postseason, five playoff berths and three NFC East titles and those two Super Bowl victories.
Coughlin believes the presence of Manning gives the Giants a chance to win every game they play.
"It's great," Coughlin said. "It's a good feeling, especially because of the type of individual that he is and how focused he is and how hard he's working during the season and what he's looking to improve on in his particular game and the way in which he can influence and lead, and he's thought about all of those things and I'm excited to see him work here in camp."
Manning, who has started a league-high 135 consecutive regular-season games, and guard Chris Snee are the second-longest tenured Giants, one season behind 11-year veteran David Diehl.
"It's gone by quickly, it really has," Manning said. "Each year I'm very grateful to be here and have another opportunity to play for the New York Giants and compete for championships for the Giants and the organization. They put a great team together, a great coaching staff and coach Coughlin and everybody is going to be on the same page and determined to go out there and win a championship and that's what we're trying to do."
*The Giants will practice for the first time tomorrow from 1:30-3:45 p.m. at the Quest Diagnostic Training Center.
*The Giants will host a special autograph day after practice on Sunday (approximately 3:45 p.m.). The entire team will sign autographs for fans after practice. Should the autograph event get rained out, the makeup date is Saturday, Aug. 3. In addition to autograph day, a different position group of Giants players will sign autographs for fans every other day following practice.