Victor Cruz is the top fantasy football player on the Giants.

MICHAEL EISEN: Fiction - I'm partial to Eli Manning, who should have a big season with all the offensive weapons the Giants have surrounded him with.
---
RELATED NEWS
Re-Live Super Bowl Run
Cruz's 99-yard TD sparked a victory that propelled the Giants to SB XLVI...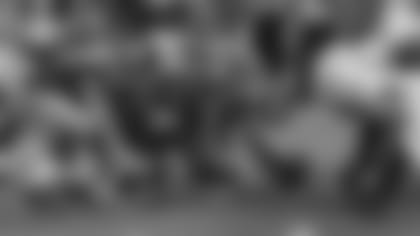 Giants vs. Jets Broadcast Info
JOHN SCHMEELK: Fact - In everyone one of my drafts Victor Cruz has been the first Giants player off the board, even after his heel injury. There are so many quarterbacks that put up big numbers these days, Eli Manning has much less fantasy than real life value.
DAN SALOMONE: Fiction - This may seem like a contradiction to my next response, but I think it's David Wilson. I expect him to start hitting home runs right away, and you can't count out his numbers in the return game. Even if his special teams role diminishes, running backs are what win fantasy leagues.
David Wilson rushing for 1,200 yards is more likely than Rueben Randle having 700 receiving yards this season.

MICHAEL EISEN: Fact - The Giants have had a 1,000-yard rusher in seven of Tom Coughlin's first nine seasons. Wilson will be starting running back and should lead the team in rushing attempts. If he does, and is as good as advertised and stays healthy, he could get to 1,200. Randle is expected to be the No. 3 receiver, so it will be harder for him to reach this target.
JOHN SCHMEELK: Fact - This is a much harder question since Victor Cruz is walking around on crutches and in a walking boot and the fact that Hakeem Nicks is injury prone. I'll still go with fact since Wilson is the number one back and I think as a ball carrier he can be one of the most dynamic players in the league.
DAN SALOMONE: Fiction - Since Tiki Barber, there has been only one Giant to eclipse 1,200 yards, and that was Ahmad Bradshaw, who did so by 35 yards in 2010. I think Wilson can go beyond it, but I think Randle is more likely to hit 700. Even when everyone is healthy, Eli Manning's third target – whether it's a wide receiver or tight end – can put up those numbers. The third leading receivers in the last five years have been Martellus Bennett (626), Jake Ballard (604), Kevin Boss (531), Hakeem Nicks (790), and Steve Smith (574). You can see 700 isn't that much of a stretch for Randle.
Jim Cordle will be a starter in Week 1 against Dallas.

MICHAEL EISEN: Fact - I think he will be impressive enough in the last two preseason games that the Giants will be convinced they don't have to rush back David Baas.
JOHN SCHMEELK: Fact - I'm rolling the dice that David Baas won't be back and ready but that's more of a guess than anything else. With David Diehl out, I think the best configuration has Cordle at center.
DAN SALOMONE: Fact - The opportunity and the skill are both there for it to happen. Cordle has paid his dues going back to his time on the practice squad as a rookie in 2010. He's been in the offense long enough to hold the fort until Baas can return.
You consider Giants-Jets a rivalry.

MICHAEL EISEN: Fact - Anytime you share a stadium and a metropolitan area with another team it's a rivalry, no matter how often you play them.
JOHN SCHMEELK: Fact - It's a rivalry because the fans like the argue about what team is better, but in terms of what actually happens on the field and the effect on the standings: it is not. But the fans are the people that make sports what they are, so their voice does matter.
DAN SALOMONE: Fact - You often hear that rivalries are just for the fans, but you can't tell me Christmas Eve 2011 didn't mean something to the players. I agree with Eisen. When you share a home stadium, it's automatically a rivalry.