Brandon Jacobs will have at least 10 carries in a single game this season.**

MICHAEL EISEN: Fact -The Giants signed Jacobs to be more than mentor for their young running backs. They need him to produce on the field in whatever roles they design for him.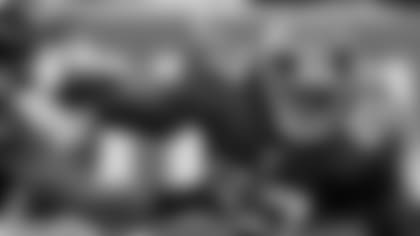 Read More Fact or Fiction
](http://www.giants.com/news-and-blogs/fact-or-fiction.html) JOHN SCHMEELK: Fact - You never know if David Wilson gets hurt, or if it is a blow out situation. In either case, Jacobs could easily get 10 carries in a game. If Wilson continues to struggle with ball protection early Sunday, he could get 10 carries against Denver.
DAN SALOMONE: Fact - The day after the Giants brought back Jacobs, Tom Coughlin made it clear that he is here to be more than a mentor; he is here to contribute. Of course his presence in the locker room is a plus from a veteran standpoint, but he has been itching to come back to football, particularly to the Giants. The Giants just first needed to see him workout, and they saw enough to sign him.
Peyton Manning is the best opposing quarterback on the Giants' 2013 schedule.

MICHAEL EISEN: Fact -The Giants will face a lot of great quarterbacks, but none of them boasts Manning's credentials.
JOHN SCHMEELK: Fact - Aaron Rodgers is the better quarterback now, but Peyton Manning will go down as perhaps the best regular season quarterback in the history of the NFL. It all depends on what the criteria is.
DAN SALOMONE: Fact - People chip away at him because of his losing postseason record, but as we know, quarterbacks get too much blame as well as too much credit. They lost those games as a team. With that said, I think he is the best quarterback of his generation just from an eye test in how he controls an offense. Would I take him over Aaron Rodgers, Michael Vick, Jay Cutler, Tony Romo, Robert Griffin III, and Russell Wilson? You bet.
The Giants will have at least two receivers go over 100 yards against Denver (they had three last week).

MICHAEL EISEN: Fiction - Although they had three 100-yard receivers last week, two a game still a relative rarity for them. And they would like to be more physical and get their ground game up to speed.
JOHN SCHMEELK: Fiction - The Broncos defense is far stingier than Dallas, and their backup corners are all starting caliber. It makes the injury to Champ Bailey almost a moot point.
DAN SALOMONE Fact - This is one of those tough ones to predict, but I can't say fiction after seeing those three do it last week in a topsy-turvy game against Dallas. Hakeem Nicks and Victor Cruz looked healthy and explosive while the young Rueben Randle showed he might be carrying over a strong summer into the regular season.
The Mannings are the most accomplished family in all of sports.

MICHAEL EISEN: Fact- Three quarterbacks, three Super Bowl titles, perhaps two Hall of Famers. I think that makes them No. 1.
JOHN SCHMEELK: Fiction - If this was limited to players only, and not coaching, ownership and managing I would have voted Fact.
DAN SALOMONE: Fact -Manning, Williams, Harbaugh, Andretti, Hull, Sutter, Earnhardt, Griffey, Ripken – those make for some stacked softball teams at family reunions. I was going to go with the Williams sisters, who have been the best at their sport a combined total of 24 times in Grand Slams, but that's just what they are – sisters. Something about the best family means it should be more than two and bridge a generation. Starting with Archie, at one point a Pro Bowl quarterback, and down to Super Bowl MVPs Eli and Peyton, you have to give it to the Mannings.